A New View – Abstract Landscapes in Watercolor with Miriam Hughes, Sept 24th, 10AM to 3PM
September 24, 2022 @ 12:00 am - 11:59 pm
$145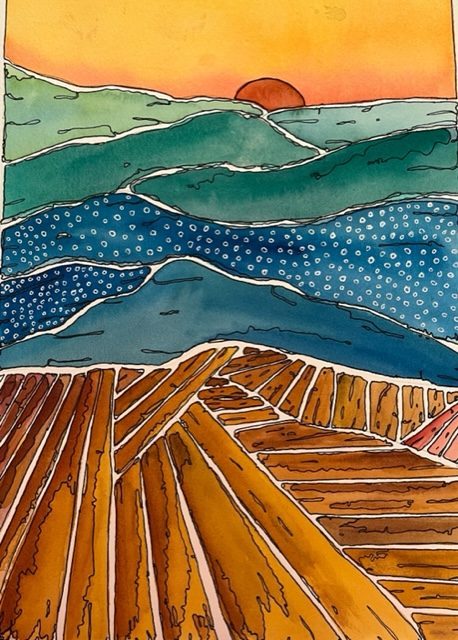 Saturday September 24th – 10AM to 3PM – $145 contains all materials
Join Miriam Hughes, watercolorist, former medical illustrator, lover of obsessive details and wild colors, for this adventurous exploration into understanding and creating abstract art!
Abstract art is based on nature, drawing heavily on the design or composition principles: color, value, line, shape and texture. It's a breaking down of what we see into the essential pieces. It also often references emotion. Color is a key way to express this!
During this workshop we will discuss a variety of watercolor techniques including layering, pouring, masking and removing paint! Miriam will also instruct students on how to convey the bright colors from daytime into dark, moody nightscapes.
Students will have ample time to create multiple landscapes, as well as learning how to translate these geographic abstracts from small pieces to much larger, more detailed works.
This class will be a demonstration on technique and a discussion on what abstract art means to us and how we validate it in our work. In addition to working with watercolors, we will be utilizing pen, ink, markers, gel pens, metallic pens and metallic watercolors.
A great introduction to thinking abstractly for all levels!
Related Events