Altered Books Workshop: Rewrite the Narrative, Be the Author of Your Story ~ w/ art-therapist Ella Dufrene
August 1, 2022 @ 8:00 am - 5:00 pm
$60.00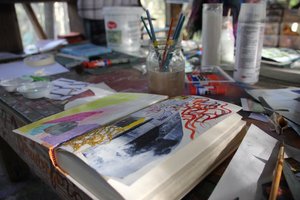 Join art therapist Ella Dufrene this Saturday morning of creativity and community. Become the author of your own story through creativity, as a way of discovering alternate realities and new possibilities in your own life.
Altered books are utilized in art therapy as a means of self-expression, self-exploration and facilitating life transitions. During this workshop, you will explore an art form wherein a published book is recycled, reimagines and transformed into something completely new as a way of discovering alternate realities and new possibilities in your own life.
The main experience of this workshop will be hands-on art making followed by sharing/ group discussion.
*Feel free to bring old photos, fabrics, magazines or any treasured items you might want to add to your book!*
About Ella
Ella Raphëlle Dufrene is a French-Haitian-American visual artist and art therapist. She helps people discover a deeper love and understanding of themselves through the healing powers of creative self-expression, mindfulness, and connection to Mother Earth.
Driven by the instinctual knowledge of the innate and powerful healing powers of art, Ella received her Masters in Art Therapy & Creativity Development from the Pratt Institute in 2015.
With Ella, you'll paint, draw, sculpt, collage, and explore other forms of creativity. It's ok if you are not sure how to, she will guide you. When you work together, there is no right or wrong way to express yourself and there is no artistic skill required.
Ella is here to take you on a creative journey of self-exploration and personal growth. She will help you gain a deeper connection to your intuitive self and the world around you by tapping into your hidden creative wisdom. Ella uses a holistic approach to wellness and a playful 'person first' approach to therapy.
Related Events