Art Trading Cards & Collage Mini with Katie Gebely
April 15, 2023 @ 10:00 am - 1:00 pm
$65.00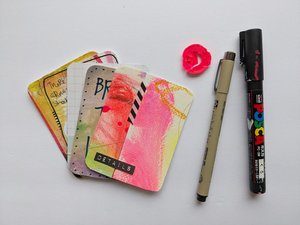 Sometimes creating on small backgrounds can free us up to play and be spontaneous!
In this class, you'll be invited to dive in, explore various mark-making tools and techniques and create small-scale collages with uplifting messages that make great trading cards! You'll create on 2×3" and 3.5×5" backgrounds as you play, learn and layer with mixed media.
If you've come across Katie's art, you know how playful, colorful and inspiring her style of creating is! In this class, Katie will invite you to use colors you love and explore with line, shape, pattern and mark-making to discover what you're most drawn to. You'll explore textural materials, markers, washi tapes , papers, stamps, stencils and more!
You'll go home with a stack of cards you can trade with friends and give to folks in need of lifting up. As well as creative inspiration for future art-making.
Come join us for this fun Saturday morning of community & creativity!
Mini envelopes and magnets will be available for gift-giving.
Materials included. No experience needed.
Related Events