ArtPlay Studio – Playdate: 'Jammin Gellis & Journals' with guest artist Kirah Van Sickle
May 14, 2022 @ 9:00 am - 4:00 pm
$175.00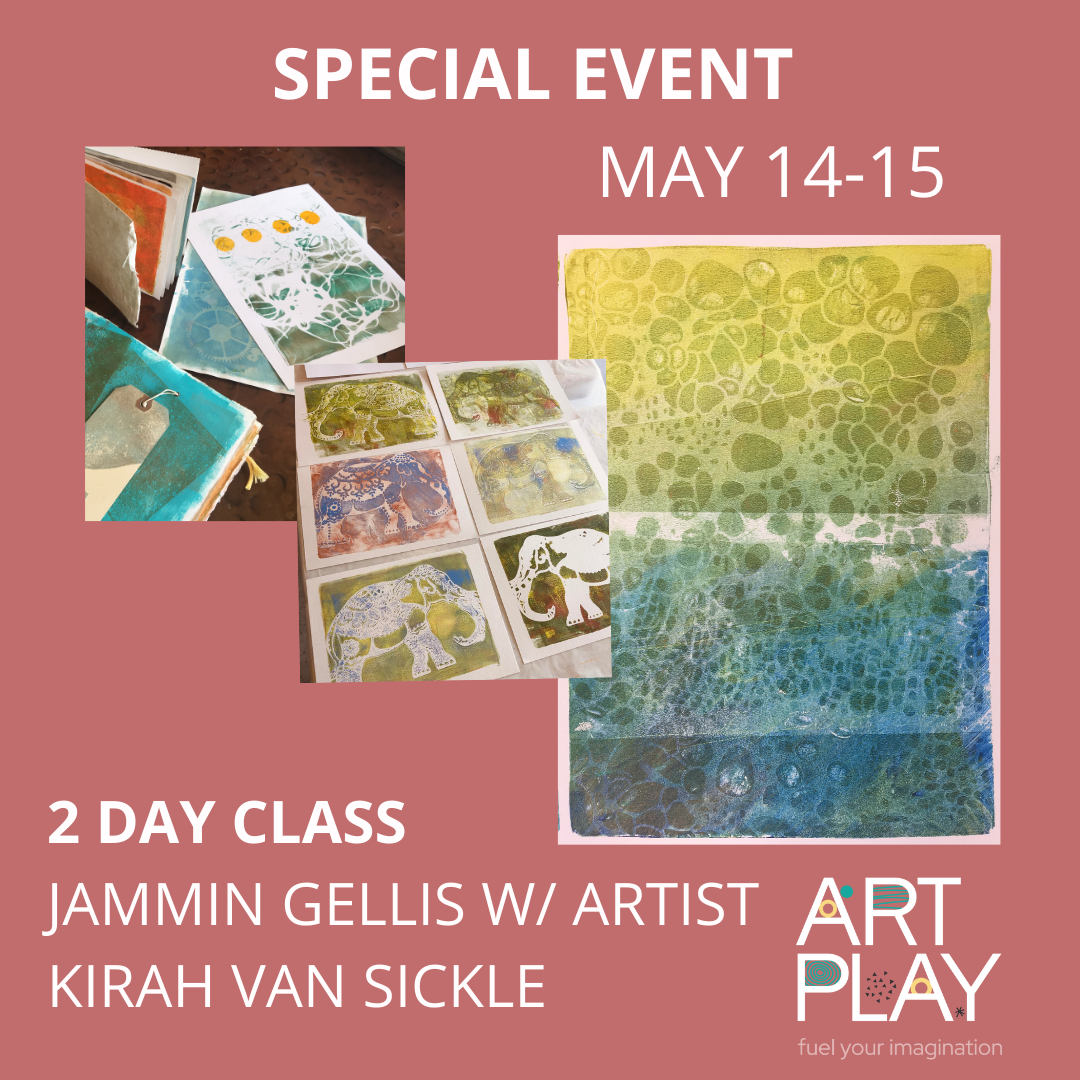 May 14- 9:00-4:00 and May 15 – 12:00-4:00
Join us at ArtPlay for this unique opportunity! For this 2-day workshop we will welcome special guest artist Kirah Van Sickle, who will travel to Asheville to teach this fun introduction to the joy of gelli printing!!
Kirah has taught printmaking in multiple venues and her classes are always fun and full of creative energy! We are so excited to welcome her to ArtPlay Studio!
Students will explore an array of mono-printing processes using slo-dry acrylic paint as our "ink." Gelli print play includes layering, image transfer, stencils, masks, and creating unique abstract designs with everyday household items and ephemera. The Gelli Arts plate is a versatile tool for making collage papers, fine art prints, gift wrap, gift cards, ATC's, zines, and art journal fodder…the options are endless. Day 2 we'll have some art play fun turning our prints into custom journals, cards and art journal elements.
No experience required – all levels welcome.
Materials provided by the teaching artist include: plates (variety of sizes) and OPEN acrylic paints, some basic papers, paint brushes, stencils, variety of textural items for masking, and handouts.
Student supply list: Apron/smockBrayer for rolling out the paint (don't get sponge brayer; black, hard rubber printmaker's brayer works best)Any craft or copier papers you have on hand, card stock in white or colors, watercolor papers, rice papers, craft papers in various colors (construction paper is fun). Stencils if you have favorites.
Related Events