Barbara Fisher Exhibition Opening Reception
August 23, 2019 @ 5:30 pm - 7:30 pm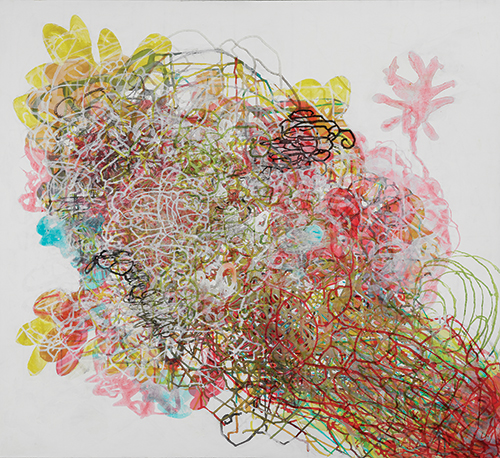 Barbara Fisher exhibition
Tangled Mapping: Memories of the Future
Pink Dog Gallery, 348 Depot Street, Asheville, NC 28801
August 23–Sept 22, 2019
Opening Reception Friday, August 23, 5:30–7:30pm
Aerial views, brain circuitry, weather patterns, lost memories………all of these narratives can be found in the intricate meanderings and devious spaces of the Tangled Mapping series. Some evoke being lost in a big city, others feel like the brain trying to recall a distant memory or translate a twisted knot of thoughts into something coherent; still others evoke the ecotones of climate change. The "change in the weather" sub series came about as Fisher started to see the cascading paint as movement of micro-climates, water, ice and heat in the tangled atmospheres. 
All of these images presage the future while already being present in our consciousness, through communal memory or our own forgotten thoughts, dreams and early life experiences. We intuit memories of what is yet to pass.  The challenge is to heed our intuition and try to navigate the labyrinth, both within ourselves and out in the world.
After the Flood depicts the chaos following a major climate event – debris and organic matter fighting to survive amid the rubble and uprooted ecosystems.  At the edges, simple botanical forms begin to appear. 
BIO:
Barbara Fisher was born in New York City, educated in Colorado and California, and lived for many years on the West coast before settling in Asheville, North Carolina in 1998. Her work has been shown throughout the United States and can be found in the collections of Bank of America, Capital One, Western Carolina University Fine Art Museum, the Asheville Art Museum, First Charter Bank, Bank of America, National Institutes of Health, Mission Hospital, The Community Foundation of WNC and many other corporations.
Fisher has maintained a studio in the River Arts District since 1998.  She was awarded a Pollock-Krasner grant of $17,000 in 2019.
Related Events