Botanical Drawing with Julia Moore
January 30, 2020 @ 5:00 pm - 7:00 pm
$20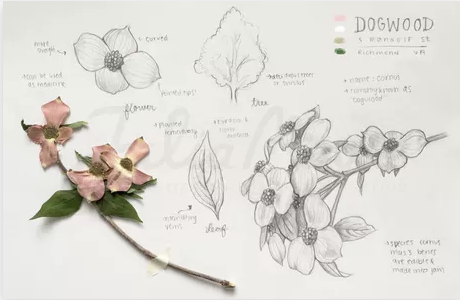 Botanical Drawing workshop led by Julia Moore
A cozy winter plant workshop in the gallery. Julia will lead us in studying gathered winter plants.
We will enjoy sipping locally gathered yaupon holly tea and honey while we observe and draw the holly, pine, and other winter plants.
~~~~~~~~~~~~~~~~~
Do you have a love for drawing and nature?
Come learn to observe and draw plants!
Illustrator Julia Moore will guide us through some drawing basics like shading/proportions as well as various ways of creating basic art materials from the natural world around you. Julia will also offer a basic plant identification introduction as well as field sketching skills such as flower pressing (to include plants in your sketchbook), observation techniques and more!
Some basic art materials from nature will be supplied beet/berry juice ink, paint sticks made from sticks and wood charcoal.
This class is for beginners to advanced artists– there is something for everyone to learn! This class is great for those who love plant walks and or want to improve their technical drawing skills.
Invite your friends! 🙂
~~~~~~~~~~~~~~~~
MATERIALS
Please bring these materials:
-A cozy and creative mind state
-Paper or a sketchbook to draw on (some paper will be provided)
-Drawing materials of your choice (pencils, pencil sharpener, pens, microns, erasers)
-Water and snacks
~~~~~~~~~~~~~~~~
WHAT WILL BE PROVIDED
-A printed packet created by Julia will be handed out, which demonstrates various drawing lessons and field sketching techniques that will be discussed.
-Natural pigments and drawing materials (beet/berry ink, paint sticks, charcoal). You will bring home a small vial of beet juice ink and some charcoal you can draw with!
-A lot of amazing drawing knowledge skills
-Basic plant identification
-Delicious local Yaupon Holly tea and honey
~~~~~~~~~~~~~~~~
COST
$20
The cost covers materials provided and the beautiful space that the class will be offered in. Support Local Artists! ♥
~~~~~~~~~~~~~~~~
ABOUT THE ARTIST
Julia Moore is located in Asheville, North Carolina and is a medical and scientific illustrator who graduated with a bachelors degree in Medical and Scientific Illustration at VCU in 2016 with a minor in Biology who is currently working for a medical legal company creating infographics that explain complex scientific processes through illustrations. She also works part time for a holistic natural veterinarian supplement company. Her work has also been published in the ASAM 2018 textbook, The Scientist magazine, Current Biology, international magazines and multiple other publications.
Check out her work at www.mooreillustrations.com!
http://www.instagram.com/mooreillustrations
Related Events