BRACELET MAKING! Mini workshop with Lorelle Bacon
May 25, 2023 @ 12:30 pm - 2:30 pm
$115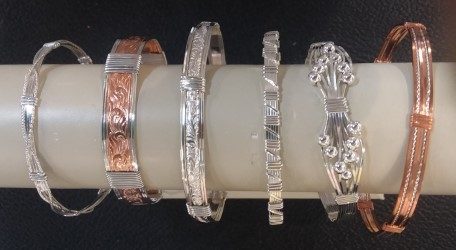 Thursday May 25th – 12:30PM to 2:30PM – $115 includes all wire and beads to make class projects. Tools provided for you to use in class, with a materials handout so you can buy your own tools later.
In this workshop, students will learn how to create a beautiful and professional looking wire wrapped bracelet!. Printed directions will be handed out to use and take home so that you can make more to give as handmade gifts.
This class is perfect for beginners – we will be using copper wire in the class, and kits made of both copper and silver will be available for purchase at a student discounted price if you want to take some home with you to make!
It is amazing what you can do with a few tools and wire! This is the first thing that is taught when someone wants to learn wire wrapping, as it has all the components necessary to learn when moving forward into more complex pieces!
Related Events