Create a Heart-Chakra-Activating Mala Necklace with Jen of Blue Lotus Design Studios
February 4, 2023 @ 1:00 pm - 4:00 pm
$75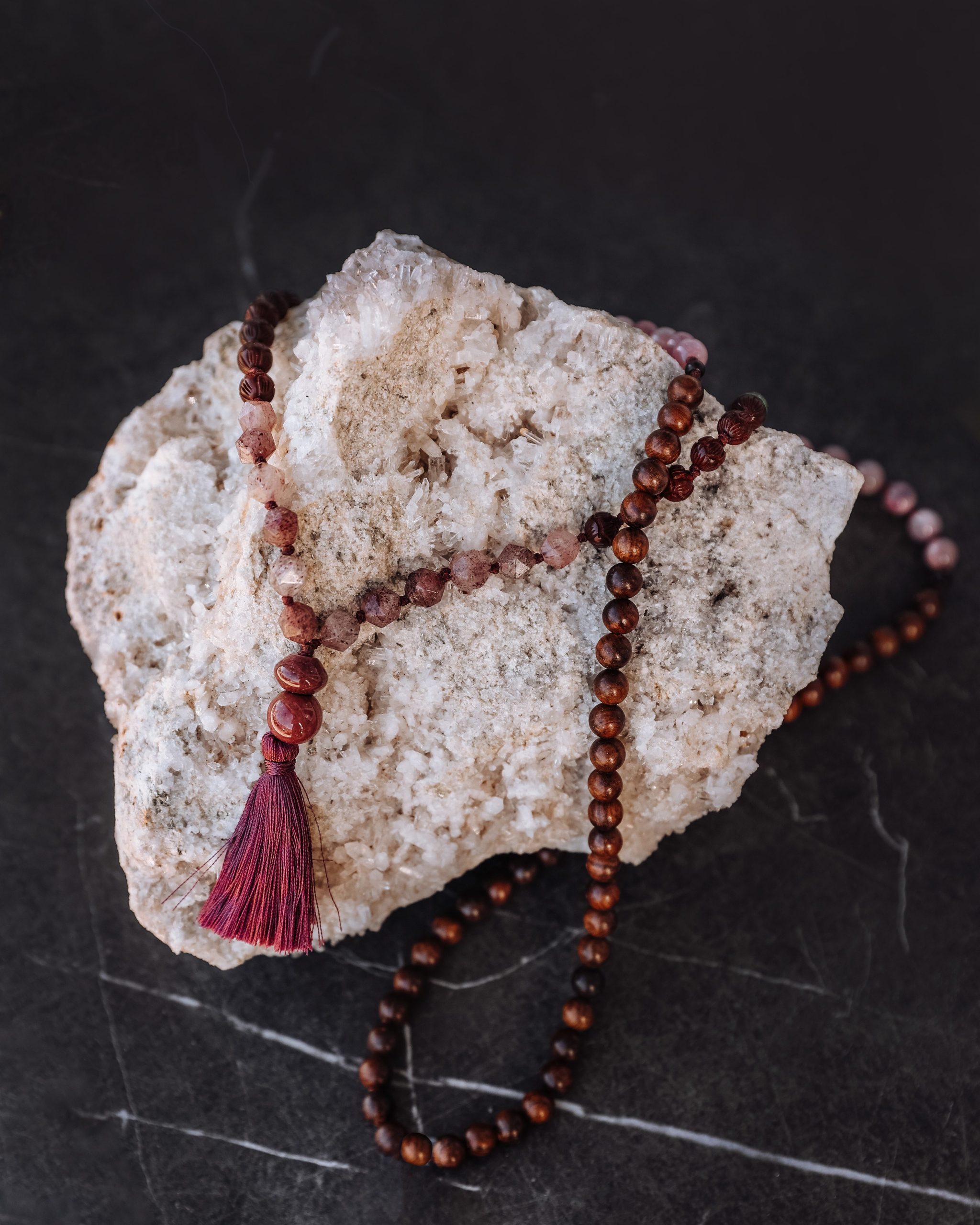 Saturday February 4, 2023 from 1:00 pm to 4:00 pm.
Treat yourself this Valentines day by tapping into your creativity as you learn to create a ceremonial Mala necklace, either to keep for yourself or gift to a loved one.
What to Expect:
You will spend three hours with Jen in a cozy, small group setting, as she goes over a brief history and significance of Mala beads, and then guides and assists you in creating a beautiful and meaningful necklace.
All supplies will be provided for you!
Jen has mindfully created a selection of Mala Kits using gemstones that are connected to the Heart Chakra. Each kit is different and contains 2-4 different kinds of gemstone beads (54 total) and 54 natural wood beads, along with a corresponding card, listing the metaphysical properties of the stones. Once you choose your kit, you will then be able to select your spacer and guru beads, as well as cord and tassels colors to further customize your Mala.
The gemstones available for this workshop will be primarily in rosy hues and shades of green, and may include the following stones: Rose Quartz, Strawberry Quartz, Red Tiger's Eye, Rhodonite, Petrified Rhodonite, Lepidolite, Amazonite, Fluorite, Moss Agate, Indian Agate, Bloodstone, Green Moonstone, Green Jade, Spotted Jade, Aventurine, Rainbow Moonstone, Labradorite, Smoky Quartz.
You will also receive a small box to take your Mala home in, with an Intentions and Care Recommendations card.
Tea will be provided. Please bring your own mug!
We encourage you to bring a pen and a notebook where you can journal about your intentions for your Mala.
Related Events