Creative Chaos: Mixed Media Collage to Set Your Inner Artist Free with Stacy Vajta
May 6, 2023 @ 10:00 am - 1:00 pm
$85.00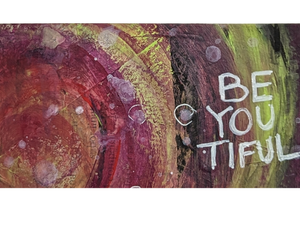 This is the class for everyone who's said, "I could never make that, do that… I'm not artistic." It's time to set your inner artist free!
In this class, Intuitive Artist Stacy Vajta will guide you into a gentle, soulful playdate with your creative self. You and your inner artist can let go and have fun tearing paper and creating collage layers, exploring intuitive mark-making, and dabbling with acrylics, stencils, pastels, ink, and gel pens. Out of your beautiful chaos, you'll see visual vignettes within what you make that spark delight. And so, we'll play even more, turning those into the creations you take home — powerful reminders of your innate creativity.
All materials included. No experience needed.
Come Play!
Related Events