River Arts District Second Saturday Events
December 14, 2019 @ 10:00 am - 6:00 pm
Free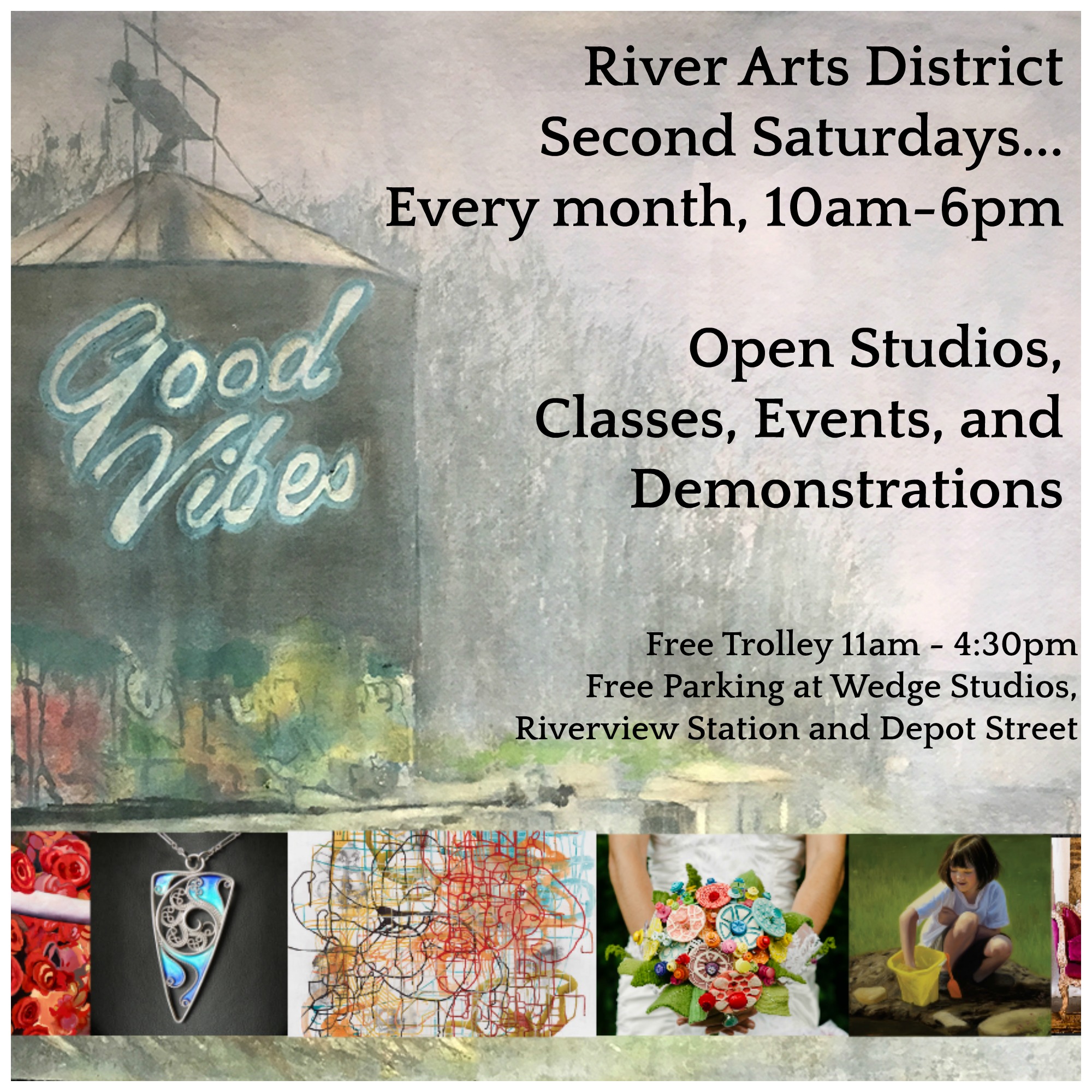 Asheville River Arts District
On the Second Saturday of each month, the River Arts District holds gallery walks with demonstrations, workshops, live music, wine tastings, delicious food, and more! Meander the mile-long district or hop on and off the free trolley and discover all that the "RAD" has to offer. There are more than 200 artists in the 23 buildings throughout the district. Most of them will be on hand to describe or show you their techniques and share their inspirations.
Ride the free trolley throughout the district from 11am – 4:30pm. Most studios and galleries open 10am – 6 pm.
Special day & evening events will be listed for each date – so please come back and plan your day as we get closer to the date!
Map: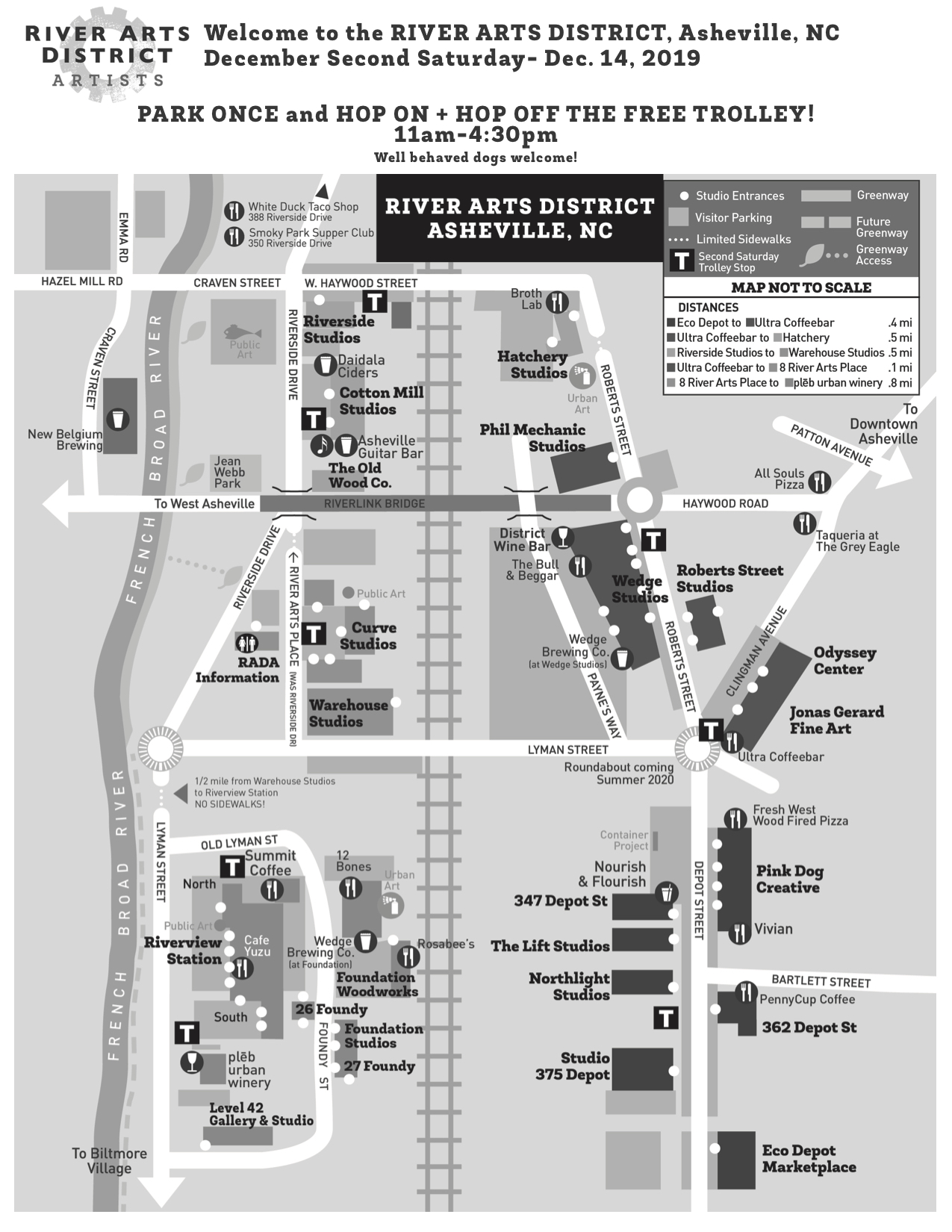 Second Saturday Event Listing:
Depot Street
"December on Depot"
10:00 AM – 8:00 PM
Studios all along Depot Street will be open for extended hours during this day-long annual holiday event. Visitors can meet the artists, see demonstrations, sample holiday snacks and beverages and find a perfect one-of-a-kind artistic gift.
https://www.facebook.com/events/440453269927466/
Studio A at Pink Dog Creative
Andrea Kulish
344 Depot Street, Suite 100 
12:00 PM – 7:00 PM  
Ukrainian pysanky ornament demos and light refreshments. See the ancient art of Ukrainian Easter eggs being made, using the wax resist technique to create unique holiday ornaments. 
https://www.ashevillestudioa.com/
362 Depot Street
10:00 PM – 8:00 PM
A wide selection of Small artwork, pillows, prints, and handmade lamps will be featured. Also, our 8 resident artists will be demonstrating all day.  Sips and snacks provided.
https://www.facebook.com/362Depot/
Trackside Studios
375 Depot Street
10:00 AM – 7:00 PM
"Something Positive!" group show in the Atrium. Sips, snacks, gift ideas & demonstrations all day as we celebrate "December on Depot."
2:00 PM – 5:00 PM 
Sharon Sandel – Artist Reception – Sips, Snacks & Demonstrations
 
CURVE Studios
3, 5, & 7 River Arts Place 
10:00 AM – 5:00 PM  
CURVE Studios & Garden is hosting a Holiday Market on Second Saturday December 14, 2019.  CURVE will be decorated for the festivities & our 10 artist elves will be in the studios working away with refreshments served all day from 10am to 5pm.  Bringing People to Art and Art to Life in Asheville's River Arts District for over 30 years.
https://www.facebook.com/events/513341212787358/
Philip DeAngelo Studio
Artist: Tanya Franklin
115 Robert Street
10:00 AM – 5:00 PM 
Come see the beautiful and festive stained glass Christmas trees of Tanya Franklin. She will have some works in progress as well as a large display of the trees in our studio.
North Carolina Glass Center
140C Roberts Street 
5:00 PM – 8:00 PM
Join the staff and artists of the North Carolina Glass Center for our holiday open house. Explore the studio and gallery, shop for handmade holiday gifts, watch hot shop and flame shop demonstrations, and enjoy libations with our glass community.
https://www.facebook.com/events/2703262529900359/
Riverview Station – 191 Lyman Street
Ignite Jewelry Studios
#262 
11:00 AM – 5:00 PM 
Come enjoy our warm, cozy studio to shop jewelry creations made by talented local artists. Support small businesses and buy local this holiday season.  Mulled wine, hot chocolate and snacks will be provided.
http://ignitejewelrystudios.com/workshops/2019/12/14/trunk-show
Sky + Ground Contemporary Art
Artist in the gallery: Peter Roux
#261
10:00 AM – 5:00 PM
Visit the gallery for special pricing on painter Peter Roux's small works and all Single Tree series pieces for the holiday season.  Also: a special selection of holiday glassworks from artist Michael Hatch.  Wine and cookies will be served.  
The Village Potters Clay Center
#180 
10:00 AM – 6:00 PM 
Join us for a weekend of Holiday shopping and find all your gift needs, including something for yourself. We will have new work from our six Resident Potters in our four showrooms, as well as the continuation of the "Women of Influence" exhibit. The Holiday Sale will take place both Saturday, December 14 from 10am-6pm, and Sunday, December 15 from 10am-5pm.
https://www.facebook.com/events/469942626954106/
Asheville Print Studio
#224
2:00 PM &  4:00 PM
Come to the Asheville Print Studio and see how we create mono-prints and wood block prints using greener, safer practices.
Related Events