Eco Print: Plant Magic! with Bridget Benton, Oct 26th and 27th
October 26, 2022 @ 10:00 am - 5:00 pm
$285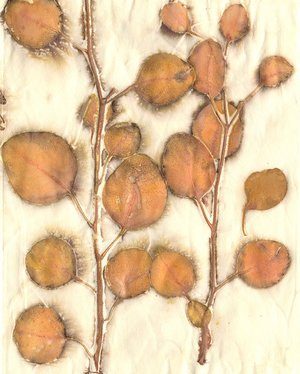 Wednesday October 26th and Thursday October 27th (10am-5pm ET both days) 2022 – $275 includes all materials
Eco Printing is like magic – plants are pressed against paper or silk, wrapped around a copper pipe, exposed to heat, pressure, moisture, and simple things like rust and vinegar and Abracadabra! – the plant material is removed and an impression of the plant is left behind! The natural dyes in the plants themselves have been released and bonded to the paper or silk. The results are unpredictable, exciting, and a glorious celebration of nature.
This two-day class is a great introduction to the wonders of eco printing. We will be focusing on both steam and immersion methods using simple materials. Perfect for beginners and those with some nature printing experience!
On the first day, students will start the day by testing various plant materials on paper and silk using steam eco printing methods. On the second day, we will explore immersion methods, again working on paper and silk. We will cover material preparation, bundling, and mordanting for both methods, as well as how to care for the final prints. As a culminating project, students will print their own silk scarves using the different methods.
Students will leave with at least 3 completed silk scarves and a stack of printed papers! ALL materials provided, though students are enc
Related Events