Elephants Stampeding Trackside!
August 27, 2022 @ 10:00 am - 5:00 pm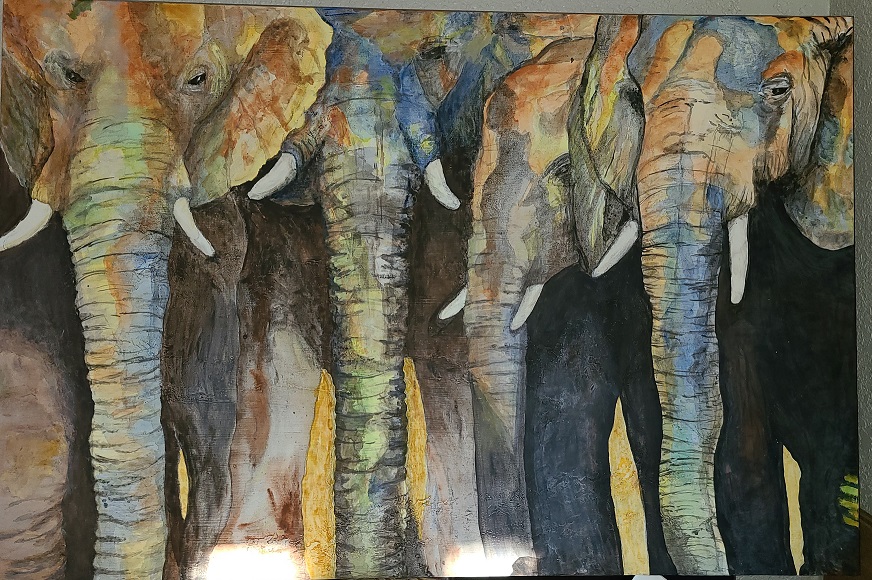 The Santorinis have unleashed a herd of elephants in the River Arts District, and man the dust is flying! Santorini has a Serengeti show in the atrium at Trackside Studios this August, with a special focus on elephants and zebras.
"Elephants speak to my heart," says Santorini. "They have such a strong sense of community, such a strong sense of family. During the birthing process, the mother and her newborn child are both in danger from predators. So the family surrounds her, stomping their feet to raise dust to block predators from seeing what is going on as the birth happens.
My painting, Elephant Dance, shows this beautiful ritual."
Dee paints Serengeti life because she loves the beauty and uniqueness of these species. In an effort to help preserve these beings from disappearing from the earth, part of the sale of this art is donated to organizations fighting to help them survive.
The Santorini Stampede will have an opening show 1:00 – 4:00 Saturday, August 6th at Trackside Studio at 375 Depot Street in the River Arts District in Asheville. Dee Santorini will also be at the studio painting every Saturday and Sunday in August from noon to 4:00, and would love to see you!
Related Events