FALL STUDIO STROLL & FOOD DRIVE
November 10, 2018 @ 10:00 am - 5:00 pm
Free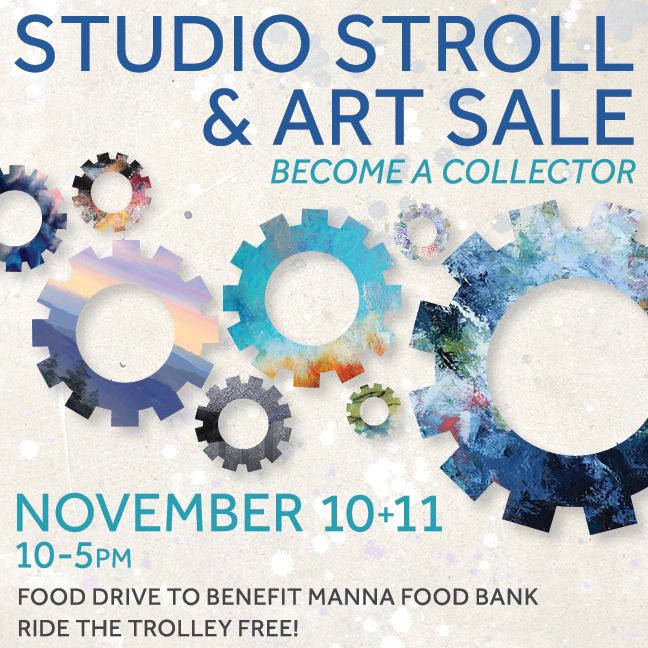 The Artists of Asheville's River Arts District open their doors for a full weekend at the Fall Studio Stroll, welcoming the public to experience and collect amazing art in the studios and galleries. The Fall Stroll will once again feature a Food Drive in support of MANNA FoodBank by collecting non-perishable food items for our area's needy families. Donations and information on the event will be located at the City of Asheville's newly renovated building at 14 Riverside Drive. Attendees will enjoy free parking, restrooms and shuttle pick up at the location right on the French Broad River. The Artists are hoping to match or surpass the approximately 1000 pounds of non-perishables they collected last year for MANNA Food Bank.
A free trolley will be circling around the River Arts District from 10 am – 4:30 pm
Saturday, November, 10th & Sunday, November 11th, 2018
Studio Stroll Events:
Asheville Guitar Bar (at the Historic Cotton Mill Studios)
122 Riverside Dr.
11:00 am Sat
Musician's Workshop & Asheville Guitar Bar Collaboration: Explore how we're working together to better your Asheville Music Experience.
Curve Studios and Garden
9 Riverside Dr.
10am-4pm Sat. & 10am-3pm Sun.
Splint Reed Seat Weaving Class: ($200) Learn to weave with splint reed in a herringbone/ twill pattern on a standard chair. Class Length: 5-6 hours Includes instruction and all tools/materials necessary to complete the project. BYOC: Bring your own chair or we can provide one for you with advance notice at $30-$40 Note: Enrollment closes 1 week before class date. 10am-4pm Saturday.
Silver River Center for Chair Caning will hold a Shaker Tape Seat Weaving Class ($250) Class Length: 4-5 hours Includes one or two colors of Shaker Tape, instruction, and all tools and materials necessary to complete a project. BYOC: Bring your own chair or we can provide one for you with advanced notice at $20-$40. Note: Enrollment closes 1 week before class date. 10am-3pm Sunday.
Trackside Studios
375 Depot St
Demonstrations – various media throughout the day; snacks & sips both days
Eco Depot Marketplace
408 Depot St
12pm-7pm Sat & Sun
Live music with The Mile High Band 4 pm – 7 pm – libations included! Live artists demos throughout the day – fiber arts, copper burning, painting!
Odyssey Ceramic Art Studio
238 Clingman Ave
11pm-5pm Sat
Wheel throwing demos and piercing porcelain vessels with Vivian Saich.Featured artists: Kate Gardner, Anne Jerman, and Joanne Carroll. Live music, snacks, and demos with RADA members exhibiting in the work areas of the studio.
Philip DeAngelo Studios
115 Roberts St
10 am – 5 pm Sat & Sun
Phil will be painting with acrylics using a variety of substrates while describing his techniques and process.
Tanya Franklin will demonstrate how she creates beautiful Christmas trees out of stained glass in various sizes.
NorthLight Studios
357 Depot Street
10 am – 5 pm Sat & Sun
During the season of thanks and giving, we'd be delighted for you to visit NorthLight Studios. Our six painters, each with their unique style, offer a variety of original paintings and prints to grace your home for the holidays, or, provide gifts for everyone on your list. Let our talented metalsmith, John Faulkner, brighten your space with unique candlesticks and beautifully handcrafted furniture. Refreshments will be served. Please stop by, we'd love to share our inspiration with you.
Pink Dog Creative
344 Depot St.
1- 4 pm
– Fold-form metal to make leaves with Viola Spells. Light refreshments served.
– See a demonstration of titanium coloration! This magic metal turns beautiful colors when exposed to either heat or voltage. This latter process is called anodizing, and I will be showing how I do it once an hour at 15 past the hour from 11:15 until closing Saturday.
– Various phases of "Dialuminism" (back-lit oil paintings) will be demonstrated all day at St. Claire Art (Sat & Sun)
– Encaustic and Encaustic Monotype presentation Painting and one of a kind prints done with encaustic wax at Lynn Bregman Blass Studios (Sat & Sun)
Studio A – Pink Dog Creative
344 Depot St. Suite 100
12pm-5pm
Join Andrea Kulish for Ukrainian pysanky – Easter egg demos and light refreshments.
Phil Mechanic Studios
109 Roberts St.
10 am Sat & Sun
Frederic Payet will be showing French impressionist paintings starting early afternoon.
Mark Bettis Studios
123 Roberts St.
1pm – 3pm Sat
An exhibit of West Henderson High School Senior Project, with mentor Deb Williams. Meet and greet the Senior Artist.
Wedge Studios
111-129 Roberts St
10am-5pm Sat & Sun
– Historic Wedge Building Welcomes Fall. Variety of artist demos throughout the building.
– Soft Pastel Demos. Exploring blending and textural work
– Octopus Painting Demo! Discover Tessa Lang's process as she creates one of her contemporary ink octopus paintings.
Warehouse Studios
170 Lyman St
10am-3pm Sat & Sun
Olga Dorenko "Respect the Natural" oil on canvas
Jenny Ellis (Sittin Pretty)
362 Depot St.
All Day Sat. & Sun.
Chair Artist Jenny Ellis will be creating a one of a kind "Ever After"Wedding Dress Chair! What else would you do with your wedding dress? Yes, she will be taking all the embellishments on the back and front of one dress to make a pair of beautiful chairs. Materials used for chairs: Silks, satins, beads, leathers, and cashmere, and hand applied embellishments! Don't miss this incredible UPCYCLING at it's finest!
Hatchery Studios
1 Roberts St.
10 am- 5 pm Sat
To celebrate having recently moved into his new gallery space (studio #111), Corey McNabb's full line of elegant upcycled jewelry is 20% off (rejewelenate.com) and all of his original paintings are 25% off (mcnabbfineart.com) for both days of the Studio Stroll!
Riverview Station
191 Lyman St.
– Meet and greet with Artist Suzanne Armstrong at studio #225
Jones Studio at #211 will have small artworks at reasonable prices available for holiday decor and gifts. Cards, ornaments, ceramics, textiles, and prints. Please come to visit from 10 am – 5 pm Saturday.
– The Horse: Passion and Fire is a special exhibit at The Village Potters, featuring new paintings by Jenny Buckner and new sculpture and horse hair pottery by Village Potter Judi Harwood. On Sunday, November 12, from 11:00am-2: 00 pm, there will also be Raku firing demonstrations by Judi Harwood in front of The Village Potters teaching center entrance.
– Join us in Studio 256 to watch jewelry enameling right before your eyes! They will  use both a kiln and a torch to fire silver jewelry with glass enamel for a bright pop of color. Drinks and light snacks provided, and you can browse the gallery filled with jewelry made right here in the studio from 1pm – 2pm Saturday.
NC Glass Center
140 C Roberts St.
10 am – 6pm
Join us at the NC Glass Center in helping celebrate Studio Stroll with live Hot Glass demonstrations all day! Our eclectic group of artists will be in the Hot Shop creating beautiful glass art and answering all your glass blowing questions!
310 Art
191 Lyman St.
All Day Sat & Sun
Painting with Beer, Encaustic demos, watercolor demos, dirty pour painting, refreshments and more! Music and Cheer. Hands on Workshop with Nadine Charlsen Nov 10th, Dramatic Light in Watercolor, register at 310art.com under the workshop tab. Meet the artists and shop for the holidays.
For more information, please contact
Becca Ward
RADA Studio Stroll Coordinator
[email protected]
Related Events