Featured Artist Reception & Exhibition Emily Powell
January 11, 2020 @ 5:00 pm - 8:00 pm
Free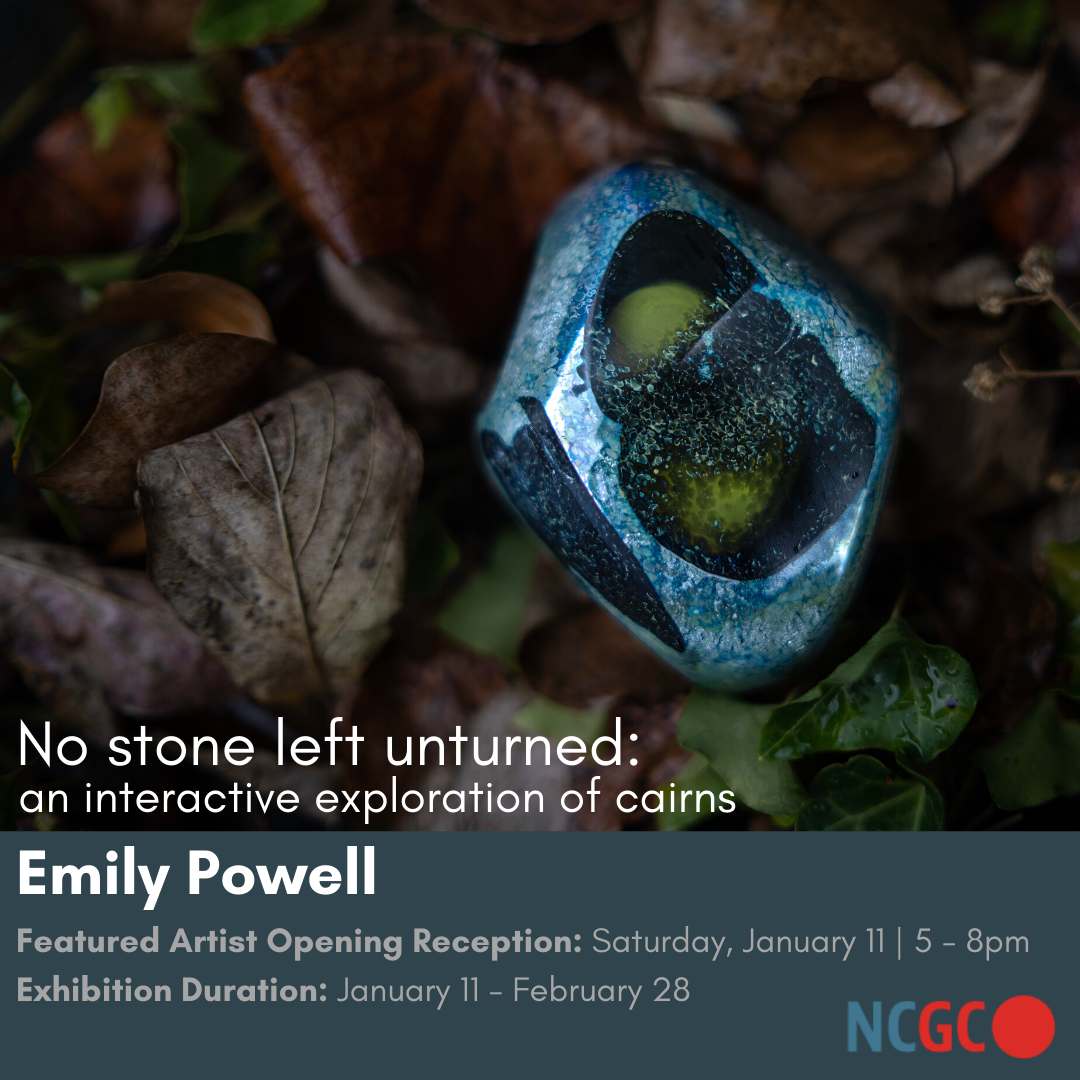 No stone left unturned: an interactive exploration of cairns
I am fascinated with rocks and their significance, specifically when stacked as cairns. Historically, cairns have been used as a way to memorialize deceased loved ones and mark important spots in the landscape. The direction of this interest has led me to create rocks made of glass and then stack them as cairns. As a glass blower, I have been able to take this historical and meaningful activity and add an extra dimension by including colors, transparency and view-through windows in the glass that draws the viewer in and showcases the emotional depth that glass blowing can evoke. My rocks are not glued or secured to each other, inviting the viewer to pick up and stack the rocks, turn them over and interact with them as they might in nature. This interactive series of cairns is meant to honor the colors and textures of the mountains around us and your interaction with them.
Emily Powell is a North Carolina native who moved from Carrboro to Asheville in 2012. She went to UNC Asheville with the intention of studying speech therapy but by chance took a 30 minute walk-in class at the Asheville Glass Center, now the NC Glass Center. She fell in love with the medium of glass and has worked diligently to become an artist and instructor and the North Carolina Glass Center. Her work can be found at the NCGC, online and at galleries across North Carolina. She is inspired by unexpected color, the natural landscape that surrounds her.
Emily has been fortunate to attend Penland School of Crafts for two years – she attended classes focusing on form with David Naito and most recently attended a class with Sarah Gilbert learning techniques for blowing glass then engraving images on the glass using coldworking techniques. Emily wishes to express her deep appreciation for her mentors and instructors who have helped mold her work and art into what she loves so much today.
Related Events