Inks in Bloom with Guest Artist, Kimberly Langlois
April 22, 2023 @ 10:00 am - 1:30 pm
$115.00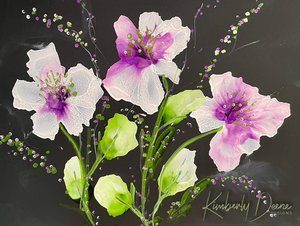 In this class we will explore various ways of creating alcohol ink blooms with the use of gravity and air to blow petals. You'll learn techniques to achieve soft, flowing, florals with amazing dimensional centers. We will work on both white and black backgrounds so you can see how beautifully the inks reveal themselves and perform on the different substrates. Fresh flowers will be displayed on your tables for inspiration and you will be invited to take home a small flower arrangement.
There will be a 15-minute break to refresh and recharge.
A light snack and all materials will be provided.
No experience is needed. Please bring a small vase or container if you would like to bring home some fresh flowers!
Just wear old clothing or an apron and come ready to play!
About Kimberly Deene Langlois:
Kimberly is a self-taught mixed media artist residing in Raleigh, North Carolina. Her art is inspired by her favorite music, the beautiful outdoors, and the joy that the creative process brings.
She has experience in a variety of mediums; however, her true love is for the contemporary use of alcohol ink. Her series of impressionist blooms showcases the vibrancy and organic flow of this medium. The centers of her flowers carefully capture the light and have a three-dimensional aspect which is a common thread in her work.
"Like nature's art, every alcohol ink design has a unique life of its own. I pour the inks onto paper and allow them to flow and mingle organically as they're manipulated with air, gravity, or an occasional brush. It's always exciting to watch each piece evolve and come to life."
In 2017, Kimberly left a 30-year career in the insurance industry and now works full time in her backyard art shed painting and teaching workshops, both online and in person. She teaches classes for Ranger Inks at NAMTA/Creativation trade shows, has collaborated with other alcohol ink artists on a published book, "Creating Art with Alcohol Ink" and runs an alcohol ink florals online membership group.
When she's not painting or teaching, Kimberly enjoys live music events with her husband and friends, spending time with family, and running behind her toddler grandson. She feels her life journey has now landed her in a place doing exactly what she was always meant to do.
Related Events