June 10th is 2nd Saturday in the RAD!
June 10, 2023 @ 11:00 am - 6:00 pm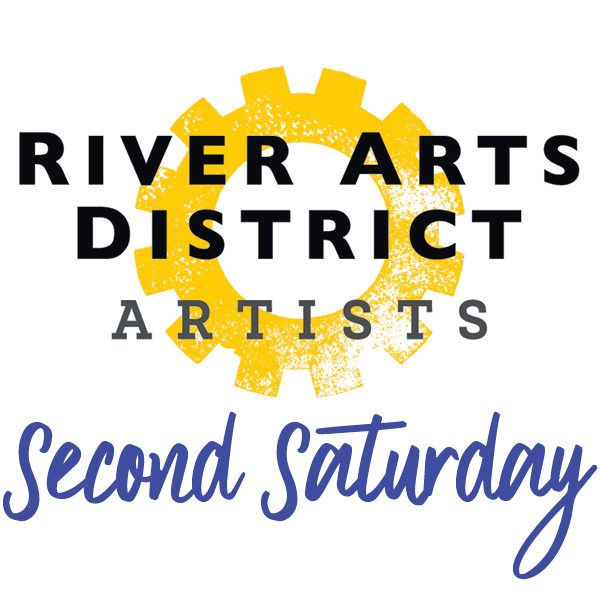 Meet the artists in their studios! Opening receptions, art demonstrations, theatre performances, classes, workshops and more! Multiple food and drink options. Ample parking. Come see where art begins!
Ride the free ArtsAVL CONNECT Trolley from noon to 8:00 pm!
Two 20-30 minute routes, one looping through the RAD and the other through Downtown AVL, will share a common stop at Wedge Studios. Watch for banners on the trolleys and stop markers – https://artsavl.org/
~ ~ ~ ~ ~ ~ ~ ~ ~ ~ ~
Highlights Include:
Second Saturday at Art Garden
Riverview Station
191 Lyman Street
11:00 AM – 5:00 PM
Art Demonstrations
Join in the Canopy Gallery as the Artists of Art Garden come together to share demos of their creative process creating in a wide variety of mediums, from oil paint and graphite to jewelry, fiber, metal sculpture and more.
Suzanne Armstrong
Riverview Station
191 Lyman Street, Studio #225
11:00 AM – 5:00 PM
The Path of the heART Opening
Artist Suzanne Armstrong believes choosing "the Path of the heART" is to choose to experience one of life's greatest mysteries. Come explore and shop her "Path of the heART" collection of mixed media art — intuitively channeled and created during this time of profound healing and transformation that "we the collective" are experiencing.
Dee Santorini at 310 Art
Riverview Station
191 Lyman Street #310
11:00 AM – 4:00 PM
Footprints in the Sand Exhibition
Elephants sometimes have to walk more than 50 miles a day to reach water sources during droughts ­— and they do it as a family! Dee Santorini respects and cherishes elephants.
"They are one of the most compassionate, majestic beings on this earth," says Santorini,  "and I cannot help but try to capture what and who they are in my artwork."
Nadine Charlsen
NorthLight Studios
357 Depot Street
12:00 – 6:00 PM
Live Watercolor Demo — HERE, THERE AND YON!
Live watercolor painting marathon by the artist. Display of original watercolors from the local area, across the US, foreign countries and of course, trains! Reception in the Studio Garden from 4:00 to 6:00 PM
Jaime Byrd
NorthLight Studios
357 Depot Street (upstairs)
11:00 AM – 6:00 PM
Meet the Artist Behind Paintings That Move
Immerse yourself in the captivating world of Jaime Byrd's original oil paintings and witness her innovative blend of filmmaking and technology that brings the artwork to life!
Virginia Pendergrass & Sandra Brugh Moore
Trackside Studios
375 Depot Street
2:00 – 6:00 PM
"Painting in the Moment" Artist Reception
Artists Virginia Pendergrass and Sandra Brugh Moore have shared many plein air painting adventures, including running from storms and keeping an eye on an alligator at a painting site in Florida. This exhibition is a fascinating juxtaposition of works in two very different styles and mediums, two visions of nature and the land.
The Magnetic Theatre
375 Depot Street
11:00 AM – 12:30 PM
Toybox's (mostly) Monthly Puppetry Series
A new puppetry series for ALL AGES featuring original works by acclaimed award-winning puppeteer and clown Toybox, and will bring some of the best puppeteers in the nation as special guests! More Information
Local Cloth
408 Depot Street
10:00 AM – 4:00 PM
World Wide Knit in Public Day
Come find us in and around the River Arts District all day!  We will have "sitting knitters" throughout the area, an opportunity for "yarn bombing" and a FREE make-and-take drop in to learn how to make knitted cotton washcloths!
Join us for yarn bombing from 10am to noon (no knitting experience needed for this), and learn how to craft cotton yarn wash cloths from 11am to 4pm.
Maria Andrade Troya
Curve Studios
7 River Arts Place, Suite 101
10:00 AM – 5:00 PM
New Artist Unveiling
Stop by to help us welcome our newest artist Stephanie Ellis to Curve Studios. She creates fine handcrafted jewelry that combines old world techniques with contemporary practices to create one-of-a-kind heirloom quality designs.  |  https://www.stephanieellisjewelry.com/
Sara Moser
Riverside Studios
174 W Haywood Street
11:30 AM – 3:30 PM
Dragonfly Oil Painting Demo with Sara Moser
In almost every part of the world, the dragonfly symbolizes change, transformation, adaptability, and self-realization. Come see how Sara Moser paints their translucent wings to capture the iridescent beauty of these magical creatures.  |  https://www.riverartsdistrict.com/artist/sara-moser/
Odyssey Coop Gallery
238 Clingman Avenue
11:00 AM – 5:00 PM
Artist Demonstrations
Come join us for beautiful ceramic art, live music, artist demos, and food an drink! You'll be so happy that you did!
Mark Bettis Gallery
Wedge Studios
123 Roberts Street
5:30 PM – 7:30 PM
Opening Reception: "The Impermanence of Things" by Nabil El Jaouhari
Nabil El Jaouhari's second solo show at the Mark Bettis Gallery showcases work inspired by the Japanese concept of "Mono No Aware," translated as "an empathy towards things," or "the pathos of things." The show highlights the concept through its biomorphic and organic forms that remind one of nature. Using unconventional raw materials like tar and asphaltum combined with his signature wood burning and a limited palette, the paintings have a light and an ethereal quality that stands as a reminder of the ephemeral quality of life and nature.
Originally from Lebanon, Nabil studied fine arts at the Lebanese University in Beirut before moving to the United States in 2009 to complete his MFA in painting and printmaking at the University of Missouri.
Exhibition runs through June 24th.
Claudia Moore Field
Philip DeAngelo Studio
115 Roberts Street
Wire Sculpture Demo
Meet Claudia and chat about her artwork, ask questions and see her new series of adorable BEES.
World's Best Tape Artist
Phil Mechanic Studios
109 Roberts Street
8:00 AM – 8:00 PM
Second Saturday Magic
Collage and stained glass weaving with "Kidmagic."
https://www.facebook.com/stephen.l.lange  |  [email protected]
Related Events