LAYERS OF MEANING: ENCAUSTIC COLLAGE with Bridget Benton, Oct 18, 19
October 18, 2023 @ 10:00 am - 4:00 pm
$325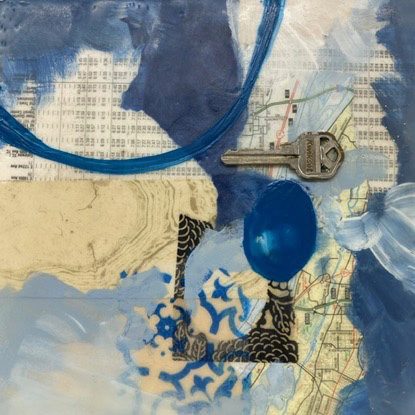 Oct 18, (10AM to 4PM ET) and
Oct 19 (12PM to 4PM ET)
$325 includes all materials
Encaustic is wonderful for collage because of the ability to build up translucent layers, remove and reposition elements, and create dreamy compositions! In this course, we'll be working with papers, fibers, wax-friendly mixed media materials, and even dimensional objects. We'll explore a number of different ways to combine elements and incorporate them into the delicious waxy medium.
In this beginner-friendly class, students will walk away with a number of tips and tricks for creating their own collage papers; building up areas of collage, mark-making, texture, and color before a drop of wax hits the panel; how to work with encaustic medium; incorporating papers and dimensional elements into a piece after wax has been applied; and even how to do a simple image transfer!
This class includes two days of instruction and all materials – encaustic medium, up to eight panels sized from 2.5"x3.5" to 8"x10", and a variety of collage papers, as well as use of all the tools, equipment, and materials you will need to complete a number of small works using a variety of collage techniques!
Bridget Benton has been working in encaustic as her primary medium since 2006, and designs her classes so that participants can arrive with nothing more than an attitude of exploration and have a great time!
Work small and come away with several pieces of completed work. Excellent course for beginners, and experienced artists can take their work to a new level.
Related Events