Magnetic U: Speak the Speech
February 19, 2022 @ 11:00 am - 2:00 pm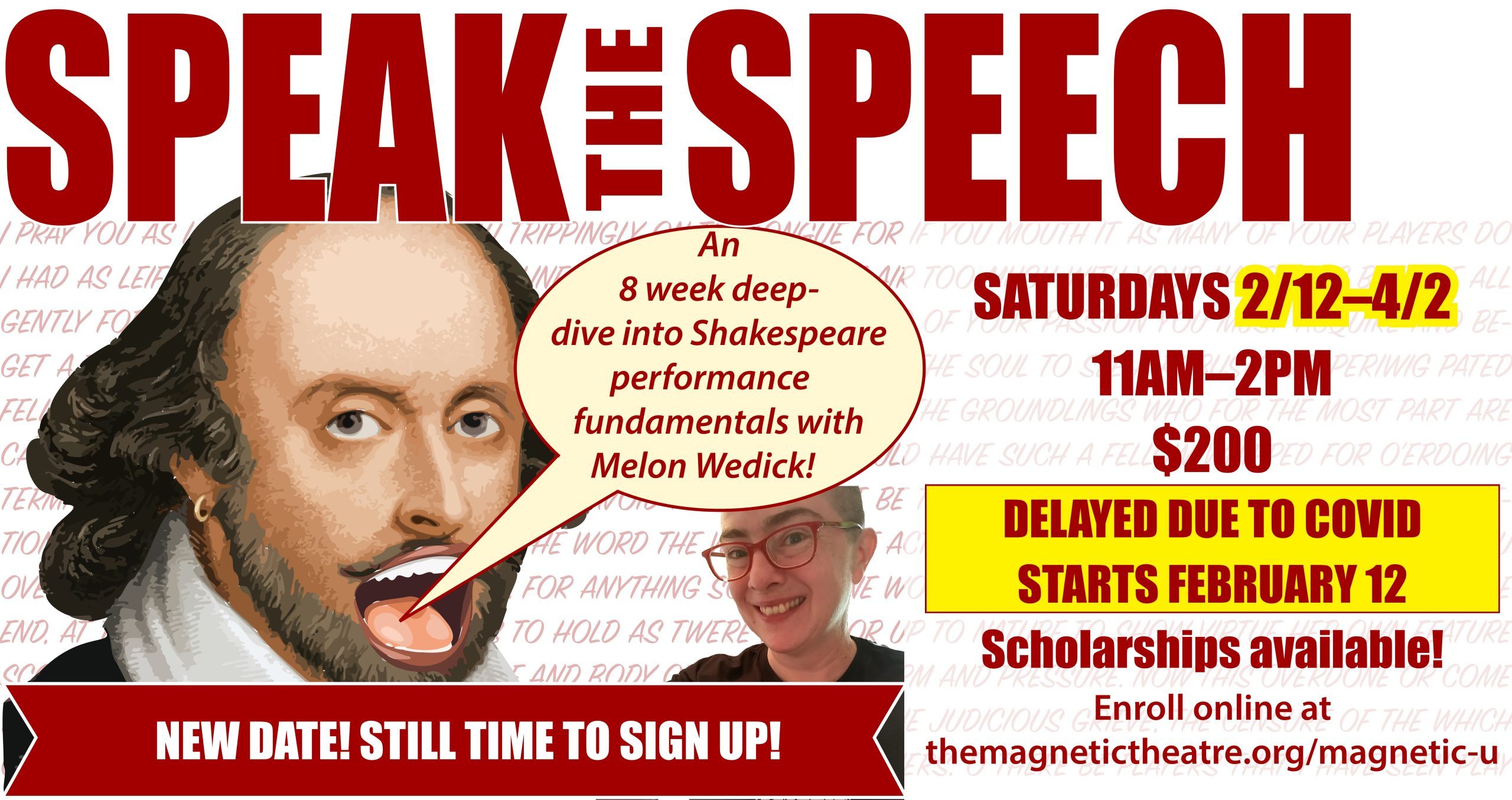 Speak the Speech is an 8-week deep dive into the technical fundamentals that will allow you to speak Shakespeare with accuracy and clarity. Skills covered include:
Paraphrasing for accurate understanding
De-constructing and understanding Shakespeare's grammar and syntax
Identifying operative phrases and key words to unlock the audience's understanding
Physical and vocal techniques for clarity
Developing and deepening imagery
Using scansion to discover hints to pacing, character, and unwritten stage directions
Memorizing meaning rather than speech patterns, for flexible, spontaneous, and responsive performance
The first four weeks of this course focus on tools for comprehension and speech, with an emphasis on prose. The second four weeks move on to verse, combining skills from the first half of class with scansion and deeper image work.
Students who took an abbreviated version of the class in the fall of 2021 said:
"I gained a significant amount of information from it. The format was incredible and I have come away from it with a better understanding of Shakespeare."
"Instructor's knowledge, command of material, keen observational skills, and specific, articulate feedback made the class engaging and useful."
"It was interesting to see the other people's work evolve as they used the tools learned in class."
"The two hours flew by and I often wished we could keep working past stop time."
February 12 – April 2, 2022
Saturdays, 11am-2pm
Ages 16 and Up
Bio for the Instructor:
Melon Wedick studied theatre (and philosophy!) at Oberlin College. She studied Shakespeare performance with Paul Moser and Hal Ryder, and was a founding member of the Certain Players (Randolph, VT) and founding co-director of the Greenville Shakespeare Festival (Greenville, NH). She has performed with the Certain Players, Greenville Shakespeare Festival (NH), Black River Theatre Company, Shakespeare NYC, and the Montford Park Players, among others, and has directed productions of Hamlet, Measure for Measure, and Coriolanus. Now the artistic director of Nemesis Theatre Company, Melon is passionate about clarity and comprehension in Shakespeare performance.