Mark Flowers: "Under Tones" Opening Reception
June 17, 2023 @ 5:00 pm - 7:00 pm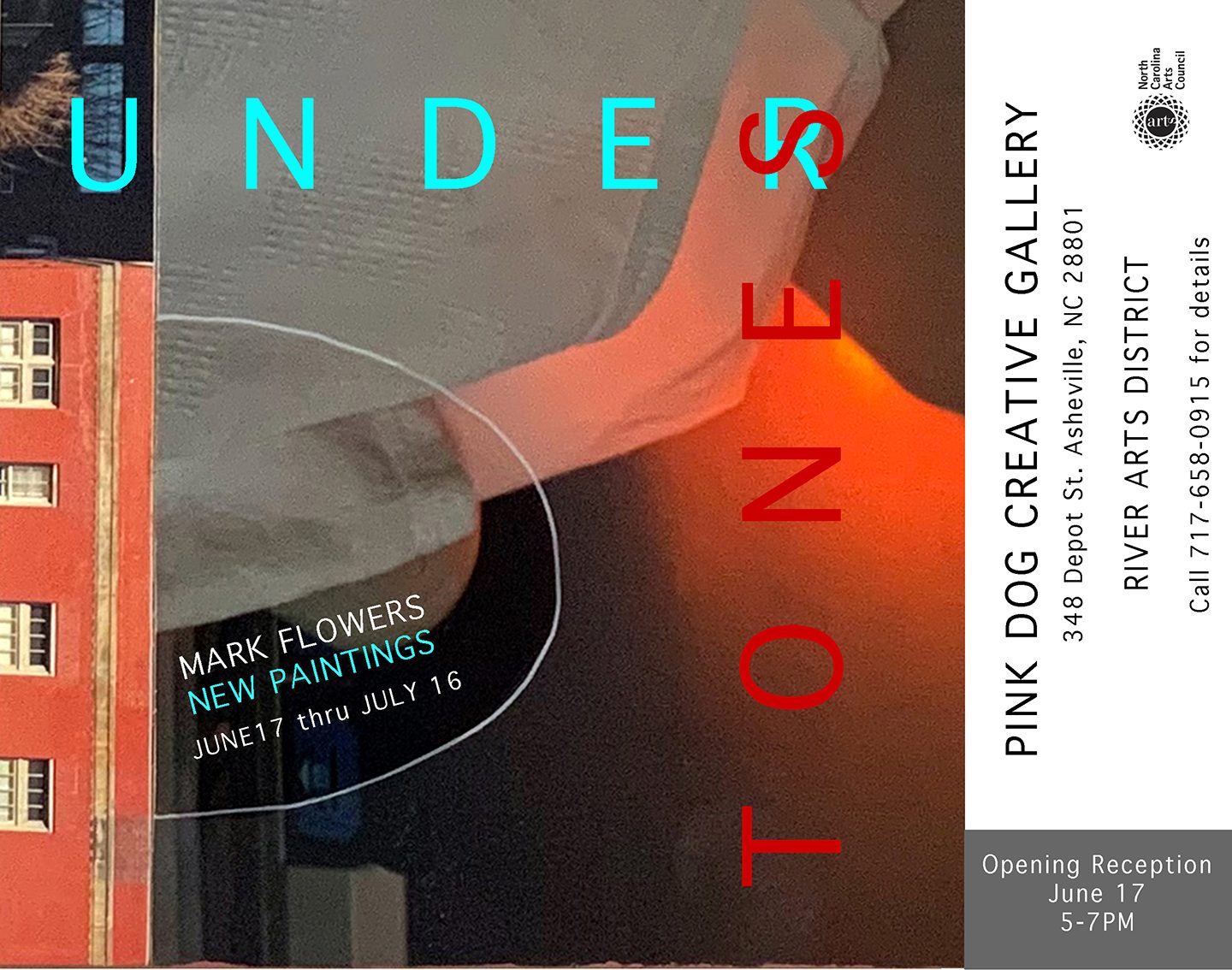 MARK FLOWERS EVOLVES WITH NEW WORK IN ONE PERSON EXHIBITION
Accomplished painter evolves from visual poetry to visual jazz in new works.
In his first one-person exhibition since before the pandemic, 68 year-old veteran artist, Mark Flowers continues to evolve in his style. The exhibition titled "Under Tones" of over 20 works will be on display at the Pink Dog Gallery at 348 Depot Street in Asheville's River Arts District. Opening reception for the artist will be on June 17 from 5:00 to 7:00 PM. The exhibition will run until July 17.
In March of 2021, while visiting Baltimore, MD, Flowers rode a commuter train from downtown out to the suburbs and back. He held his cell phone to the window and recorded still images as the train moved. The series of forms in motion and spontaneous imagery are the foundation of this new work. It was supported by the North Carolina Arts Council materials grant. The main part of the exhibition in- cludes the "Baltimore Series" paintings.
"Any artist wants to evolve, and I feel this is another moment of growth for me. As it's always been, the challenge now is to make a visual composition that will engage myself and hopefully an outside audi- ence. My many years of making art have made me more focused and confident. I have gotten to a place where I can improvise and care less about the rules I artificially set years before. This new ap- proach is more challenging for me, which in turn has invigorated the studio atmosphere," said Flowers.
Mark E. Flowers earned his BFA in Studio Arts from The University of South Carolina in 1977 and his MFA in Painting from Western Michigan University in 1979. He has exhibited his work throughout the United States and in Europe. Mark's work can be found in 28 public and over 350 private collections. Throughout his career he has won numerous awards for his art in both regional and national competi- tions. In 1980, just out of graduate school, he was awarded the South Carolina Artist Fellowship Award. In 2003, he was named one of 100 Art Notable Alumni for the Centennial Celebration at West- ern Michigan University. Most recently, he was awarded a residency at the Golden Foundation in New Berlin, NY He has taught art at the secondary and college levels for 42 years. He retired from teaching in 2019.
In 2004, he and Kristy Higby, his life-long artist partner, purchased a hand-made log cabin just north of Asheville, NC in the community of Alexander. They spent ten years renovating the cabin and in 2009, built a large studio on the property. In the summer of 2014, they relocated permanently to the property they affectionately call "Mountain Tea". Mark's current work can be found at https://foundwork.art/ artists/markflowers
Related Events