Medicine Heart mural exhibition~ collaborations by Annie Kyla Bennett, Dillon Endico, and Jack Henry
March 6, 2022 @ 11:00 am - 5:00 pm
Free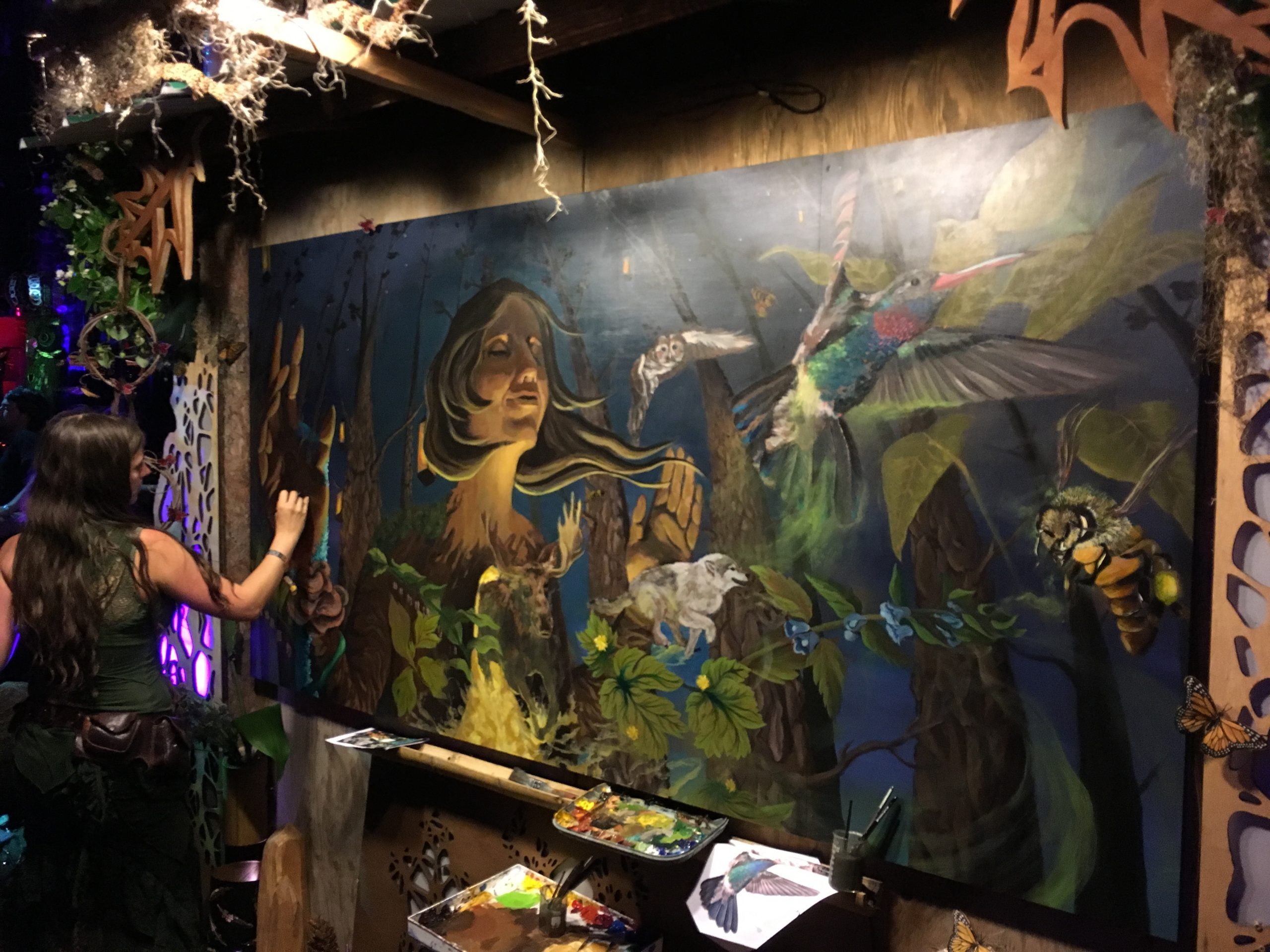 Art Garden AVL Presents:
"Medicine Heart"
An exhibition of original large-scale collaborative paintings by Asheville, NC artists and Art Garden co-founders, Annie Kyla Bennett, Dillon Endico & Jack Henry
Highlighting concepts of land justice and environmental urgency, these paintings are offered to honor the soul of the land where each was created, and kindle resilience for a path forward.
Enjoy refreshments and meet the artists in The Canopy Gallery.
Closing Reception:
March 26th, 4pm-7pm
Show dates: March 1-31
We invite you to celebrate with us for the first time that @MedicineHeartMurals has been able to show their full body of collaborative paintings all together in the same location. Each of these large-scale collaborations was created live in front of audiences at festivals around the country, incorporating inspiration from the local cultures, creatures, and contexts in which they were created to tell stories of remembrance and acknowledgement, of gratitude, and of finding sustainable solutions for the future.
We are excited to be unveiling 3 newly finished paintings along with a few older works, and to offer glimpses into our process, our inspiration and our passion. For the past two+ years, we've welcomed you inside of our biggest collaborative project yet: Art Garden AVL; now, we would like to welcome you inside of the project that brought us together in the beginning: Medicine Heart Murals.
We are so grateful to share that the NOHM will be here serving plant elixirs all night! Come ready to drink plants!
Exhibit generously sponsored by our all-time favorite print shop, Asheville Fine Art Printing!! All of the archival prints available in the show, both paper and canvas, were skillfully produced by AFAP. They're the Best!
A portion of proceeds from this exhibit will be donated to Honor the Earth, an organization of land and water protectors led by Anishinaabe Women.
HTE: "Our mission is to create awareness and support for Native environmental issues and to develop needed financial and political resources for the survival of sustainable Native communities. Honor the Earth develops these resources by using music, the arts, the media, and Indigenous wisdom to ask people to recognize our joint dependency on the Earth and be a voice for those not heard.
As a unique national Native initiative, Honor the Earth works to a) raise public awareness and b) raise and direct funds to grassroots Native environmental groups. We are the only Native organization that provides both financial support and organizing support to Native environmental initiatives. This model is based on strategic analysis of what is needed to forge change in Indian country, and it is based deep in our communities, histories, and long-term struggles to protect the earth."
www.honorearth.org/
Related Events