Medicine Heart ~ Reception Celebration at Art Garden AVL
August 14, 2021 @ 5:30 pm - 8:30 pm
Free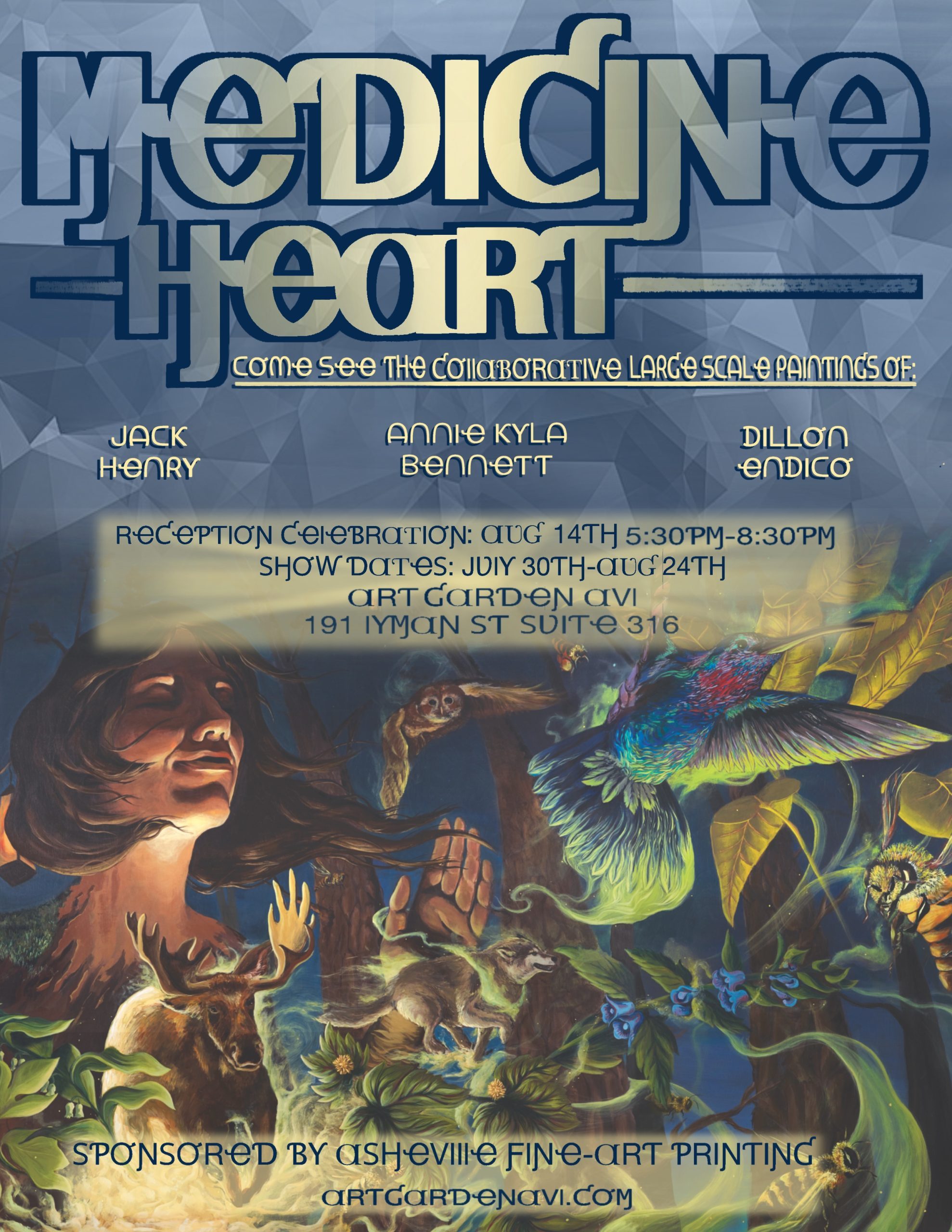 Art Garden AVL Presents:
"Medicine Heart"
An exhibition of original large-scale collaborative paintings by Asheville, NC artists and Art Garden co-founders, Annie Kyla Bennett, Dillon Endico & Jack Henry
Reception Celebration:
August 14th, 5:30pm-8:30pm
Exhibit On View From:
July 30 – August 24
We invite you to celebrate with us for the first time that @MedicineHeartMurals has been able to show their full body of collaborative paintings all together in the same location. Each of these large-scale collaborations was created live in front of audiences at festivals around the country, incorporating inspiration from the local cultures, creatures, and contexts in which they were created to tell stories of remembrance and acknowledgement, of gratitude, and of finding sustainable solutions for the future.
We are excited to be unveiling 4 newly finished paintings along with a few older works, and to offer glimpses into our process, our inspiration and our passion. For the past year and a half, we've welcomed you inside of our biggest collaborative project yet: Art Garden AVL; now, we would like to welcome you inside of the project that brought us together in the beginning: Medicine Heart Murals.
This exhibit is in our newly expanded upstairs gallery space, and we are so grateful to share that the NOHM will be here serving plant elixirs all night!
Art Garden AVL
191 Lyman Street #316 + 320
Asheville, NC 28801
Medicine Heart Murals: https://www.artgardenavl.com/medicineheartmurals
Annie Kyla Bennett:
https://www.instagram.com/anniekylabee/
Dillon Endico:
https://www.instagram.com/dillon_endico/
Jack Henry:
https://www.instagram.com/jackhenryart/
Exhibit generously sponsored by our all-time favorite print shop, Asheville Fine Art Printing!!
https://www.ashevillefineartprinting.com/
Related Events