NEW DIMENSIONS IN ENCAUSTIC with Gina Louthian-Stanley
June 10, 2023 @ 10:00 am - 4:00 pm
$345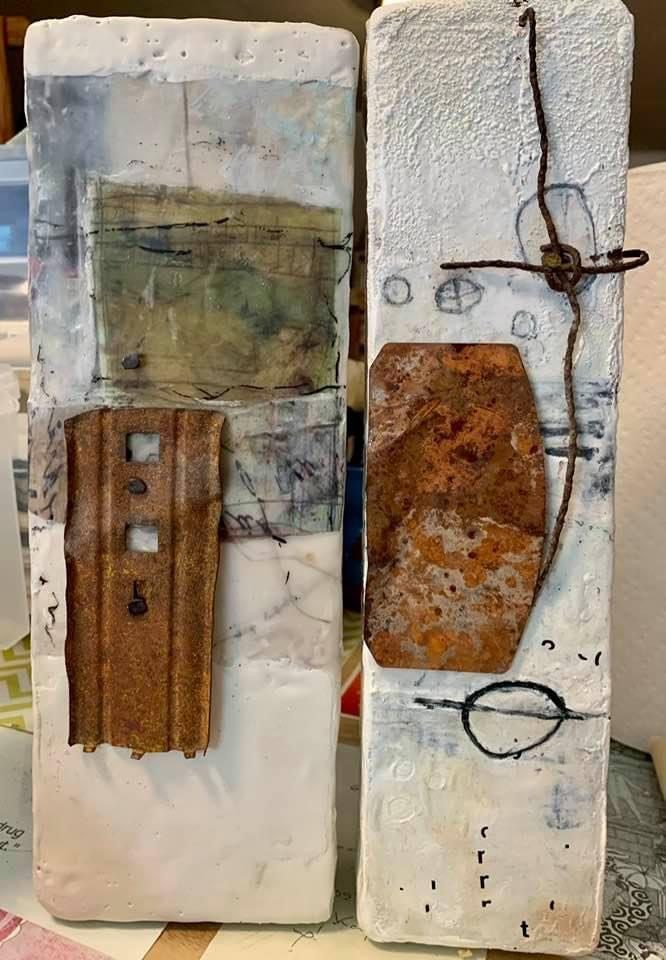 Beginners are welcome, and if you have prior experience with Encaustic you can enhance your skills and go to a new level with your work! Gina will cover safety and basics of Encaustics as needed for all participants.
In this two-day workshop we will dive right in exploring the sculptural possibilities of plaster cloth, wax and encaustic to construct an encaustic 3-D work which best represents your personal idea or creative desire. Rigid and strong when dry, plaster cloth makes a wonderful support for dimensional encaustic work. Once the form is created and plaster applied, we will add Encaustic medium and fuse it to the sculptural composition using a variety of techniques. In the class, we will have one 12" disc and one 12" rectangular shape to use as a base for the plaster cloth. As the structures near completion, you will learn how to add image transfer, found or small personal objects and collage into the sculptures to create your work and discuss a variety of ways to display your work.
As we create, we will contemplate our forms and their meanings to us personally – you can even to go abstract if there are personal symbols you relate to. Gina will bring the two forms; plaster cloth, decorative papers, Encaustic Medium and pigments, oil sticks, oil pastels, and tools.
Related Events