Practicing Magic: The Visual Journal with Eric Scott, June 3, 1pm EDT, Live 4 week course
June 3, 2020 @ 1:00 pm - 3:00 pm
$15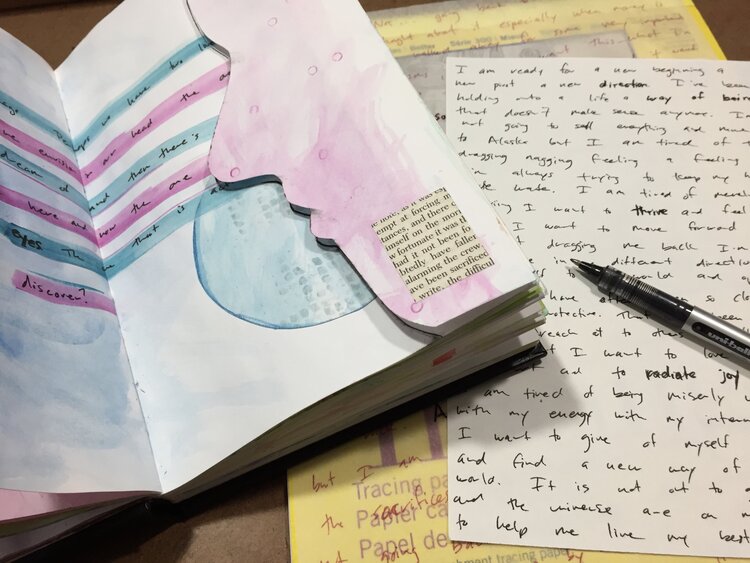 Practicing Magic: The Visual Journal, Wed June 3-24, 1pm EDT with Eric Scott
from 25.00
Wednesdays, June 3 – 24, 1pm – 3pm EDT, 4 classes, Online through Zoom
The visual journal is a place where true magic can happen when you show up with intention, but it's a magic that has to be worked at and practiced. Join me as we delve deeply into using the visual journal as a personal and artistic tool. We'll use a mix of artmaking practices and writing exercises to uncover important themes and develop our personal stories as we work with the intention of digging deep and creating work with meaning and richness.
This workshop focuses primarily on the practice and the process of using the visual journal and not so much on specific techniques. Though materials and techniques will be shared throughout the workshop, the focus will be on larger concepts and idea generation so each student can develop and incorporate meaningful ideas into their personal work. The focus will be on going deeper with what you already know in a structured and intentional way, so this workshop is best for students who already have some experience with art materials but are looking to take things to the next level.
We will meet live on Zoom each week for each of the 4 two-hour classes and focus on different strategies and challenges to push us.
This is a pay-what-you-can workshop, so please select what you would like to pay below. Once you pay, you will be emailed an invitation for the Zoom classes, typically within 24 hrs of purchase. This will be a separate email from the order confirmation that you will receive immediately after purchase.
Related Events