River Arts District Second Saturday Events
July 13, 2019 @ 10:00 am - 6:00 pm
Free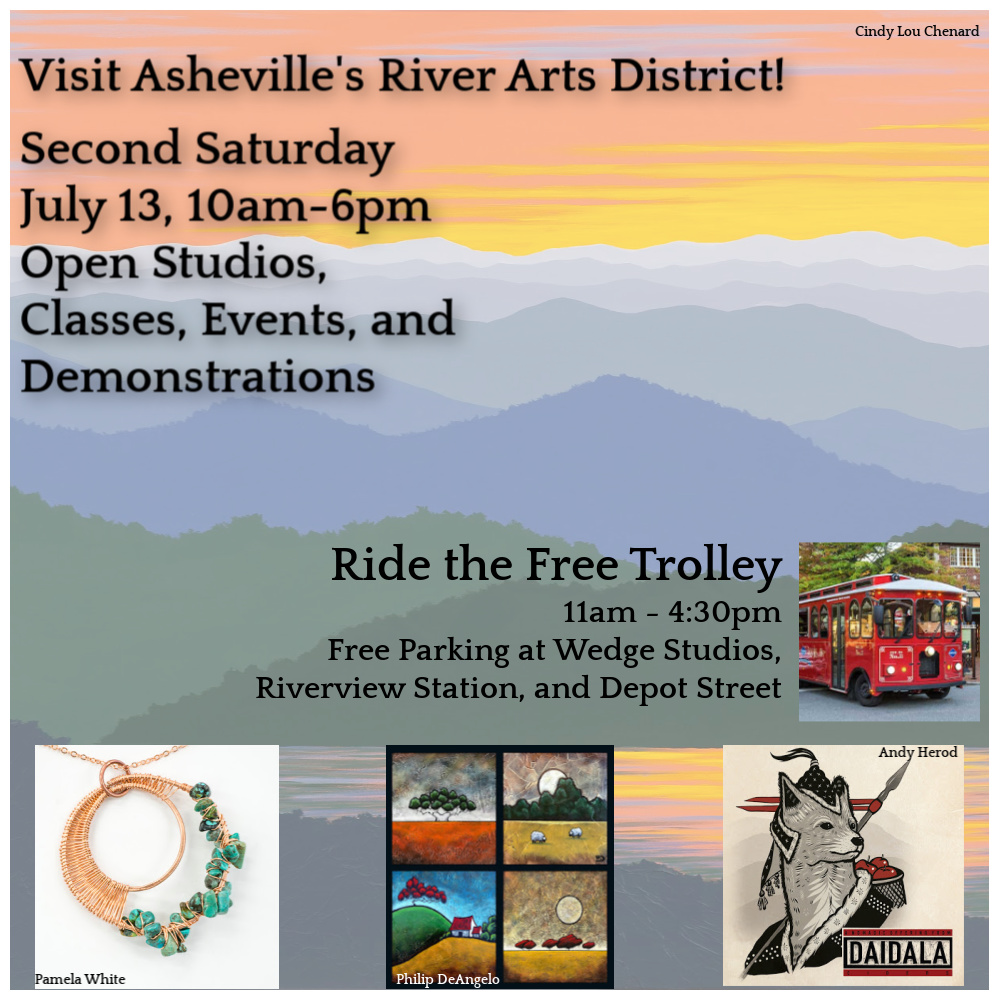 Asheville River Arts District
Saturday, July 13th 2019
On the Second Saturday of each month, the River Arts District holds gallery walks with demonstrations, workshops, live music, wine tastings, delicious food, and more!  Meander the mile-long district or hop on and off the free trolley and discover all that the "RAD" has to offer.  There are more than 200 artists in the 23 buildings throughout the district.  Most of them will be on hand to describe or show you their techniques and share their inspirations.
Most studios and galleries open 10am – 6 pm.  Special evening events listed below.
Trolley Information: Park once and ride the free trolley, sponsored by Explore Asheville, throughout the district from 11am–4:30pm.  Free Parking is available at Riverview Station, Wedge Studios, and on Depot Street.  Click here for the Trolley Map!
Second Saturday Events:
Bluebird Designs/Ignite Jewelry Studios
191 Lyman St #262 
10:00 AM – 11:00 AM
You will make an adorable all sterling silver and enamel "Fly" bird charm, as shown in the picture. Wear comfortable clothing and arrive about 5 minutes ahead to sign a waiver and get settled.  Our studio is located on the second floor and stairs are required to get up to it. $30, all materials included.
https://www.airbnb.com/experiences/310455
Nora Julia
191 Lyman St, #262 
1:00 PM – 2:30 PM
Join me in the studio as we use hammers, saws, files and fire to transform silver wire into a beautiful pair of silver drop earrings. 
 $60, all materials included.
https://www.airbnb.com/experiences/695504
Jonas Gerard
191 Lyman Street, Studio 144 
2:00 PM – 3:30 PM
Experience the energy of a live painting performance as Jonas amps up the music and lets his creativity flow!
https://www.jonasgerard.com/jonas/jonasevents/
310 ART, Riverview Station
191 Lyman St, #310 
10:00 AM – 5:00 PM
A Special Exhibition of new work by 310 ARTists will be on exhibit, including paintings, sculpture, hand-pulled prints, jewelry, fashion, housewares, art and more. See artists demonstrating their methods all day.
pleb urban winery
289 Lyman Street 
4:00 PM – 4:45 PM
Free art tour of Asheville's only Urban Winery. Learn about the murals inside and out of our building, their artists, and their inspiration.
https://www.facebook.com/events/865432390486549/?event_time_id=865432400486548
Cotton Mill Studios
122 Riverside Drive Unit A 
12:00 PM – 8:00 PM
Daidala Ciders and Andy Herod Grand Opening in their new location 
Curve Studios
3 River Arts Place 
10:00 AM – 6:00 PM
Curve Studios, home to twelve working artists, is celebrating July Second Saturday with extended hours. This months' featured artist is Pamela White. Pamela will be in the studio, explaining her process and speaking with clients all day.
Pamela White celebrated her first year at Curve Studios on June 1st! Her unique take on beading has delighted clients from across the nation. Vibrant stones like Lapis Lazuli and Moonstone mingle with other semi-precious stones and crystals in each of her pieces. Her attention to detail and evolving style provides a range of jewelry that matches in exciting ways. Eclipse inspired wire wrapped pendants are new as of December 2018, and retro modern sets with sterling silver and copper hit her display in April this year.   
Come see Pamela's new work and all that Curve Studios has to offer. 
https://www.facebook.com/curvestudiosnc/
Philip DeAngelo Studio
115 Roberts Street 
10:00 AM – 5:00 PM
DayDreams: A collection of small paintings that capture the whimsical thoughts of artist Philip DeAngelo.
Contact: 828-989-5464
North Carolina Glass Center
140-C Roberts Street 
5:00 PM – 8:00 PM
Join Us for Our Featured Artist Exhibition Reception
 Dissolving Boundaries by Ben Elliott
 Opening reception: Saturday, July 13 | 5:00 – 8:00 pm
 Exhibition duration: June 8 – July 31, 2019
 Beer Donated by Wedge Brewing
https://www.facebook.com/events/347176975906903/
Mark D Bettis
123 Roberts Street 
10:00 AM – 5:00 PM
Feather your nest with these amazing new creations by Deb Williams!
Meet the artist and talk about how she came about creating these large glass feathers!
941-587-9502
Odyssey Co-op Gallery
238 Clingman Ave. 
11:00 AM – 5:00 PM
Featured Artists at Odyssey Co-op Gallery for July will be: Melanie Dyel, Trish Salmon, and Brock Flamion. Odyssey Members Gallery on the upper level will have a new exhibit featuring a number of new members as well as our regular members.
Plus – live music and refreshments will be served!
NorthLight Studios
357 Depot Street 
11:00 AM – 4:00 PM
Add NorthLight Studio's 2nd Saturday to your July activities. Isn't July a great month?  Barbecue, fireworks, water activities, ART!  We'll be looking for you at 357 Depot Street. You'll be glad you added us to your fun times.
Leene's Glassworks
Pink Dog Creative, 348 Depot Street, #125
Mostly Mosaics" with Glass Artist Leene Hermann- Meet the artist and talk about how she creates her unique, one-of-a-kind, whimsical glass mosaics. Light refreshments will be served.
Studio A at Pink Dog Creative
344 Depot Street, #100 
12:00 PM – 5:00 PM
Ukrainian pysanky egg demos, snacks and wine!
Trackside Studios
375 Depot Street 
12:00 PM – 4:30 PM
Verre Dansant will have a major discount table with small, original glass work.
Trackside Studios
375 Depot Street 
2:00 PM – 5:00 PM
Meet Susanna Euston, fine art photographer. Susanna's photographs feature florals and waterfalls of Western North Carolina. Join us for sips & snacks. Artist demonstrations throughout the day.
https://www.facebook.com/events/2262609277400251/
362 Depot
362 Depot Street 
11:00 AM – 6:00 PM
Join us at 362 Depot Street Studios from 11am to 6pm. See the new collection of Artful Chairs and Dimensional Mountainscapes by artists by Jenny Ellis and Cindy Lou Chenard. Come see a variety of 8 local artists. There will be demonstrations, sips and light bites all day. 
LEAF EASEL RIDER
MOBILE ART LAB IN THE RAD
8 River Arts Place (formerly 14 Riverside Drive)
11am – 5pm
River Arts District Business Association & the City of Asheville have invited the LEAF Easel Rider mobile art lab to be open for Second Saturday visitors in June, July, and August 2019!  From 11am to 5pm, LEAF artists will provide interactive, hands-on activities for the whole family.
Free and open to all.  Local families are encouraged to come and take part in the fun!
July artists: 
Irene 'Jenny' Pickens, a self taught artist from Asheville,NC:  At a very young age I loved creating and making things with my hands. Throughout school I received several art certificates and awards.  My art has been featured in newspapers and magazines.  I was the t-shirt designer for the Goombay Festival in Asheville in 2006 and 2007.  Throughout my hometown I've done several murals, logo designs, as well as Art shows.  My media of choice is acrylics.  However, I've worked in all mediums.  Hand built pottery, sewing, and jewelry making are some things I enjoy as well.  I continue to learn new and challenging projects.  God has truly blessed me to be a self-taught artist and I will continue to develop and inspire others.  For more about Jenny's art: https://fineartamerica.com/profiles/jenny-pickens.html
James Love: A professional fine artist who currently resides in Asheville, NC.  James was born and raised in Burlington, NC.  He graduated from Williams High School and attended Morehouse College as a freshman before transferring to Warren Wilson College, where he earned his degree in Creative Writing with a concentration in poetry.  When James was in Elementary school, he made and sold handmade comic books to buy a new Gameboy because his mother challenged him to figure out a way to buy it himself.
Future 2nd Saturday Artists:
8/10/2019- Edwin Salas- Robyn Joseph
Generously sponsored by: River Arts District Artists, Curve Studios, NC Glass Center, Old Wood Co., Eco Depot Marketplace, Siteworks, and the Historic West End Clingman Avenue Neighborhood Association.
https://www.theleaf.org/easel-rider/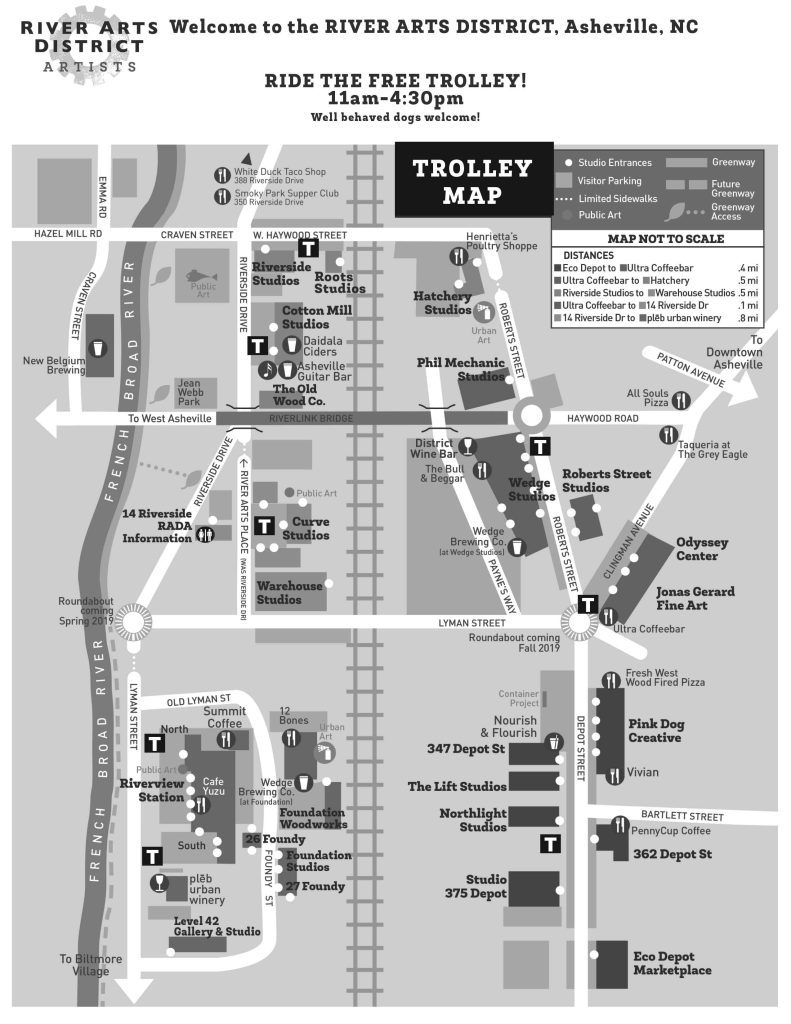 Related Events