June 2019 Second Saturday Events Listing
June 8, 2019 @ 10:00 am - 6:00 pm
Free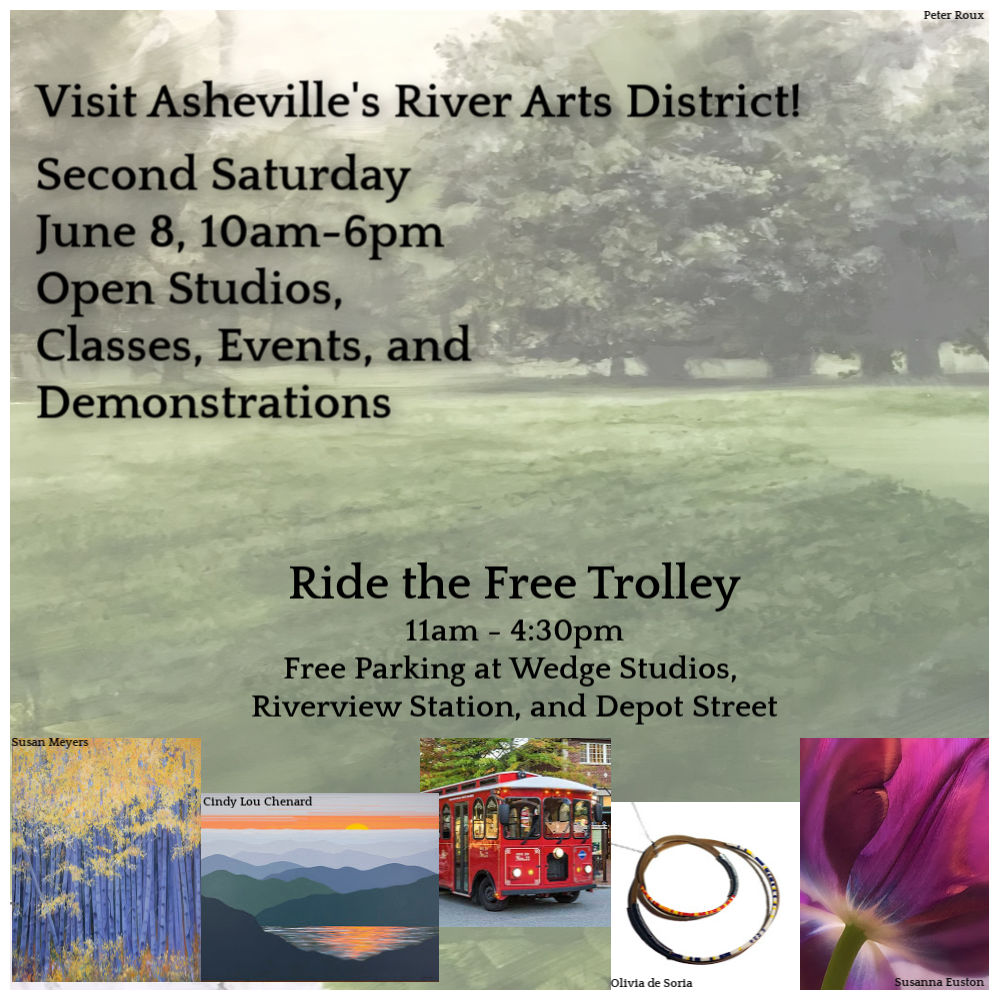 Asheville River Arts District
On the Second Saturday of each month, the River Arts District holds gallery walks with demonstrations, workshops, live music, wine tastings, delicious food, and more! Meander the mile-long district or hop on and off the free trolley and discover all that the "RAD" has to offer. There are more than 200 artists in the 23 buildings throughout the district. Most of them will be on hand to describe or show you their techniques and share their inspirations.
Ride the free trolley throughout the district from 11am – 4:30pm. Most studios and galleries open 10am – 6 pm. Special evening events listed.
Saturday, June 8th 2019
Second Saturday Events:
Odyssey Galleries
238 Clingman Ave.
11:00 PM – 5:00 PM
Featured artists for June in Odyssey Co-Op Gallery are: Vivian Saich, Mary Jane Findley, and Blue Fire's Mac Mahan. Demos, snacks and live music will be playing in the upstairs Odyssey Studios Gallery. Come visit our newly designed gallery.
828-280-1107
Phil Mechanic Studios
109 Roberts Street
10:00 AM – 7:00 PM
Group Show in the Stand Gallery on the theme of
Water. Libations, light snacks & entertainment provided.
Instagram- #philmechanicstudios
Phil Mechanic Studios – Stand Gallery
109 Roberts Street
10:00 AM – 8:00 PM
The Stand Gallery will feature a group show of PMS Artists titled: Water. The Phil Mechanic Studio Artists will also be in their studios all day before the event which starts @5 until 8. Libations & entertainment will be provided.
Wedge studios, 1st Floor
129 Roberts Street
11:00 PM – 5:00 PM
Encaustic wax demos all day.
362 Depot Street
2:00 PM – 5:00 PM
New modern dimensional landscapes by Cindy Lou Chenard, Cindy will be demonstrating her unique technique "Art des couches de bois".
Trackside Studios
375 Depot Street
2:00 PM – 5:00 PM
Artist reception for Susanna Euston, fine art photographer. Art demonstrations all day. Sips & snacks.
https://www.facebook.com/events/2262609277400251/
Curve Studios
3 River Arts Place
10:00 AM – 5:00 PM
Curve Studios, home to twelve working artists, is celebrating June Second Saturday with extended hours and a demonstration by this months' featured artist. This June we're highlighting jeweler Olivia de Soria. Come watch Olivia make one of her Brass Beaded Elliptical Bangles.
A celebrated jeweler working out of Asheville North Carolina, Olivia de Soria creates art-jewelry with a sculptural and kinetic flare. Sensuality is the embodiment of her designs which adorn the feminine figure with distinguished style and grace. Olivia's design process has been extensively influenced by cultural traditions from all over the world. She spent six months in the Persian Gulf doing field research on the history of pearl diving.
Level 42 Gallery & Studio
47 Foundy Street
11:00 AM – 7:00 PM
Live local glass blowing demos throughout the day.
Riverview Station
The Village Potters Clay Center
191 Lyman Street, #180
9:00 AM – 4:00 PM
Master Series Demonstration Workshop with Leah Leitson
Whether you work with porcelain or a smooth stoneware, Leah Leitson will show you how to elevate and expand your forms and design vocabulary in this one-day demonstration workshop.
Leah will explore techniques and ideas that are centered around making functional forms, as well as exploring various ways of making handles, spouts, feet, and lids. She will demonstrate making pots on the wheel and with the use of slump and hump molds. Surface decoration will include working with slips and carving on porcelain.
Leah Leitson teaches ceramics at Warren Wilson College in Asheville, NC. She received her M.F.A. in ceramics from Louisiana State University, in Baton Rouge and her undergraduate B.F.A. in ceramics from New York State College of Ceramics at Alfred, New York. Leah completed ceramic residencies at the Archie Bray Foundation in Helena, Montana, the Banff Center for the Arts in Alberta, Canada, and Guldagergaard, an International Ceramic Research Center in Denmark. She is a member of the Piedmont Craftsmen and the Southern Highland Craft Guild. Leah teaches ceramic workshops throughout the world, including Arrowmont School of Crafts, Penland School of Crafts, and workshops in Italy and Israel.
https://thevillagepotters.com/product/master-series-with-leah-leitson/
Riverview Station, #261
Sky + Ground Contemporary Art
191 Lyman Street, #261, Asheville, NC 28801
10:00 AM – 5:00 PM
Artist Peter Roux and Studio Manager Rachel Roux will be celebrating their new venture, Sky + Ground Contemporary Art, a separate gallery space operating in conjunction with Peter Roux Studio. Work on view includes pieces from Peter's popular "Suspension" cloud series, as well as abstracts and work from the recent series, "Down by the River" which is inspired largely from walks along the French Broad River. Also showing "Seascapes" from Photographer Karen Philippi, and more to come! Snacks and refreshments will be served.
Riverview Station, #213
Catherine Heaton
191 Lyman Street, Studio #213
10:00 AM – 5:00 PM
Lovely June! Open Studio, #213 with Paintings and Drawings: Figurative, Landscapes, and Abstract Bold Color Wall Decor. Welcome!
Riverview Station
310art
191 Lyman St, #310, Asheville, NC 28801
10:00 AM – 5:00 PM
310 ART at Riverview Station is celebrating the 10th Anniversary of our fine art gallery with a special Large Works show of never-before seen paintings and mixed media art by the 310 ARTists. The gallery features original art in all sizes and in a myriad of styles and mediums including oils, mixed media, watercolor, acrylics, encaustic, pastels, sculpture and fine handcrafted jewelry all by 19 local artists. The show will be on exhibit through June 30th. On June 8th we will host an all-day event with refreshments, demonstrations and a meet and greet the artists.
Riverview Station, 310art
Nadine Charlsen
191 Lyman Street,
1:00 PM – 3:30 PM
Live painting with watercolor and dark beer (used as a medium/color) in each of the small paintings.
https://310art.com/ – /nadine-charlsen/
Riverview Station, #268
Tebbe Davies
191 Lyman Street, Unit #268
2:00 PM – 4:00 PM
Enjoy a comfortable two hour demonstration of the creative inspiration and fearless joy that is the Art of Tebbe Davis in Studio 268 at Riverview Station! Snacks and refreshments provided.
Jonas Gerard Fine Art at Riverview Station
191 Lyman Street, Studio 144, Asheville, NC 28801,
2:00 PM – 3:30 PM
Jonas will be giving a LIVE Painting Performance on Saturday, June 8th at 2:00 pm at his Riverview Station Gallery. Make plans now to attend this free event and experience the creative energy as Jonas incorporates an eclectic mix of music to set the tone for his spontaneous, expressive, process painting.
https://www.jonasgerard.com/jonas/jonasevents/
LEAF EASEL RIDER
MOBILE ART LAB IN THE RAD
8 River Arts Place (formerly 14 Riverside Drive)
11am – 5pm
River Arts District Business Association & the City of Asheville have invited the LEAF Easel Rider mobile art lab to be open for Second Saturday visitors in June, July, and August 2019! From 11am to 5pm, LEAF artists will provide interactive, hands-on activities for the whole family.
Free and open to all. Local families are encouraged to come and take part in the fun!
June artists:
Irene 'Jenny' Pickens, a self taught artist from Asheville,NC: At a very young age I loved creating and making things with my hands. Throughout school I received several art certificates and awards. My art has been featured in newspapers and magazines. I was the t-shirt designer for the Goombay Festival in Asheville in 2006 and 2007. Throughout my hometown I've done several murals, logo designs, as well as Art shows. My media of choice is acrylics. However, I've worked in all mediums. Hand built pottery, sewing, and jewelry making are some things I enjoy as well. I continue to learn new and challenging projects. God has truly blessed me to be a self-taught artist and I will continue to develop and inspire others. For more about Jenny's art: https://fineartamerica.com/profiles/jenny-pickens.html
Edwin Salas Acosta is a Mexican Puppeteer, dancer, and plastic artist who loves to create creatures with paper and other materials. In the last 18 years, I have been able to present myself in Italy, France, Spain, Switzerland, Poland, Mexico, Cuba, Nicaragua, Costa Rica, Colombia, Ecuador, Belize, Guatemala, United States and Taiwan. Edwin grew up in Costa Rica and studied his art in Italy. He speaks Spanish, Italian and English. For more on Edwin: https://www.edwinsalas.com/
Future 2nd Saturday Artists:
7/13/2019 – Jenny Pickens and James Love
8/10/2019- Edwin Salas- Robyn Joseph
Generously sponsored by: River Arts District Artists, Curve Studios, NC Glass Center, Old Wood Co., Eco Depot Marketplace, Siteworks, and the Historic West End Clingman Avenue Neighborhood Association.
https://www.theleaf.org/easel-rider/
Related Events