October 9, 2021 @ 10:00 am - 6:00 pm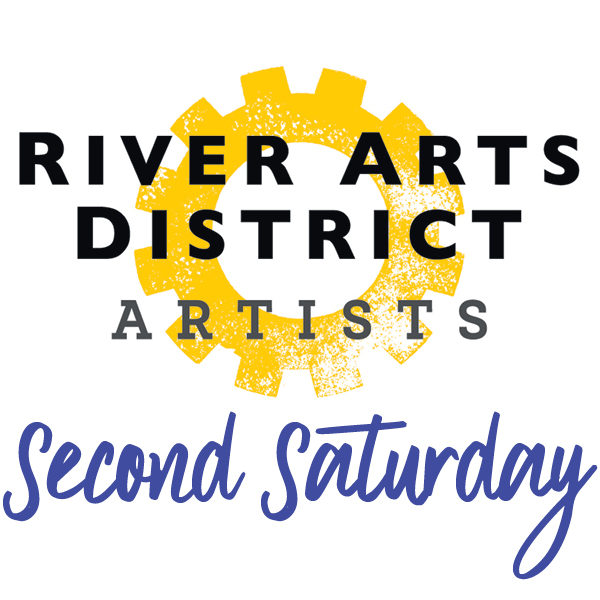 SEPTEMBER SECOND SATURDAY — September 11th
EVENTS in the RIVER ARTS DISTRICT
Contact: Rachel Wyatt, River Arts District Coordinator
Email: [email protected]
Trackside Studios
375 Depot Street Street Studios
Michelle Hamilton
"The Depth of Art" Exhibition
4:00 PM – 7:00 PM Opening Reception
10/02 through 10/31/2021
"The Depth of Art" is the theme of Michelle Hamilton's multi-layered acrylic and resin paintings, a
fantastical series that includes animals and other amazing creations to be featured in Trackside's
Atrium Gallery during the month of October.
Already known for her striking encaustics, Hamilton is now exploring the creative possibilities of
layering paper, ink and pigment to achieve the illusion of depth and dimensionality, the feel of "two
dimensions eagerly trying to become three dimensions." Hamilton's innovative process begins with a
layer of paper, ink, paint and colored pencil, covered with a layer of resin. More layers of resin and
more ink and paint details are added to create extra depth. It's a painstaking process, Hamilton
says, that does not like to be rushed.
Finding her inspiration in the natural world, Hamilton describes herself as a storyteller, or "perhaps a
facilitator of stories" through her art. The vividly colorful animals that make up part of the exhibition
have distinct personalities and attitudes, their expressions alive with tales not yet told. "I spend a lot
of time on their expressions and getting that look in their eyes just right. In fact, I start with the eyes
and the rest of the piece flows from there. When the viewer takes the time to look into those eyes
and listen with an imaginative ear, I believe that they will hear a story meant just for them."
michellehamiltonart.com
Trackside Studios
The Magnetic Theatre
375 Depot St., #105
7:30 PM – 9:30 PM
10/08 –23/2021
The Magnetic Theatre presents Bloodbath: Victoria's Secret
As "Tori Piper," Victoria Leigh was once the darling of mid-to-late eighties low-budget horror—she
was the go-to final girl of a dozen or so B-level slashers. Then she filmed the cult classic Sorority
Bloodbath, a cinema verité horror film plagued by rumors of sinister occurrences on-set. Then she
vanished, fueling a subset of fan conspiracy theories.
In 1999, Victoria Leigh is planning a quiet New Year's Eve dinner with her girlfriend, but things aren't
working out. People keep showing up at the apartment, and some of them may have sinister
intentions. Deadly intentions. Add in a crazed young wanna-be agent and Tori's former lover / co-star
who has hidden motivations of her own, and the pressure and terror mounts quickly for the former
scream queen.
But as the night lengthens and the body count grows, more questions arise. Who is really the hunter
and who the prey? And what really happened on the set of Sorority Bloodbath all those years ago?
To what lengths will a final girl go to survive?
Written and Directed by Jamieson Ridenhour
October 8th through 23rd, 2021
Thursdays, Fridays & Saturdays at 7:30pm
Sundays at 4pm
[email protected] | https://themagnetictheatre.org/
Wedge Building
Philip DeAngelo Studio
115 Roberts Street, #115
Claudia Moore Field Art
10:00 AM – 4:00 PM
10-09-2021
Claudia Moore Field will be demonstrating how she creates one of her beautiful Fall Trees during
October's Second Saturday. She will be looking forward to chatting about her art and answering any
questions.
Phil Mechanic Studios
109 Roberts Street
Art Exhibit: "Twenty Years Gone" A Retrospective of TL Lange
Opening Reception: Saturday, October 9, 2021 12–7pm
Show runs through December 12, 2021
Arguably the most talented of the three Lange brother artists, TL Lange was an actual rockstar in
Atlanta before he was an art rockstar in Asheville.
"He was going to participate in the Fall Studio Stroll (2001) but something came up. He dropped a
couple of cardboard jericho cases with random unstretched canvases and paper pieces for me to
sell. It has never been viewed by the public before; some are for sale and others are only being
shown." —Stephen Lange.
Twenty of TL Lange's paintings from that batch will be included in this exhibition as well as prints
of Anonymous Bathers, one of Lange's most noteworthy creations.
Before his passing at the age of 36, TL Lange was a noted figurative and abstract artist, who had
exhibited in numerous, prominent galleries throughout the Atlanta Georgia area, as well as in Salt
Lake City, Dallas, Chicago and Seattle. His artwork can also be found in many public collections
and in private, corporate collections including Wentworth Galleries, Larson Juhl Frames, Saks
Fifth Avenue and Microsoft.
Riverview Station
191 Lyman, #310
Bridget Benton at 310 Art
Introduction to Eco Printing
10:00 AM – 4:00 PM
10/09/2021
An entry-level course designed for those who want to begin exploring the wonders of eco printing–
the all-natural process of transferring plant and leaf images onto fabric and paper using the natural
"dyes" in the botanicals themselves! We will be focusing on steam methods using simple mordants
like vinegar and rust. Perfect for beginners and those with some nature printing experience!
On the first day, students will start the day by testing various plant materials on paper and silk using
steam eco printing methods. On the second day, we will explore immersion methods, again working
on paper and silk. We will cover material preparation, bundling, and mordanting for both methods, as
well as how to care for the final prints. As a culminating project, students will print their own silk
scarves using the different methods.
While all materials will be provided, students are encouraged to bring a variety of leaves and/or
flowers to experiment with.
For more information contact: Bridget Benton | [email protected]
https://310art.com/2021-inperson-workshops/eco-printing-october-2021
Related Events