June 12, 2021 @ 10:00 am - 6:00 pm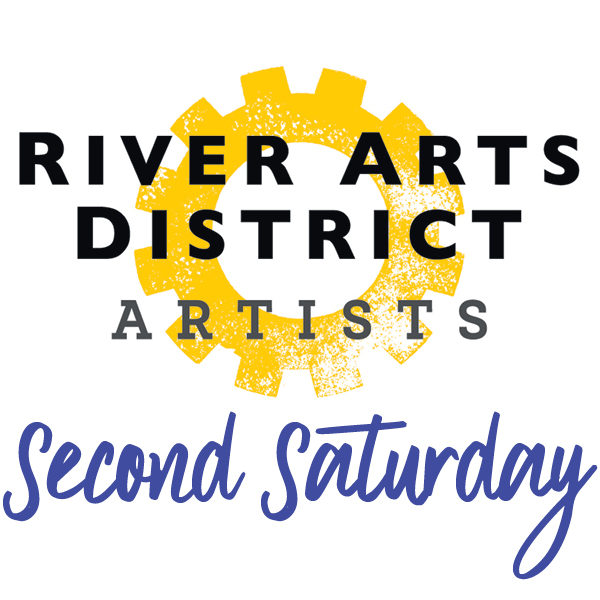 On the Second Saturday of each month, Asheville's River Arts District holds gallery walks with demonstrations, workshops, live music, wine tastings, delicious food, and more. Visitors meander the mile-long district and discover all that the "RAD" has to offer. There are more than 200 artists in the 22 buildings throughout the district. Many of them open during this monthly event to describe or show their techniques and share their inspirations.
Many studios and galleries are open and welcoming visitors throughout the month, following county and state guidelines. For more March Events and Classes (online and in person), please visit: https://www.riverartsdistrict.com/events/.
Second Saturday, April 10, Events:
362 Depot Street Studios
Cindy Lou Chenard
Dimensional Landscape Painting Demo
11:00 AM – 5:00 AM
Cindy will be demonstrating her dimensional mountain scenes using layers of wood and paint. She will also be showing her new works created during the pandemic titled "The Long, Long Wait" using recycled paint on wood.
https://www.facebook.com/cindylouchenardart
https://www.cindylouchenard.com
---
375 Depot Street
Trackside Studios
Paige Houghton
Demonstration
11:00 AM – 4:00 PM
Stop by for my demonstration painting on new spring vessels and window panels. I'll be going over how I create pieces that look like stained glass, and the variety of loose, natural fibers I use.
---
Phil Mechanic Studios
109 Roberts Street – The Only Studio Left
World's Best Tape & Sticker Artist
Weaving Magic
9:00 AM – 7:00 PM
I will be doing magic tricks & weaving stained glass all day long!
Langeart.com
---
Riverview Station
191 Lyman Street – Studios 316 & 320
Art Garden AVL
Harry Rivera Solo Exhibit & New Expanded Gallery Space – Open House
11:00 AM – 5:00 PM
Join us for a Soft Opening of our new expanded exhibition space as we welcome painter Harry Rivera for a solo show! We've almost doubled our square footage at Art Garden with a new gallery, more working studios, and a workshop space large enough to accommodate social distancing for limited classes, returning soon!
Our first guest artist in the expanded exhibit space, Harry Rivera, makes "art as a tool for helping viewers escape the societal matrix of obligation and return to a more authentic, internal motivation." His art is designed to spark a dormant sense of soul and oneness. Bold and highly textural, these large and powerful works explore personal and universal themes, all using recycled and repurposed materials.
Harry Rivera was born in 1977, and raised in Brooklyn, New York. In adolescence he was introduced to the philosophies of the Black Panther movement, and to the broader ideas of Black consciousness. Since then, he has expanded on what he learned there to incorporate what he refers to as his "Indigenous Self", focusing on his Puerto Rican heritage. Harry Rivera currently resides in Marshall, NC with his partner and youngest son, where they run a small garden business geared towards sustainability and food justice, called Purple Lotus Gardens.
The exhibit will run April 10 – May 31. Harry will be in the space on April 10th for the open house to share about his work. We'll also be hosting a plant sale or two with Purple Lotus Gardens throughout the spring. Check our social media for more!
~~All gallery and garden activities socially distanced, with masks required.~~
http://www.artgardenavl.com
---
Riverview Station
191 Lyman Street – Studio #224
Asheville Print Studio
Printmaking Demos
11:00 AM – 5:00 PM
Visit Asheville Print Studio and find out how prints are created using safer studio practices and materials. Get information on upcoming printmaking classes in a range of topics. Explore the gallery of prints on paper as well as soft furnishings.
AshevillePrintStudio.com
---
Wedge Building
115 Roberts Street, Philip DeAngelo Studio
Tanya Franklin
Stained Glass Demonstration
11:00 AM – 3:00 PM
Tanya Franklin will be demonstrating Stained Glass skills and techniques. She will be available for questions throughout the day. Stop by and check out something new in an old art.
Related Events