November 13, 2021 @ 10:00 am - 5:00 pm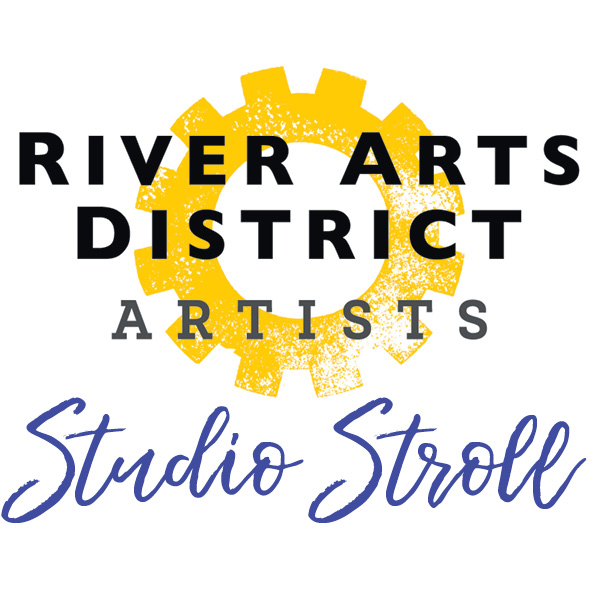 The 240+ artists of Asheville's River Arts District open their doors for a full weekend at the Fall Studio Stroll welcoming the public, from near and far, to experience and collect amazing art in their studios and galleries. Attendees will enjoy two days full of special demonstrations and events, including unique workshops and gallery receptions.
The River Arts District is minutes from Downtown Asheville and The Biltmore Estate.  Free parking and a greenway around the River Arts District make it easy to see it all. Full map available on our website.
Fall stroll is a creative experience for people of all ages, welcoming families, friends, couples and single explorers. The event is great for seeking out fine art to add to your collection, falling in love with a funky new hat, or collecting colorful artist cards to create a mosaic. There are all kinds of art and craft being created in the district, from traditional and contemporary painting to gorgeous jewelry, blown glass, exquisite woodworking, and even majestic bonsai. Many studios have snacks and refreshments, and there are also plenty of cafes, restaurants, and watering holes to take a break, along with open spaces for the kids or dogs to play.
Short Description: The River Arts District of Asheville is a mile-long cluster of working studios, galleries and eateries housed in the former industrial section of town surrounding the railroad along the banks of the French Broad River. The working studio artists, many with showrooms and galleries, are open throughout the year. During Fall Studio Stroll, the RAD's artists and businesses come together to create a 2-day event where visitors can experience the absolute best of the district, with most artists and businesses open full days to greet them and explain their processes.
Riverview Station – Ground Floor, North
310 Art
191 Lyman Street, #310
11/13/2021
11:00 AM – 5:00 PM
Little Pleasures Art Exhibit
The artists of 310 Art, Fleta Monaghan, Bridget Benton, Miriam Hughes, and Susan Sinyai, have all
created smaller pieces with the theme of "Little Pleasures." These original artworks celebrate the
artists' favorite things, those precious objects or simple experiences that bring joy. The creation of
these original works is a kind of gratitude practice for all the good things that exist even in
challenging times. Visitors are invited to browse the collection in person during the Studio Stroll or
during open hours. Select items will also be available for purchase online through the 310 Art
website. www.310art.com
Riverview Station – Second Floor, South
AshevillePrintStudio
191 Lyman Street, #224
11/13/2021
12:00 PM – 4:00 PM
Printmaking Demo with Denise Markbreit
Offering a glimpse into how original, handmade fine art prints are created using soy-based inks. We
will be rolling ink to create woodblock and monotypes all afternoon.
www.AshevillePrintStudio.com
Riverview Station – Second Floor, South
Sky + Ground Contemporary Art
191 Lyman Street, #265
Saturday, 11/13/2021
12:00 PM – 4:00 PM
Cloud Painting Demos
Take a peek inside the process with Peter Roux as he works through one of his impactful cloud
pieces in the studio. Questions will be welcomed! Spend some time with his completed work in the
gallery, as well as view work from painter Christopher Peterson, and seascape photography from
Karen Philippi. Gallery is open from 10am to 4pm.
www.peterrouxartist.com
Riverview Station – Second Floor, South
Sky + Ground Contemporary Art
191 Lyman Street, #265
Sunday, 11/14/2021
12:00 PM – 4:00 PM
Monotype Demonstrations
Join artist Peter Roux to get a behind-the- scenes look at his monotype printmaking process! Rich
color fields in both his single trees and pure abstract works make these pieces intriguing to explore.
Questions are welcome. Take some time to view all of the artwork in the gallery, including Peter's
popular Suspension cloud series and charcoals, as well as landscapes and interiors from painter
Christopher Peterson, and seascape photography from Karen Philippi. Gallery is open from 10am to
4pm. www.peterrouxartist.com
Riverside Studios
Brit J. Oie
174 W. Haywood Street
11/13/2021
10:00 AM – 5:00 AM
Open Studio
Riverside Studios will be open and welcoming visitors and friends for the Studio Stroll. New works
and specials for the Holiday Season will be available from our six studio artists; Brit J. Oie, Nat
Dickinson, Patricia Cotterill, Sara Moser, Carol C. King and Crawford Haase.
www.britoieart.com
Phil Mechanic Studios
109 Roberts St., Suite 3C
Worlds Best Tape & Sticker Artist
11/13/2021
9:00 AM – 8:00 PM
Ninja Art and Magic with Stephen Lange
Stephen will be weaving stained glass and making cloaking devices for all the ninjas, big & small in
addition to showcasing a 20-year retrospective featuring the art of his brother, TL Lange.
www.Langeart.com
Phil Mechanic Studios
109 Roberts Street
Gallery Reception
11/13/2021
12:00 PM – 7:00 PM
TL Lange Retrospective Exhibition:
"Twenty Years Gone" Hosted by Stephen Lange
Arguably the most talented of the three Lange brother artists, TL Lange was an actual rockstar in
Atlanta before he was an art rockstar in Asheville.
"He was going to participate in the Fall Studio Stroll (2001) but something came up. He dropped a
couple of cardboard jericho cases with random, unstretched canvases and paper pieces for me to
sell. This work is from that batch. It has never been viewed by the public before; some are for sale
and others are only being shown." — Stephen Lange.
Twenty of these TL Lange paintings will be included in this exhibition as well as prints of Anonymous
Bathers, one of his most noteworthy creations.
TL Lange was born and raised in Charleston before studying drawing and painting at Winthrop
University in Rock Hill, SC. After spending about five years in Atlanta, where he first made a name for
himself in the art world, he moved to North Carolina where he maintained his home and atelier until
his untimely death at the age of 36.
Lange started his work with "concrete visions", and actually began several paintings at one time. He
tried to allow some form of synchronicity to determine his next decision. The artist once said, "I make
marks for the sake of themselves. I create error that I find attractive in all of our everyday lives.
However, I leave it hanging three marks shy of discernment. What I mean by that is that I choose that
it not be understood or to be scrutinized by its detail or its adherence to reality—only to be seen for
its sense and its nostalgic response without my personal sentiment."
A figurative and abstract artist, TL Lange exhibited in numerous, prominent galleries in his young
career. A condensed list includes Artworks Gallery (Salt Lake City, UT), Art Works (Atlanta, GA),
Human Arts Gallery (Atlanta, GA), Landsdell Gallery (Atlanta, GA) and Art Dallas (Dallas, TX), Mary
Bell Galleries (Chicago, IL) and Foster White Galleries (Seattle, WA). TL Lange's remarkable artwork
can be found in many private, corporate, and public collections including Wentworth Galleries,
Larson Juhl Frames, and Saks Fifth Avenue Corporation and Microsoft Corporation.
https://test-riverartsdistrict.pantheonsite.io/event/tl-lange-retrospective-twenty-years-gone-exhibition-studio-
stroll-reception/
Philip DeAngelo Studio
115 Roberts Street
11/13/2021
10:30 AM – 4:00 PM
Contemporary Americana Painting with Philip DeAngelo
Philip will be painting in the front window of the gallery during Second Saturday. Come visit with us
and watch him create! www.philipdeangeloart.com
Mark Bettis Studio & Gallery
123 Roberts Street
11/13/2021
4:00 PM – 7:00 PM
Opening Reception
Little Boxes Where We Dwell: Habitats, Spaces, and Reflections
The Mark Bettis Studio & Gallery will exhibit a curated collection of works by a group of artists that
examine and expand upon the concept of "home." The works chosen for the exhibit reflect the fact
that home means many things, and that the conceptual framework is complex and excitingly open-
ended.
Home can be a peaceful sanctuary, offer shelter from the literal and figurative storms of life, and
serve as an arena for hospitality, gathering, and laughter. It's a place where we celebrate, heal,
struggle, create, and contemplate, yet each person's "little box" is utterly distinct to them.
And what of the little boxes that are homes away from home? Hospitals, hotels, and campsites are all
little boxes — for a time.
The group of artists contributing works to the exhibition is as varied in their approach to the show's
concept as the diverse range of media they use to create. Viewers will see that the artists'
imaginations house unbounded ideas that are expressed through their work.
The contributing artists celebrating their notions of home are:
• Jacqui Fehl (mixed media artist)
• Deb Williams (glass artist)
• Samantha Edmiston (painter and sculptor)
• Michael Hofman (porcelain clay artist)
• Phil DeAngelo (painter)
• Carrie Cox (bookmaking and mixed media/found object artist)
• Terri Foland (fiber artist)
• Grant Penny (contemporary paper collage artist)
• Andrea Kulish Wilhelm (mixed media artist, graphic designer, and Ukrainian pysanky egg
creator)
• Mark Bettis (oil and cold wax painter)
• Nabil El Jaouhari (oil and mixed media artist)
Bettis typically honors nuance and multiple meanings in the exhibitions he curates, and his trademark
approach is apparent in Little Boxes as well. "I'm consistently interested in making the gallery a stage
for creativity that expands the viewer's vision through presenting diverse interpretations of a theme,
and hopefully inspiring and provoking critical thought," he says.
The opening reception on Saturday, November 13th will inaugurate the exhibition, with all works on
display offered for sale. Guests will have the opportunity to meet the artists, discuss their work, and
ask questions. Refreshments and light hors d'oeuvres will be served.
Gallery days and hours of operation are Tuesday through Saturday, 10am-5pm. For more
information on the exhibition and the Mark Bettis Studio & Gallery, please visit
www.markbettisgallery.com/ or contact Mr. Bettis at 941-587-9502 or [email protected]
Wedge Building
Elise Okrend Pastel Art
129 Roberts Street, 1st Floor
11/13/2021
12:00 PM – 5:00 PM
Soft Pastel Demonstration
See Elise demonstrate the creation of atmospheric landscapes in soft pastels.
www.eliseokrend.com
North Carolina Glass Center
140 Roberts Street
11/13 & 14/2021
10:00 AM – 6:00 PM
Glassblowing Demos and Glass Show Opening
North Carolina Glass Center will be performing glassblowing demonstrations throughout Studio Stroll
Weekend, which will also be the opening of their Winter Wonderland Glass Show! Do a little holiday
shopping while watching these extraordinary artists craft glass art during this festive annual event.
www.ncglasscenter.org/events
NorthLight Studios
nadinepaints in Northlight Studios
357 Depot Street
11/13/2021
1:30 PM – 3:00 PM
Live and Virtual Watercolor Demo
Live painting demonstration of experimental watercolor techniques.
www.nadinepaints.com Also on instagram
362 Depot Street Studios
Cindy Lou Chenard
11/13/2021
12:00 PM – 4:00 PM
Modern Dimensional Landscape Painting Demo with Cindy Lou Chenard
Cindy Lou will be demonstrating her unique dimensional mountain paintings using thin layers of wood
and acrylic paints. She uses fine pinstripe lines in various colors to depict the sunsets.
www.facebook.com/cindylouchenardart www.cindylouchenard.com
Trackside Studios
375 Depot Street
11/13/2021
10:00 AM – 5:00 PM
Studio Stroll Artist Demos
Trackside artists of diverse media — oil painting, sculpted fabric art, Asian watercolor, composite
photography, and more — will demonstrate and discuss their creative processes throughout the day.
Sips and snacks will be served.
www.tracksidestudios375.com
Trackside Studios
Santorini Studios
375 Depot Street, #107
11/14/2021
1:00 PM – 5:00 PM
Sculpture Demo
Slip into Trackside to watch Dee and Bruce Santorini demonstrating the creation of a sculpture. The
Santorinis are new to Trackside Studios, but have been creating clay sculptures and forms for many
years.
"I love to accent the geometric form in the design of my pieces," says Santorini. "And the raku firing I
do intensifies each piece I work on. I use natural ingredients like pine needles and leaves to create
a smokey glaze on my work….and I love it!" — Dee Santorini
Related Events