Third Thursday with Rebecca Norris
July 21, 2022 @ 5:00 pm - 7:00 pm
Free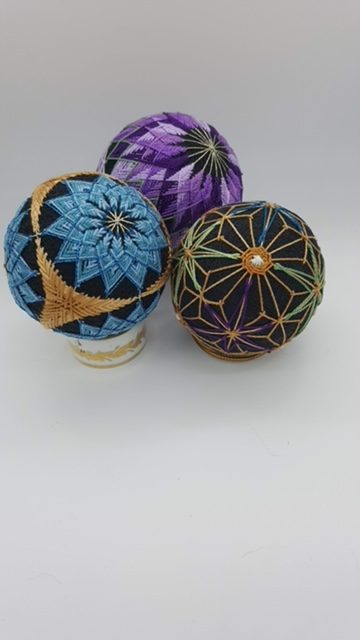 Join us on the evening of the Third Thursday for a Temari demonstration by Rebecca Sachs Norris.
Norris discovered Temari after retiring and looking for the right handwork to engage in. Before that she had done computer programming, weaving, bobbin lace, and had a small baking business before going back to school and getting a Ph.D. in Religious Studies and Anthropology. Her research ranged from suffering and pain to religious games and toys. After fifteen years of full-time teaching at Merrimack College (Massachusetts) she retired as a full professor and chair of the department. She fell in love with Temari, a Japanese form of embroidery, and now spends her time thinking about colors and design instead! She earned Levels 1 & 2 certification from the Japan Temari Association (JTA) in 2019.
Temari (literally "hand ball") originally came to Japan from China and were made as children's toys. When rubber balls arrived the children liked them better (they bounce!) and temari instead became an art form. She will demonstrate how the temari ball is made, different guidelines, and stitching.
Related Events