Visual Storytelling: Working with mixed media to explore the inner landscape: w/ local artist Soleil Ouimet
April 28, 2023 @ 5:00 pm - 8:30 pm
$85.00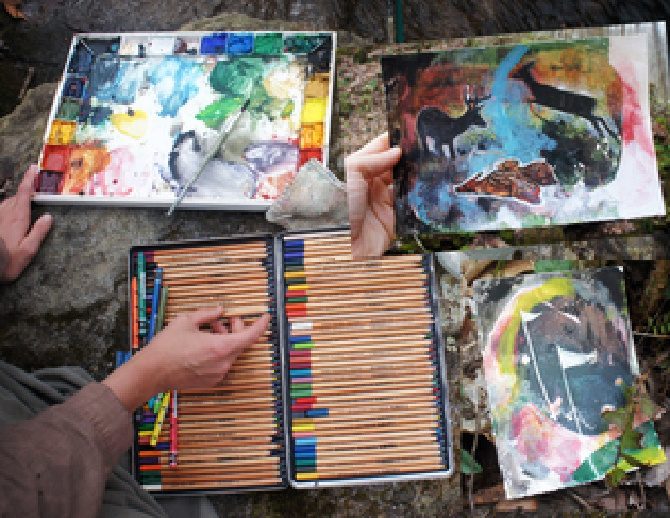 Art making is one of the oldest tools used for telling the story of our lives. In this class we will utilize visual art techniques to craft paintings that hold our own self reflections and stories within them.
We will use exercises that build on the idea that we can all access and relay details of our lives through the process of creativity and introspection. You will learn basic visual art techniques that use symbolism, color, line, and form to evoke imagery that is representative of emotion and place.
You will have a beautiful array of materials to work with including hand-made egg tempura paints & natural pigments, as well as mixed media conventional art supplies , such as: colored pencils, charcoal, wax crayons, watercolor crayons & art pens on watercolor paper.
This class has also been known as "tracking the self" which is a way to use art experiences to deepen our knowledge of who we are.
You will be welcome to engage in a ritual sharing of your paintings at the end of the class, if you like.
All styles and skill levels are welcome; you do not have to identify as an artist to attend this class.
All materials will be provided.
Come Play!
About Soleil:
Soleil Ouimet is a visual artist that follows the transitions of the land, focusing on watercolor and pen works that captivate the feeling of place and time within her creations. She invokes images full of emotion that bring you into a mindset of wandering and curiosity. The natural world has spoken to her since childhood when she would travel from her home close to the Atlantic Ocean in Virginia to the sprawling fern covered Appalachian mountain valleys. The textures of broken oyster shells on the driveway and colors of ochre stones pulled from murky creek bottoms invigorated a deep cherishing for the earth and the beings belonging to the earth. In her early twenties she chose to move off grid, with no power or running water, and has only held more and more inspiration for paintings and scribblings since. She is choosing to live in gratitude for the tree blossoms and birdsong that give her life purpose and path.
www.soleilouimetart.com
Related Events