Stay
The River Arts District is a neighborhood of historic industrial buildings now converted to an art paradise. Winding along the French Broad River, the "RAD" is within a short drive to all points in Asheville. Minutes from downtown, Biltmore Village and even the Blue Ridge Parkway, accommodations can be found close by in all directions. You may choose an upscale hotel in bustling downtown Asheville or Biltmore Village or find a comfy Airbnb either in town or one with a country setting. Check out Explore Asheville and Romantic Asheville for many recommendations around the area. There is something for everyone.
Eat
You will find something to tempt every pallate in the River Arts District. Check out the Studio Guide map and find the knife and fork symbol to guide you to great places to eat and sip craft beer and wine. You can visit Cafe Yuzu,  Summit Coffee, Nourish and Flourish, Daidala Ciders, pleb urban winery, Bottle Riot and New Belgium Brewery to name a few. Check out this foodtopia guide to find many more places to enjoy some delightful and tasty meals. We are a foodie heaven!
Do
Meet hundreds of artists, see work in many mediums, see artists at work demonstrating and exhibiting their work every single day. Find hands-on workshops of all kinds and you can even schedule a private experience working with a professional artist. The Village Potters and 310 ART for fine painting and drawing are among many studios and artists who will help you get your hands into art. In addition the area offers exciting cultural events and destinations including live music at the Asheville Guitar Bar and original stage works at The Magnetic Theatre. There are so many events and fun things to do.. Check out more HERE and HERE.
Outdoor Art in and around Asheville River Arts District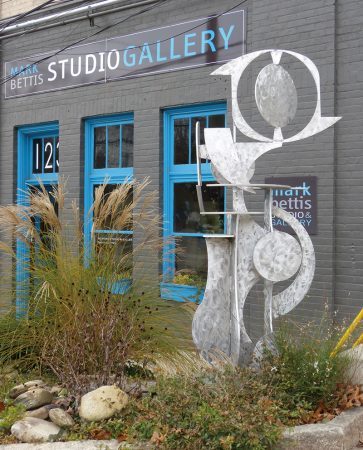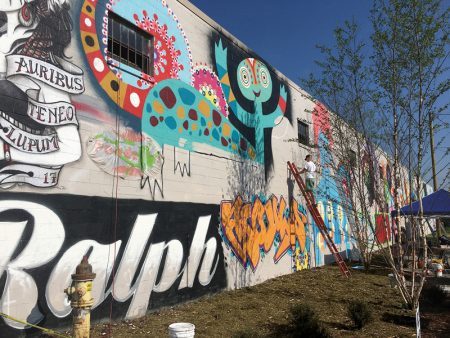 At Curve Studios, wander through a beautiful hidden garden where sculpture communes with native flowering plants, and nearby Warehouse Studios sports a colorful outdoor sculpture. At the Wedge Building, former owner John Payne echoed the industrial roots of the River Arts District with his unique steel fence design, which served as inspiration for the RAD logo. The fence leads down to a magnificent metal dinosaur sculpture also by Payne.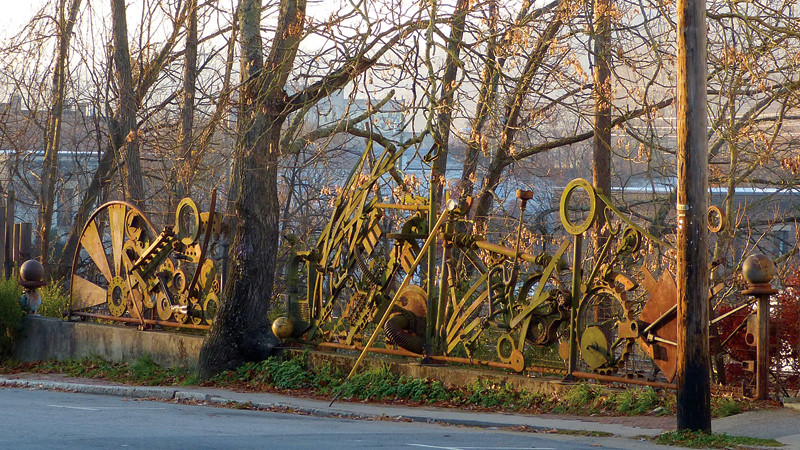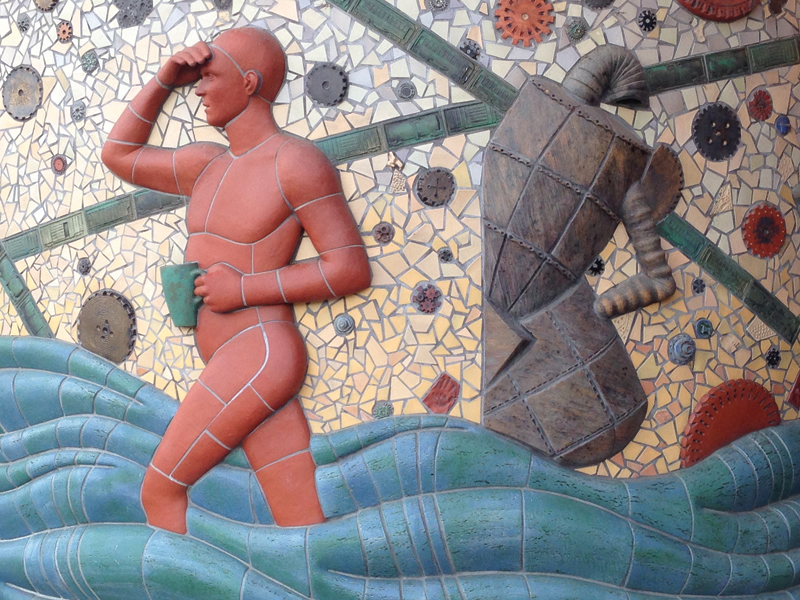 The Odyssey Studios building greets you with a delightful clay mosaic mural. Along Depot Street the outdoor art exuberance continues with paintings on shipping containers, murals covering entire buildings and a sculpture beckoning from a doorway.
More art beyond the walls is being created in the River Arts District every day. Our artists love to make art, whether inside or outside the studio walls.