We have another talented artist joining our district! Dawn Winter comes to the RAD and the Asheville area from Austin, Texas after several years of working as an artist.
"Over the last few years, I have visited RADA several times and dreamed of displaying my artwork and returning to the Asheville area to live. I've lived and worked as an artist in Austin, TX for several years, however this summer I decided to return to the mountains to live closer to family and to pursue new beginnings. Through the kindness of other artists, I become aware of available space with Cheryl Keefer and I will be displaying my pieces within her art studio located in the Warehouse Studios.  I am very excited to join the art community within the Asheville area!"
Dawn is a self-taught painter whose inspiration for her work comes from "both our natural environment (mountain and ocean views along with the wide open spaces of prairies and distant horizons) and my love of color and it's ability to express emotions that are otherwise difficult to share with words." In one word, she describes her paintings as "intuitive" and they subtly challenge viewers to look closely and allow themselves to be immersed in the intriguing sense of depth created by her subtle layering of colors and texture.
Her work can be found in private and corporate collections across North Carolina, Texas and California and has participated in a solo exhibition and many art exhibitions in Texas.  Formerly available with the Austin Art Garage Gallery and Art Connection Gallery, her paintings are currently available with the Neiman Marcus, and Horchow collections, and previously with Anthropologie and the HGTV program Property Brothers.
"I love the sense of peacefulness and introspection experienced while painting. By using my palette knives and intuitive process to add layers, texture and depth, I easily lose track of time. I find myself feeling a sense of well-being and have discovered many life lessons while painting!"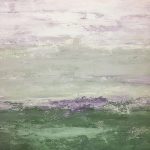 More of Dawn's work:
IG: @dawnwinterart
FB: Dawn Winter, Contemporary Abstract Paintings
Personal Website: https://www.dawnwinterart.com
RAD Page: https://www.riverartsdistrict.com/artist/dawn-winter/