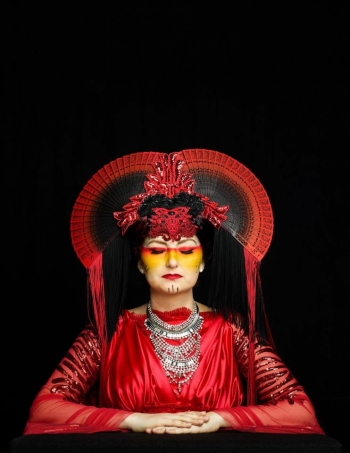 Picking up the brush and palette for the first time in 2002, Ka recognized that she had a profound gift. As she taught herself to paint, she began to delve deep into her heart, bringing forth powerful visions. Meanwhile, she developed her expressive talents in the performance arts and has danced and offered her art at events and galleries internationally for the past decade.
Ka is also a founding director of the Visionary Arts Foundation, a faculty member of the Visionary Arts Academy, and her designs have been featured in multiple publications including US Elle, Paris Vogue, Dark Beauty magazines, and the Rolling Stone online magazine.
How did you first begin as an artist or find yourself interested in art and/or your medium?
K: I have been highly creative my whole life, since childhood. Though I never thought I would become a professional artist, art was my favorite subject. I was a theatre lover most of my youth and had dreams of becoming an actress. Those dreams were dampened by my high school theatre teacher., which was a blessing, looking back. I began to paint, create costume and headdresses, and perform professionally around the same time when I was 23 years old. I still didn't think art would be my profession, but over the years, my passions were supported on such a grand scale, it became my livelihood.
How long have you been in your River Arts studio space? 
K: I opened my studio in October of 2017, so I have been there for one year.

How has your practice changed over time?

K: The biggest change in my practice began when I was suddenly invited to participate in large group shows alongside my art heroes, to dance in front of large audiences at west coast festivals, and when people started buying my headdresses. At this point, I began to take my art more seriously as a way of supporting my life. I opened an Etsy shop and had a website built, and then needed to learn the business side of things, which I admit, needs more work. Developing the left-brained part of being an artist was certainly the biggest learning curve for me, and still is.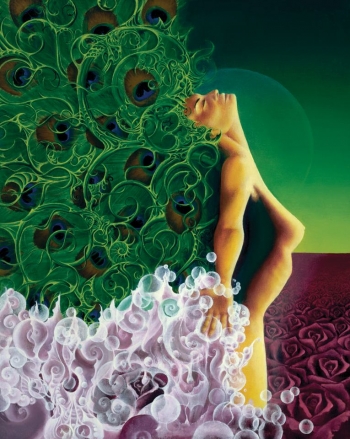 What art do you most identify with?
K: I identify mostly with visionary/spiritual art. This genre of art expresses interconnection throughout humanity, nature, and the cosmos. It is spiritually all-inclusive and tends to reveal the ways in which everything, and everyone, is connected together in harmony. Before I found visionary art, I was mostly drawn to surrealism, because it reminded me of the dream space, full of symbolism and strangeness. I've always paid a great deal of attention to my dreams, which I found were often prophetic, and surrealism seemed to express this subconscious mind and the liminal state.
Who are your most inspiring artists/mentors?
K: Alex Grey and Daniel Merriam were my first inspirations when it comes to painting. Alex's paintings of human spirit blew me away when I first saw them. I had been in massage school, and the things I was experiencing regarding the anatomy of body and spirit, which were quite esoteric (even taboo while growing up in west Texas), were confirmed in his work. For the first time, I could see the aspects of myself and the way all beings interact beyond the five base senses, which were awakening within me, through someone's art.
Daniel Merriam's paintings inspired me to pick up the brush. His whimsical works graced with dancing, spiraling filigree evoked movement and made painting look fun. It was as if I could merge my love of dance into color and form, and so it happened.
My departed friend, Andrea Burden, also gave me a lot of inspiration with her soft, flowing, feminine work. The worlds she created felt like home in my heart, and I began my painting process with a few of her techniques. After I began painting, many other artists emerged, whom many I have gotten to know well. These include Martinal Hoffmann, Robert Venosa, Autumn Skye Morrison, Tessa Mythos, and many, many others. On the costume side of things, Alexander McQueen, Jean Paul Gaultier, and Philip Treacy were all inspirations, even though I found their work years after I had created a large body of wearable art.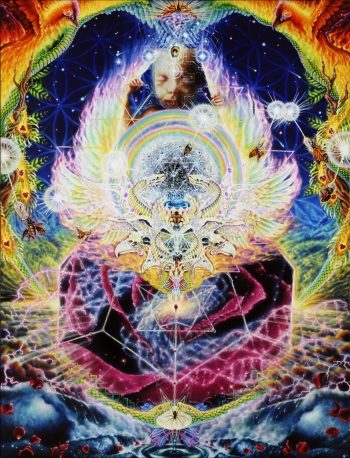 What inspires you to create?
K: What doesn't inspire me to create? Creativity is a never-ending surge within me, always yearning to burst forth. If I were able to paint or create everything that flows through my vision, it would easily fill a metropolitan museum. I derive inspiration through nature, animals, humanity, spirit, cultures from all over the world, music, the cosmos, politics, love, emotions, aspects of life I feel joy and pain around, life itself, and the ever-present pulsing creative breath of spirit in all things. 
What does your work aim to say?
K: Each piece of work has its own message. If I dare try to condense it into a couple of sentences, I would say my work is created to pay homage to all life and the beauty within everything, and to inspire others to see, experience, and enjoy the wonders of this world. I aim to inspire people, to show how inspirations can manifest into reality, offer courage to pursue their creative gifts, to dream large, and fulfill those dreams.
How do you know when your work is finished?
K: I just know. It says so.
What creation are you most proud of?
K: I feel the most potent work I have created is my winged embodiment. The reason being is that many people have felt deeply moved, even to tears upon experiencing it come to life through dance. It is an angelic presence, which offers a sense of hope. Since so many of us yearn to spread our wings and fly, it seems to give permission to do just this, as if it is an answer to a deep longing that most of us do not believe possible. To have created a work of art, which touches so many hearts, is deeply fulfilling.
What is your most important artist tool? Is there something you can't live without in your studio?
K: The most important tool is my open mind, and my willingness to show up and work.
What project are you currently working on?
K: I recently returned from Paris, working on a project for environmental awareness. This one is specifically dedicated to raising awareness of global deforestation, with the art collective, Free Spirit. I brought all three of my winged embodiments and worked alongside and an incredible team of photographers, videographers, and performers. This project will be released in January. Currently, I am working on a number of headdresses, some commissions, and a few new paintings depicting the full spectrum of emotion in my most recent transformative experience.
What's your favorite post-gallery watering hole or restaurant?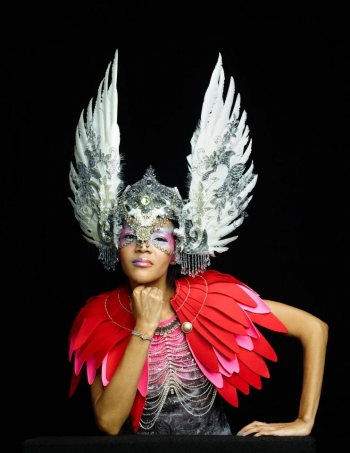 K: My own kitchen. lol. I usually grab some things at Earthfare then head home. But when I eat out, I like to go to Bartaco for good, well-priced food. Storm is also one of my favorite spots, and I love oysters at Bull and Beggar.
What do you like to do when you are not in the studio
K: I love to dance, go to waterfalls, spend quality time with friends and loved ones, make headdresses at my home studio, and travel whenever I am able. I enjoy listening to audiobooks since I am so often busy with my hands. My favorites are high fantasy and self-development books, specifically in the realm of relational psychology, and healing trauma. I am a bit of a nerd.
You can find Ka and her work at the historic Cotton Mill Studios on Riverside Dr. For more information regarding Ka's work and services please contact her directly at, [email protected]
If you would like to be featured in the future, or if you would like to write a blog post to promote yourself, your studio, and/or event, etc., please contact Becca

[email protected]

or Andrea marketing@riverartsdistrict.com.