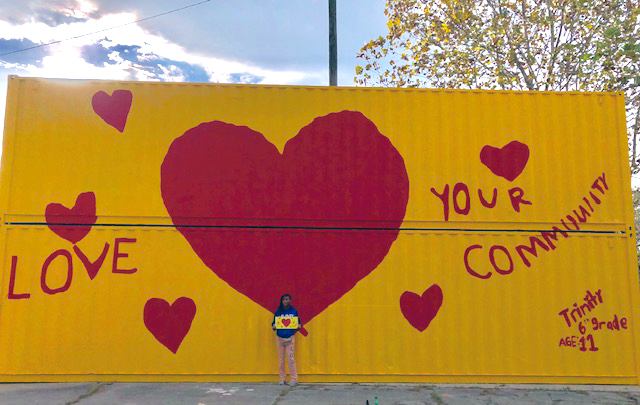 Pink Dog Creative is proud to announce a new community initiative as part of the Container Project, across the street from 342 Depot St., Asheville, NC.
Pink Dog Creative collaborated with LEAF Easel Rider and the Edington Center in the summer of 2018 to sponsor an art day where children in the community painted what they wanted to see next on the double-decker containers. Thirty children participated and the winner, Trinity Harper Pierce, has just had her design painted on the containers.
Please drive by and look at Trinity's design and her heartfelt message.
Trinity is eleven years old and is a sixth grader at Asheville Middle School. She lives in the Southside/Walton community of Asheville. Her painting, entitled, Love Your Community, can now be seen on the forty foot by 18 foot containers. When asked why she painted that particular painting and message, Trinity said, "There was a lot of violence in my neighborhood. I want people to care more about their community. When they drive by and see this I hope their hearts grow as big as the heart in the painting. I want the love to spread all throughout my community, my city and my county."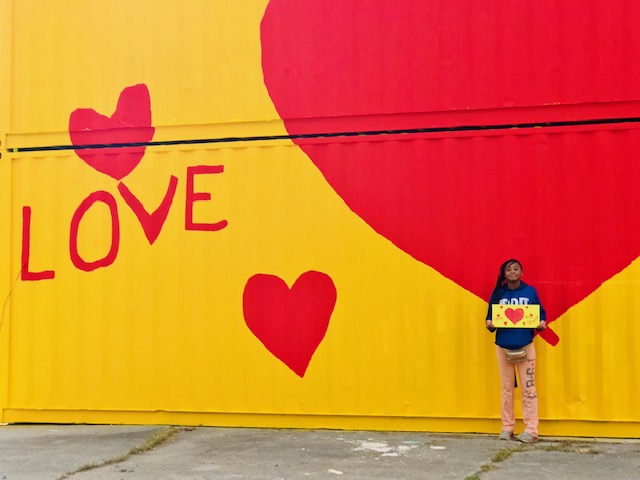 For more information contact Hedy Fischer, hedy@pinkdog-creative.com
828-216-1331