Hedy Fischer and Randy Shull have been the proud owners of the vibrant and colorful Pink Dog Creative since early 2010 but the colorful mixed-use building hasn't always been what it is today. While looking for a personal studio for Randy, the couple came across the underutilized textile warehouse located at 342–348 Depot St. With some talk about wanting to expand the River Arts District down Depot Street, Shull and Fischer saw this as a great opportunity to awaken the forlorn-looking warehouse and turn it into a bright and joyful place where artists can come together and create.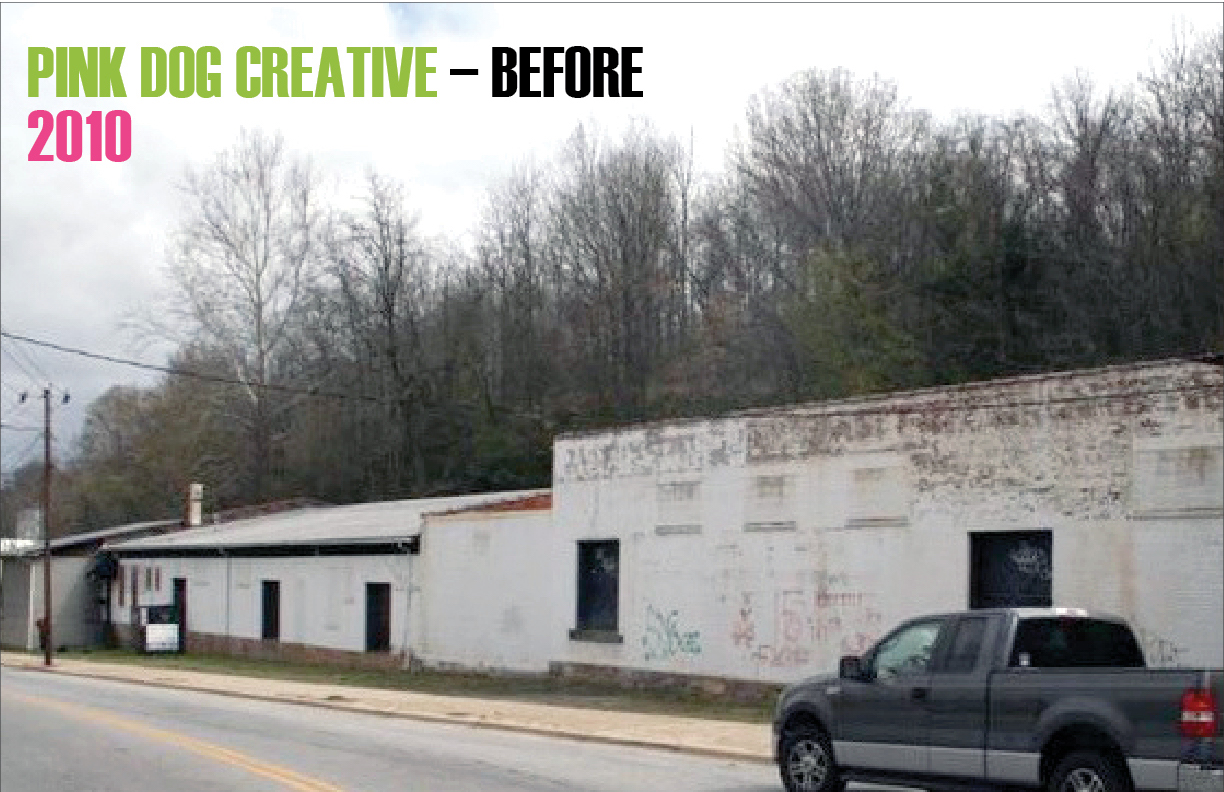 "Pink Dog Creative didn't happen overnight. This was something that we've built towards gradually," states Fischer. With a combined total of 70 years of living and working in Asheville, the couple sees the building as the culmination of all their experiences during their time here.
When Randy and Hedy first bought the unassuming white-washed building it was covered in graffiti and tags. One of the tags was a rather viscous black dog.  As Randy was painting the exterior of the building, someone walked by and asked, "You're not going to paint over that dog, are you?"  Well, yes, he was planning on it. Later, he thought to blow it up larger and keep it on the front of the building. Hedy, concerned that passersby may think the big black dog was too vicious and potentially steer visitors away, suggested painting the growling dog pink to soften it a bit. Thus the name Pink Dog Creative was born. As for the rest of the exterior, they incorporated the vibrant and colorful palette of Merida, the Mexican town where the two spend much of their time. Dressing the brick walls with bright pinks, yellows, greens, reds and blues, Pink Dog Creative is a known landmark and navigation tool for many in the district.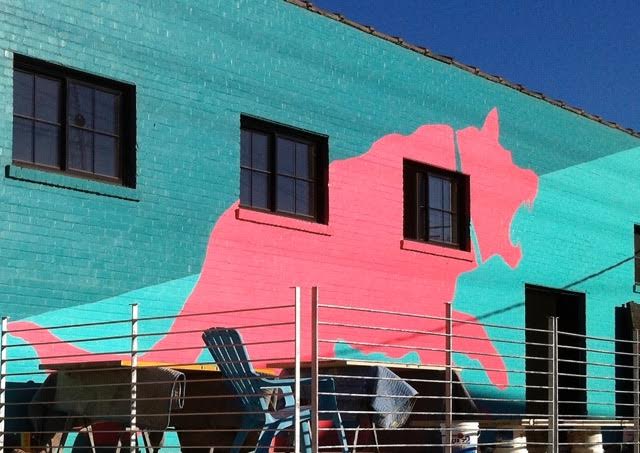 Pink Dog Creative currently consists of 27 artists, two restaurants, an art gallery, and a retail home décor store. The artists work in mediums ranging from painting, jewelry making, ceramics, graphite drawing, Ukrainian pysanky eggs, mixed media, collage, glass and more. "I would say that Pink Dog has exceeded our expectations. We are also extremely proud of the Container Project, a community mural project on the double-decker containers located across the street," said Hedy.
This rainbow of a building is a stop that you should definitely not miss while exploring the River Arts District. The District has roughly 200 artists that occupy 23 buildings, most of them used for decades as tanneries, cotton mills and other industrial purposes like Pink Dog Creative. You will be consumed with colorful graffiti by local and national artists and working studios, some open 7 days a week. There are also plenty of restaurants, breweries and retail shops to enjoy all throughout the riverside art community.
For more information on Pink Dog Creative or The River Arts District, please visit our websites www.pinkdog-creative.com and https://www.riverartsdistrict.com/buildings/pink-dog-creative/.