We sat down with RADA President and award-winning watercolor artist, Nadine Charlsen. Nadine was born in western Kansas but grew up in New York City. From teaching theatre design in high school to freelancing for 36 years as a set/lighting designer, art director, and scenic artist, Nadine has been immersed in the arts and expressed creativity since childhood. She is a proud member of  310 Art Gallery in the River Arts District, Salmagundi Club (fine arts club located in New York City) the Art Students League of NYC.
Well known for her rich layered and detailed watercolor paintings, Nadine's creative expression, and passion is undeniably, one of a kind.
How long have you been in your River Arts studio space?
N: I moved here from New York City where I painted out of my New York apartment. I was a resident at 310 Art a month after I arrived. I have been in the RAD just over 4 years.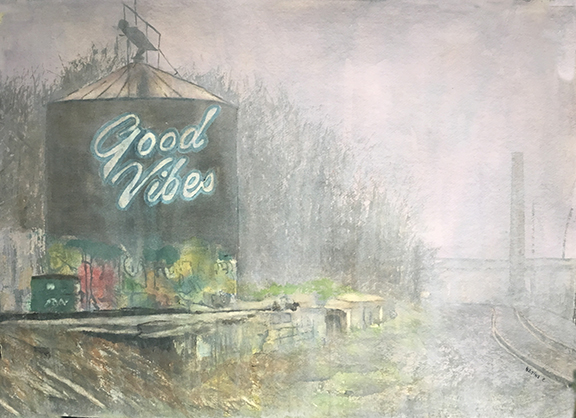 How did you first begin as an artist or find yourself interested in art and/or your medium?
N: I've always been interested in art and design.  My father was an industrial arts teacher and my mother was an oil painter.  I grew up with a hammer in one hand and a paintbrush in the other!
How has your practice change over time?
N: I started my art journey with oil paints. I painted scenery and backdrops for theatrical productions. Backdrops were painted on stretched muslin and hung on stage. I think the largest pieces I have painted (with student assistance) were about 30′ high and 62′ long. I then dabbled in some sculpture. Now, I am happily creating watercolor paintings.
What medium do you most enjoy working with?
N: I love so many different mediums but right now I am really enjoying watercolor.
What art do you most identify with?
N: I have so many identities. I really can't answer this.
How do you know when your work is finished?
N: Sometimes it feels finished and two weeks or two years later I work on it again. I guess ultimately when I sell it.
What project are you currently working on?
N: I have been painting a lot of trains recently.  I also started a series of "street musicians" that feature local street "buskers". My most recent was Abby, the Spoon Lady. I am always a willing painter of industry, cityscapes or run down buildings. I have completed four commissions in four different styles and places.
Who are your most inspiring artists/mentors?
N: Vermeer, Turner, Sargent, Antonio Masi, Paul Ching-Bor, Tim Saternow.  After my recent trip to Santa Fe, I have learned to like Georgia O'Keeffe even though I don't have a desire to paint the same style or subjects.
What inspires you to create?
N: I am inspired by so much. Ranging from buildings to scenery, with mood, atmosphere, light, dark.
What's your strongest memory of your childhood?
N:Riding my bike. I could ride anywhere around town.  
Do you remember what bike you had?
N: Yes, it was a green Schwinn
What are your favorite things to do when you are not in the studio?
N:I still love riding my bike. I also find joy in walking walk my dog Asher (who joins Nadine in her studio every day!) and remodeling my house.
Are there any themes that pursue frequently among your pieces?
N: You will see a lot of trains, bridges, architecture. I also feature a lot of the River Arts District in my artwork.  I had been coming here for several years before the move to Asheville.  The River Arts District was a great place to get the gritty industry of the city.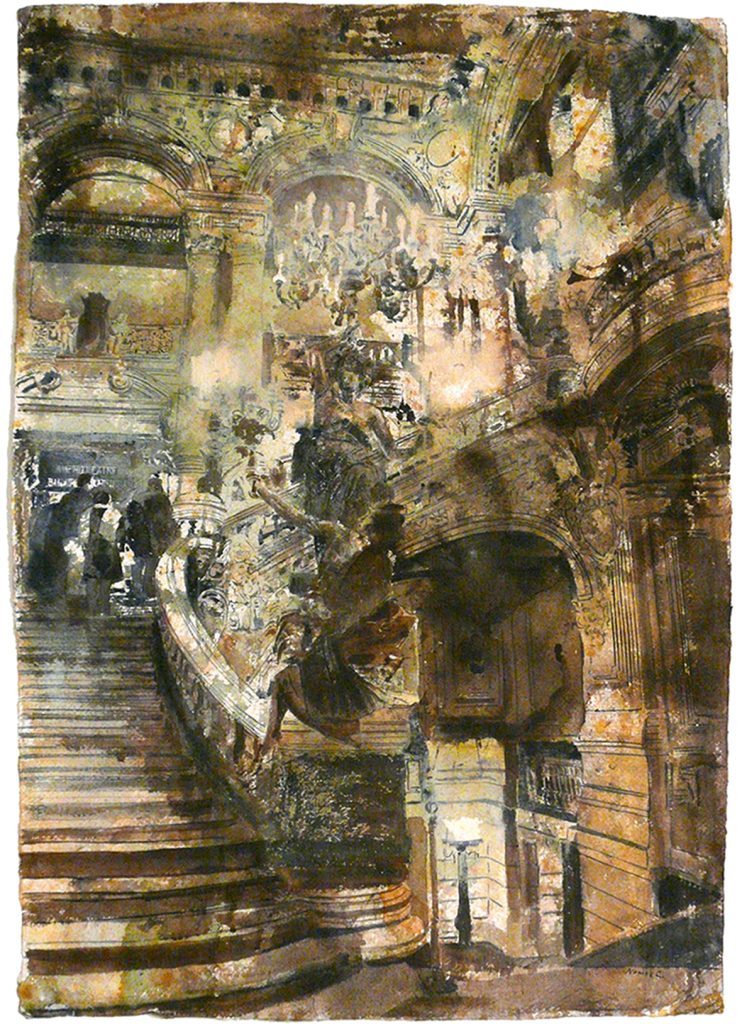 What creation are you most proud of?
N: Paris Opera (Pictured to the right)
What jobs have you done other than being an artist?N: If I wasn't an artist, I would probably be a Researcher, teacher or an office manager for a TV company
Did you ever want to be anything besides an artist?  When I was in grade school I wanted to be the first woman astronaut.  In high school, I thought about being a lawyer or archeologist.  I settled on the theatre where I could be anything and everything.
What do you love about your art?
N: That I now have time to do it as much as I have always wanted to.
What is your favorite post studio restaurant/ Brewery/ wine bar in town?
N: Honestly, I like them all!
Nadine will be having an art exhibit, Atypical Dimensions: voLuminous Watercolors that will start February 2nd and run until the 3rd of April. You can find this exhibit as well as Nadine and more of her work at 310Art at the Riverview Station on Lyman St. The Riverview building is full of over 60 creative artist, entrepreneurs, and craftspeople. A pit stop you don't want to miss while visiting Asheville! For more information regarding Nadine's work and services please contact her directly at, nlcharlsen@gmail.com