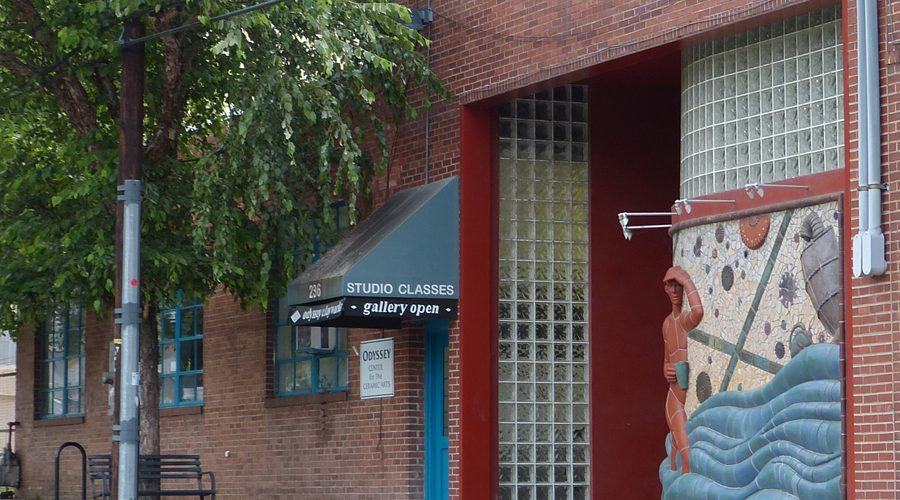 The Odyssey Center for Ceramic Arts includes the Odyssey Gallery of Ceramic Arts (238 Clingman Ave. Ext.) and Odyssey Clayworks (236 Clingman Ave. Ext.)

Odyssey Gallery of Ceramic Arts is a unique gallery run as a collective of local ceramic artists. The vision for the gallery is to showcase local functional and sculptural ceramics and to share a diverse range of work. Odyssey Gallery is a place where all patrons can find handmade ceramics with which they connect. In the gallery you see works of individual artists that express energy and passion and the artist's love for clay.
The Gallery is an expansive space, including working studios in the back and provides exhibition opportunities for both emerging ceramic talent as well as established career ceramic artists.
The Odyssey Gallery is a journey our artist collective would love to share with you. Come Visit!
HOURS: Open Daily 11am-5pm, Closed Tuesday
Website: https://odysseygalleryofceramicarts.com/
Odyssey Clayworks is a place to learn how to be a potter!
The spirit and program of Odyssey Clayworks are based on the philosophy that every individual's creative capacity is greatly enhanced by a generous community and challenging instruction. We believe that within each individual lies the potential for creative development.
Come experience the love of CLAY. Sign up for a class!
HOURS: Open Daily 10am-6pm
Website: https://www.odysseyclayworks.com/
Resident Artists:
Associate Members: