Folk Art with Acrylic Paints & Resin with Michelle Hamilton
June 9, 2023 @ 8:00 am - 5:00 pm
$210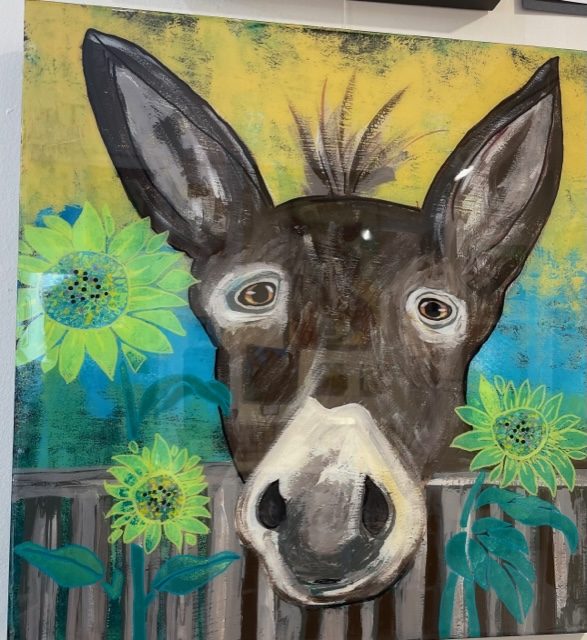 In this 2-part class you'll be guided through creating several pieces of folk art from start to finish while incorporating layers of resin to give depth, dimension and a smooth finish using plenty of fun, mixed media techniques within.
Whimsical, colorful and full of personality are just a few words to describe Michelle's style of painting and teaching! Join us for two Friday evenings of creating "modern folk art" using playful images as your muse. Michelle will guide you through building a "roughed up background" with layers of paint on a brayer while adding textures, marks, shapes and lines to create an interesting backdrop.
Once you've got your background, you'll be encouraged to do a rough sketch or tracing of an image you'd like to start with, and then translate that image onto your background. Using a vibrant palette of acrylic paints and other mixed media tools such as Kuretake metalllic pens, Copic pens, and acrylic paint pens, you'll layer in your own whimsy and detail — the "gingerbread," as Michelle calls it!
Bring a visual muse or two — playful image of a character, animal, structure or shapes — to spark your imagination while you create and play. We will also have plenty of visual muses in the studio to choose from.
We will resin your pieces at the end of the first evening and you'll have a chance to paint, draw and layer on top of the resin during the second session. A final resin layer will be applied at the end of the second evening.
Oh, and folk art is meant to be imperfect… that's the fun part! Check your perfectionist at the door!
Related Events