March 9, 2019 @ 11:00 am - 5:00 pm
Free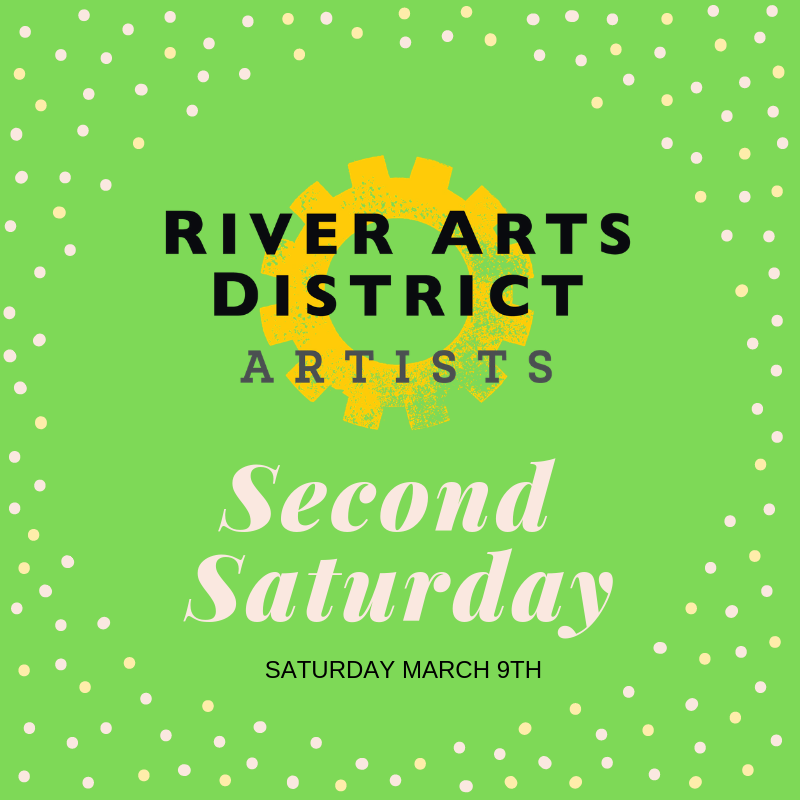 Saturday, March 9th 2019
Second Saturday Events:
Curve Studios and Garden
9 Riverside Dr.
10 am – 5pm
Curve Studios, home to twelve working artists, is celebrating March Second Saturday with extended studio hours. This month we feature long-time Rada member, Pattiy Torno, who will be doing an installation on one of our exterior walls. Drawing from the foto exploration she calls "Fotopieicings", artist Pattiy Torno will construct a fotopiecing installation on an exterior wall here @ CURVE studios entitled "SELF".  This project is inspired by all the subway wheat paper paste and poster imagery she loved from her time living in New York City, employing many images from her current shadow series. Please feel free to drop in to see the progress. 10 am to 5 pm or when it is finished, weather permitting!
362 Depot St. Studios
362 Depot St.
2pm – 5pm
Cindy Chenard will be demonstrating her 3-dimensional technique – "Art Des Couches De Bois".
NorthLight Studios
357 Depot St.
11 am – 4pm
In this month of March, the transitional month of the year, we see changes from winter into spring. Our six artists are inspired as we acknowledge our personal transitions that have brought us to this studio space.
Two of us have recently transitioned from home studios to join NorhtLight Studios in the River Arts District. One of our artists now works in her very successful style because her health did not allow her to continue in a previous style. One artist transitioned from photography and abstract work to build a very recognizable body of work. Two artists left NYC to find a place for their talents in Asheville. Come by and say hello and tell us about your important transitions. We'd love to hear. NorthLight Artists:  Angela Alexander, Wendy Whitson, Bill George, Bernadette St. Pierre-George, Sandy Lear, Nan Davis
Studio A – Pink Dog Creative
344 Depot St. Suite 100
12 pm – 5pm
Join Andrea Kulish for Ukrainian Easter egg- pysanky- demos, wine and cookies
Trackside Studios
375 Depot St
2pm – 5pm
Artist reception for Chalkley Matlack, abstract formalist. Exploring line and color theory with a twist. Sips & snacks.
Mark Bettis Studios
123 Roberts St.
10am – 5pm
Working Art Studio, talk with artists as they create their work.
Tess Darling talks about her work while creating pieces that portray energetic, sketch-like paintings of animals observed in the wild.
The Wedge Studios
129 Roberts St.
– Encaustic Wax demos at Sarah St Laurent Studio, 1st Floor (all day)
– "How Much The Heart Can Hold", Second Floor #2A. Featuring Artists from Aurora Studio & Gallery and other works, some exploring the life of Zelda Fitzgerald and the '20s. Dawn Eareckson from Aurora Studio will be demonstrating her "expressionistic art" style in Cindy Walton's Studio. (11am – 4pm)
Odyssey Ceramic Art Studio
238 Clingman Ave
Featured artists at Odyssey co-op Gallery for March are Laura Peery and Reiko Miyagi. The building will host live music, refreshments, and working artists.  Come visit.
Riverview Station
191 Lyman St. #216
– Printmaking demonstrations in Studio #216 Asheville Print Studio. Come see the press in action! (2pm & 4pm)
– Master Series "Glazing Cone 6 Workshop & Discussion" with John Britt, March 9 & 10, 2019
2-Day Discussion on Glazing, with over 2000 test tiles. For Beginner to Intermediate potters. $265 (9am – 5pm)
310 Art at Riverview Station
191 Lyman St.
11 am – 5 pm
Meet the artists, see demos of experimental watercolor, encaustic, mixed media and more! Refreshments, lots of art to see.
Related Events