MUSIC MOVIE MONDAYS with Bill Kopp – WATTSTAX
February 13, 2023 @ 7:30 pm - 9:30 pm
$15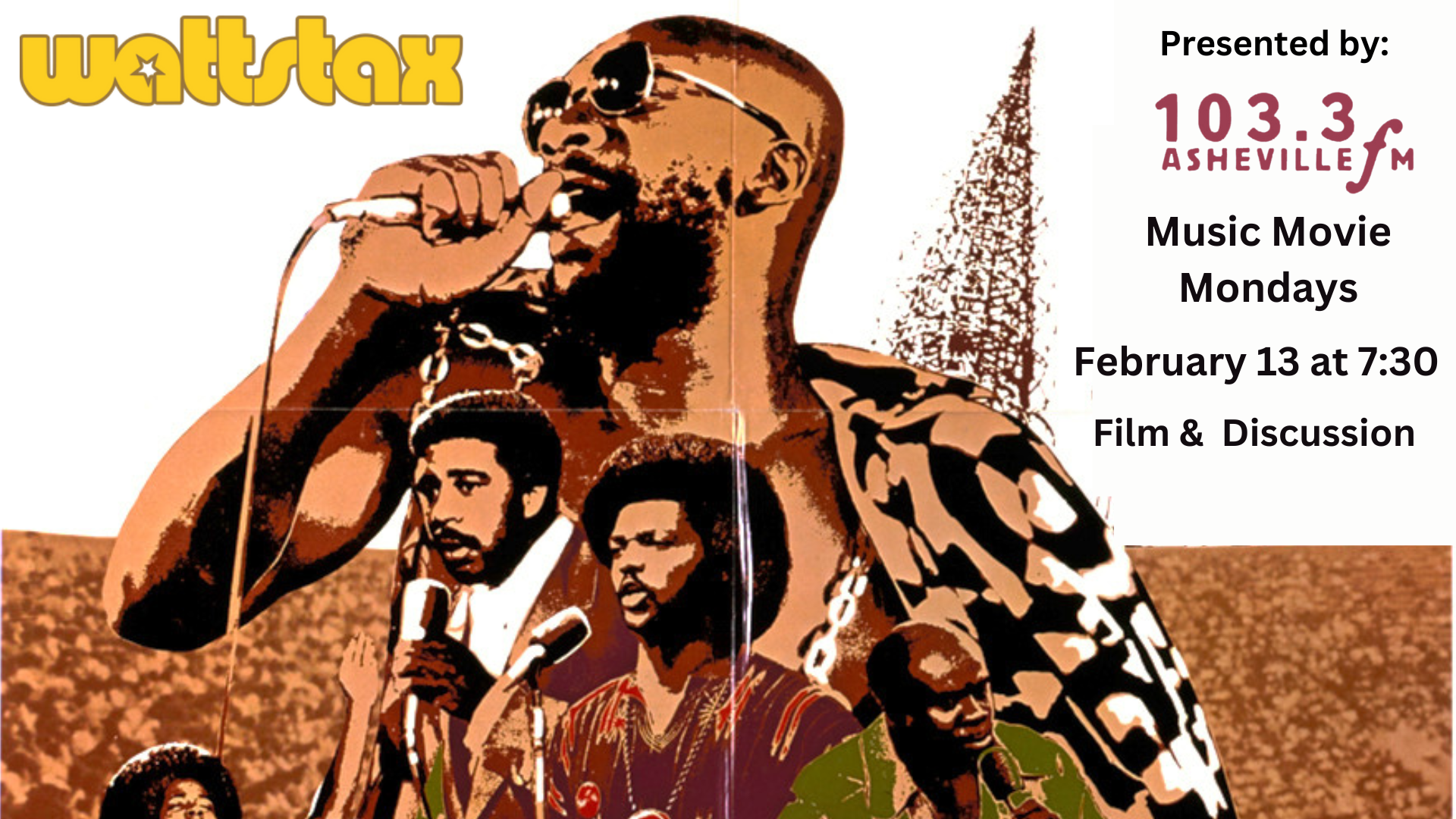 Special Screening and Discussion with Bill Kopp and Co-Host Sidney Barnes
Monday, February 13 at 7:30
All tickets are $15 and include General Admission Ticket plus Introduction and Moderated Discussion following the movie.
Sponsored by Asheville FM
Asheville-based author and music journalist Bill Kopp will be introducing the film and leading a moderated, interactive discussion following the movie with Sidney Barnes.
About Bill Kopp:
With over 500 bylines in Western North Carolina publications (Mountain Xpress, Bold Life, WNC Magazine and more), Asheville-based author and music journalist is an acknowledged expert on popular music. Author of two books – Reinventing Pink Floyd: From Syd Barrett to The Dark Side of the Moon and Disturbing the Peace: 415 Records and the Rise of New Wave – Bill Kopp writes for publications across the country and abroad. A contributing editor at Goldmine Magazine and contributing writer at GRAMMY.com, he has authored more than 30 album liner note essays and conducted more than 1000 interviews. He regularly hosts lecture/discussions on artists and albums of historical importance, and is a frequent guest on music-focused radio programs and podcasts.
About Sidney Barnes:
Kopp's co-host for the event, Sidney Barnes is a fellow resident of Western North Carolina. A staff songwriter for Motown Records during its heyday, Barnes also fronted psychedelic soul group RotaryConnection, one of the most prominent and successful multiracial pop groups of the '60s and early 1970. For the Wattstax discussion, Barnes – who at age 82 is still an active performer and recording artist – will share his unique perspective and experiences as part of the music industry of that era.
About WATTSTAX:
"A candid, colorful and deeply meaningful sociocultural time capsule, one that captured the Black community at the height of its political energy and optimism." (Washington Post)
In 1972, Stax Records organized a benefit concert to commemorate the seventh anniversary of the riots in the Watts neighborhood of Los Angeles. The epochal "Black Woodstock" held at LA's Memorial Coliseum featured incendiary performances by Stax artists Isaac Hayes, Albert King, Rufus and Carla Thomas, the Staple Singers, the Emotions, the Bar-Kays, and other greats of soul, R&B, and gospel—plus biting humor from a then little-known Richard Pryor. Wattstax is more than a concert film; It also captures a heady moment in mid-1970s African American culture, when the community came together to celebrate its survival and renewed hope in its future.
Related Events