October 13, 2018 @ 10:00 am - 10:00 pm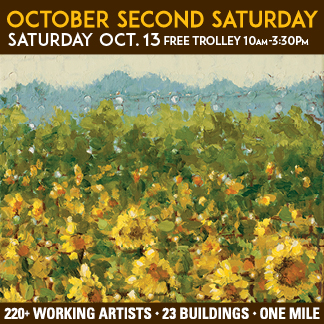 On the Second Saturday of each month until the end of the year, the River Arts District will be holding gallery walks with live demonstrations, live music, wine tastings / spreads of food, and more! Meander the mile-long district while the artists keep their doors open late. There are more than 200 artists in the 23 buildings throughout the district. Most of them will be on hand to describe or show you their techniques as well as share with you what inspires them.
Best time to swing over to your favorite studio, 11 am – 5pm. Most studios and galleries open 10 am – 6 pm. Special late night events listed.
*A free trolley will be circling around the River Arts District from 10 am – 3:30 pm
Saturday, October 13th, 2018
Special Second Saturday events:
Asheville Guitar Bar (at the Historic Cotton Mill Studios)
122 Riverside Dr.
4:30-6:30 / 8:00-10:00
Swing Step Band play the Standards of Swing & Jazz. Dance, Listen, & Enjoy Local Beer, Old World Wines, Cheese & Charcuterie. Followed by "An Evening with Brad Hodge & Friends" Popular local musicians join Singer Songwriter Brad Hodge, as they harmonize his originals.
Trackside Studios
375 Depot St
3pm-6pm
Browse beautiful works of art including a surprise Art reception!
NorthLight Studios
357 Depot Street
11am – 5pm
Along with nature, NorthLight Studios celebrates autumn with "Peak Color". Learn how our seven artists choose their palettes and the importance color tone and intensity play in their work – whether landscape, portrait or metalwork. Live painting demonstrations by Bill George, Angela Alexander and Cheryl Keefer. Guest Artist: Jewelry designer & Meteorologist Pamela Wright – WeatherVain Jewelry. Enjoy seasonal refreshments and colorful conversation, always!
Pink Dog Creative
344 Depot St.
12 noon, 2:00 pm, 4:00 & 6:00 pm
Noel Yovovich will be demonstrating how titanium, the magic metal, turns amazing colors in response to electricity. See how she uses this method to create landscapes and gorgeous abstract designs for her jewelry!
St. Claire Art – Pink Dog Creative
344 Depot St.
10am- 5pm
All day – Artist will be demonstrating various stages of his multi-layer technique called "dialuminism", creating backlit oil paintings by capturing reflected light.
Studio A – Pink Dog Creative
344 Depot St. Suite 100
12pm-5pm
Join Andrea Kulish for Ukrainian pysanky – Easter egg demos and light refreshments
Eco Depot
408 Depot St.
1pm-5pm
Glass-like fiber art demonstrating.
Mark Bettis Studios
123 Roberts St.
10am – 5pm
"Something Wicked This Way Comes at the Wedge Studios" A fall and Halloween Celebration with Art, Food, Fun!
Wedge Studios
111-129 Roberts St
10am-6pm
Something Wicked This Away Comes at Wedge Studios~ Frances Domingues will be unveiling her large scale found sculpture of a masquerade mask~ This piece has been oxidizing for over 2 years!
Odyssey Co-op Gallery and Studio
238 Clingman Ave.
11am – 5pm
Live music, snacks, and artists working. Featured artists for October: Dot Burnsworth, Laura Perry, and Chiwa Clark
Riverview Station
191 Lyman St.
12pm
Tis the season to "Raise Your Spirits" and that's exactly what Experiencing All the Color and Creativity at Suzanne Armstrong's heArt Space Studio will do for you! ColorFULL Artwear for Everyday Play in Natural Fibers all handpainted and block printed with her Original Whimsical Artwork. Her newest "Fall-la-la Collection" was inspired by her LOVE for her favorite season and her just launched "MAD for RAD" Collection was inspired by her love for Asheville and the RAD. Whether you are just visiting or a local Fan Suzanne's Studio is not to be missed! Studio #225
Related Events