Riverview Station Holiday Open House
December 15, 2019 @ 12:00 pm - 5:00 pm
Free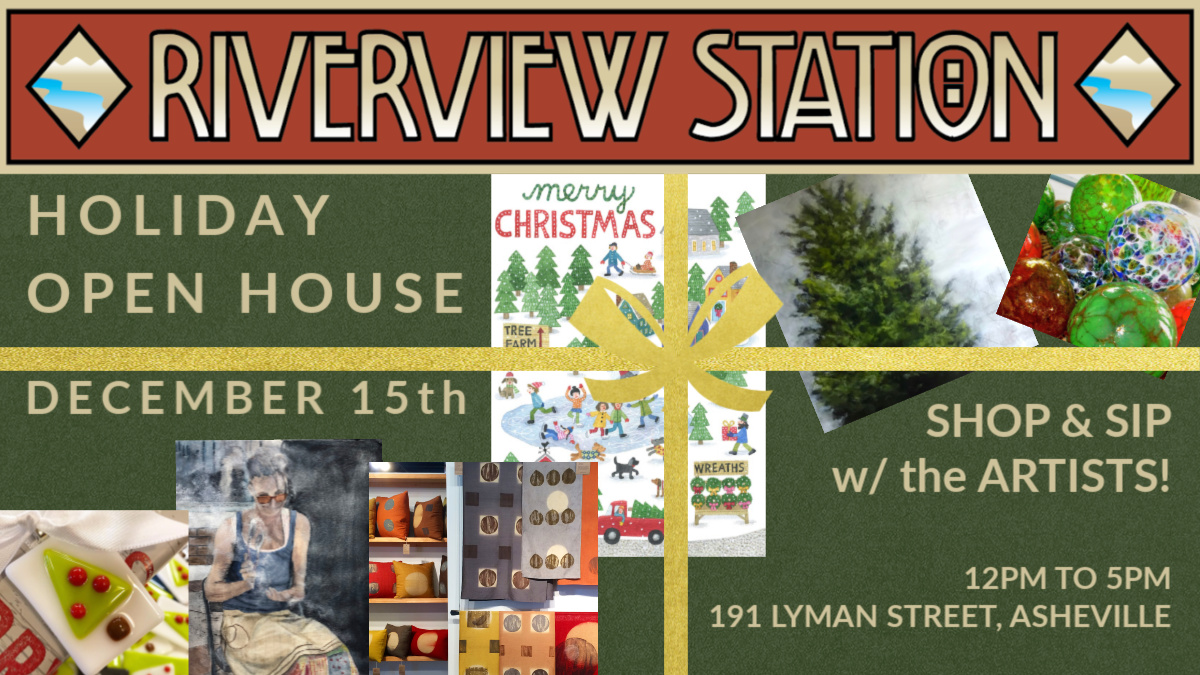 The artists and businesses of Riverview Station, with over 65 studios and galleries, welcome the public to our Holiday Open House. Meet the artists and peruse paintings, pottery, jewelry, mixed media, fiber art, photography, and more.
In addition to the majority of studios being open for this special event, there will be a variety of demonstrations, live music and refreshments. This is a free and family friendly event. Join us December 15th to celebrate the holiday season, find unique gifts, and support your local artists.
Highlights:
Ground Floor
Stephanie Jones Peterson at Victoria Pinney Gallery
Stephanie is adding small carved (sgraffito) ceramic items to her illustration work. She will have small cups (sake, votives) and ornaments for the holidays in addition to cards and illustrated tea towels.
310 Art
Announcing our 2020 schedule of classes for adults. 310 ART is the oldest independent art school for adults in the region. We have unique subjects not offered anywhere else in WNC taught by some of the top artists in the River Arts District. For the Holiday Open House we will have hands on fun for kids of all ages, with make and take art projects led by resident artists throughout the day.
Art Garden AVL – #316
A brand new collaborative art space dedicated to supporting emerging local artists, Art Garden is celebrating their opening weekend, December 14 and 15, with a Gallery + Studio Warming Party on Saturday evening. Come check out their new Gallery, Studios, and Garden in suite 316! Enter on the north side of Riverview Station.
Upstairs Studios & Galleries
Asheville Print Studio – #224
Denise Markbreit has expanded her print studio and recently moved into a much larger space with two more working printmakers, Lisa Steffens and Jean McLaughlin, all using greener and environmentally safer practices. They will offer classes and workshops in the coming new year. Stop by to see the press in action!
Burnt Toast Fused Glass – #211
Emily Yagielo recently brought her colorful glass fusing to Riverview Station. Emily is excited to share the process of fusing with interested visitors. Shop the studio for unique gifts of glass jewelry, platters, as well as wall art.
Goldfish Marmalade – #216
Returning to the River Arts District in October, Kimberly Hodges was one of a handful of artists here in 1997 before the district had that name. After many years in her home studio, she is happy to be back in the district to share her painted wood sculptures and ornaments for the holidays.
Ignite Jewelry Studios – #262
Jessica Hall of Bluebird Designs and Nora McMullen of Nora Julia Jewelry teamed up this year with a new studio and new business. Through Ignite Jewelry Studios they offer workshops, open studios, and resident jeweler space. Visitors can shop their beautiful jewelry in the gallery and connect with the artists in their wonderful new workshop, with an expanded trunk show during the holiday open house.
Sky + Ground Contemporary Art – #261
In addition to being the home gallery for painter Peter Roux, Sky + Ground, new to Riverview Station in 2019, displays the work of local hot glass artist Michael Hatch (Crucible Glass), and photographer Karen Philippi (Philippi Seascapes). Check in for additional guest artists throughout the year. Peter Roux offers workshops and is happy to share his process as he works in his studio, #265, during business hours Tuesday through Saturday, and during special events.
Related Events