September 11, 2021 @ 10:00 am - 6:00 pm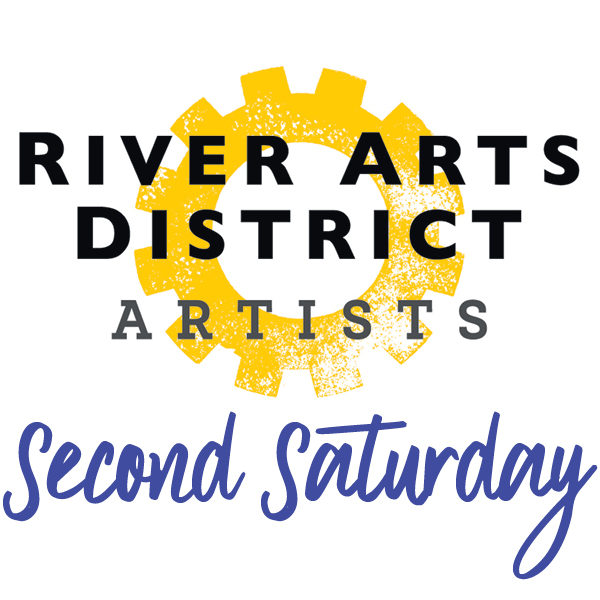 SEPTEMBER SECOND SATURDAY — September 11th
EVENTS in the RIVER ARTS DISTRICT
Contact: Rachel Wyatt, River Arts District Coordinator
Email: [email protected]
Wedge Building
Philip DeAngelo Studio
115 Roberts Street, #115
Contemporary Americana Painting with Philip DeAngelo
11:00 AM – 4:00 PM
Philip DeAngelo is a Contemporary Americana acrylic painter in the Wedge Building. Come visit our
studio on Second Saturday to see Phil painting using his vibrant colors and incredible textures!
"It has always been my desire to give the viewer a sense of calm and peace but this is, of course, so
very important right now. Enjoy and relax!"
https://philipdeangeloart.com/ [email protected]
Phil Mechanic Studios
109 Roberts street, Ste.3C
Worlds Best Tape Artist- Ninja Art, Stephen L Lange
8:00 AM – 7:00 PM
Demonstration of pixellism and invitation to all ninjas, present and future.
www.Langeart.com [email protected]
Trackside Studios
375 Depot Street
Stephen Fulghum "Matter of Time" Exhibition Opening
1:00 PM – 5:00 PM
"Matter of Time" is an exhibition of award-winning fine art photographer Steve Fulghum's lifelong
passion for creating images that tell a story. The exhibit features traditional and composite
photographs with commentary by the artist. Artist reception Sept. 11 with sips and snacks. Exhibit
runs from Sept. 4–30.
stevefulghum.com [email protected]
2nd Paige Studio, Trackside
375 Depot Street, Street level
Fiber Art Demonstration with Paige Houghton
11:30 AM – 4:00 PM
"I'll be working on some pieces created from loose, natural fibers, such as wool and mohair. I
transform those fibers into pieces that look like stained glass."
2ndpaigestudio.com [email protected]
362 Depot Street Studios
362 Depot Street
Cindy Lou Chenard
Dimensional Landscape Painting Demo and New Works Show
1:00 PM – 5:00 PM
Cindy Lou Chenard will be demonstrating her dimensional landscapes using her unique technique of
painting and assembling thin layers of wood.
www.cindylouchenard.com [email protected]
Riverview Station
191 Lyman, #310
Bridget Benton at 310 Art
Free Second Saturday Collage Make & Take
12:00 – 4:00 PM
"On September 11, artist and art teacher, Bridget Benton, invites visitors to dive into one of her
favorite mediums — collage! Drop by 310 Art at Riverview Station in Asheville's River Arts District
between noon and 4pm and stay for a while to make your own art! The 310 Art classroom will be set
up and ready for art making! Packs of free collage fodder will be given out to visitors while supplies
last, and glue sticks and scissors will be available for guest use. The collage fodder will include paper
items that are often discarded, emphasizing reuse and ecologically sound art making.
Guests are invited to make several collages sized, 3"x3" and 4×4" and will then have the option of
donating one back to 310 Art to be combined with other student work i to larger works which will be
sold through 310 Art, with proceeds beyond material costs to be donated to 310 Art's Emerging Artist
Scholarship Fund. 310 Art is the oldest art school for adults in the River Arts District, offering
instruction in a variety of mediums.
"I love collage. It's such an accessible art form. Anyone can do it, and yet fine artists have also used
collage as a medium for over 100 years. While digital collage is certainly popular, I'm seeing a real
resurgence of artists using traditional methods like cutting and pasting. That's what we'll be inviting
folks to do this weekend!"
While Benton hopes this will encourage adults to flex their creative muscles, children are welcome if
accompanied by an adult.
Benton will also be sharing two 24"x 24" collaborative collages started during a World Collage Day
event in May of this year – each incorporating over a dozen mini-collages contributed by community
participants. Smaller collaborative pieces and donated collages will also be for sale.
"Art making can be such a solo activity. It's wonderful to do this kind of collaborative work – I get
inspired watching everyone work and seeing what they create!" — Bridget Benton
www.310art.com [email protected]
Riverview Station
Ignite Jewelry Studios
191 Lyman St., #262
Flat to Fabulous with Deb Karash
10:00 AM – 5:00 PM
Improve your skills in this fun two-day class taught by well known jewelry instructor Deb Karash. Add
interest to your jewelry designs with surface texture, volume, and layers. Emphasis is placed on
planning and finishing techniques in order to achieve a more professional look. You will learn easy
soldering and riveting tips, how to incorporate found materials or beads, how to create a rich surface
on copper and silver, and how to use commercial findings or make your own. Most students will leave
with a finished piece.
This is a two-day class Saturday and Sunday from 10am to 5 pm
Ages 18 and up welcome, Beginners welcome
[email protected]
Related Events