Spring Landscapes in Watercolor with Casi Fordham
April 29, 2023 @ 3:00 pm - 6:30 pm
$90.00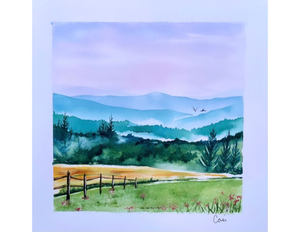 Join us at ArtPlay for a relaxing Saturday afternoon of watercolor painting with local artist Casi Fordham.
Come experience the wonders of layering transparent colors to paint beautiful spring landscapes. We'll start with a step-by-step watercolor basics warm up, then transition into landscape painting. We'll explore basic techniques, break down the elements of a landscape and build values. During the class, Casi will be sharing live demos and will guide you into the world of watercolor painting, supporting for your own creative process and learning of techniques along the way.
Please bring a reference photo as a guide, to draw inspiration from as you paint.
All materials plus a light snack and glass of wine will be included. No experience is needed. Come Play!
Related Events