Ukrainian Easter Egg Workshop
May 12, 2019 @ 2:00 pm - 5:00 pm
$59.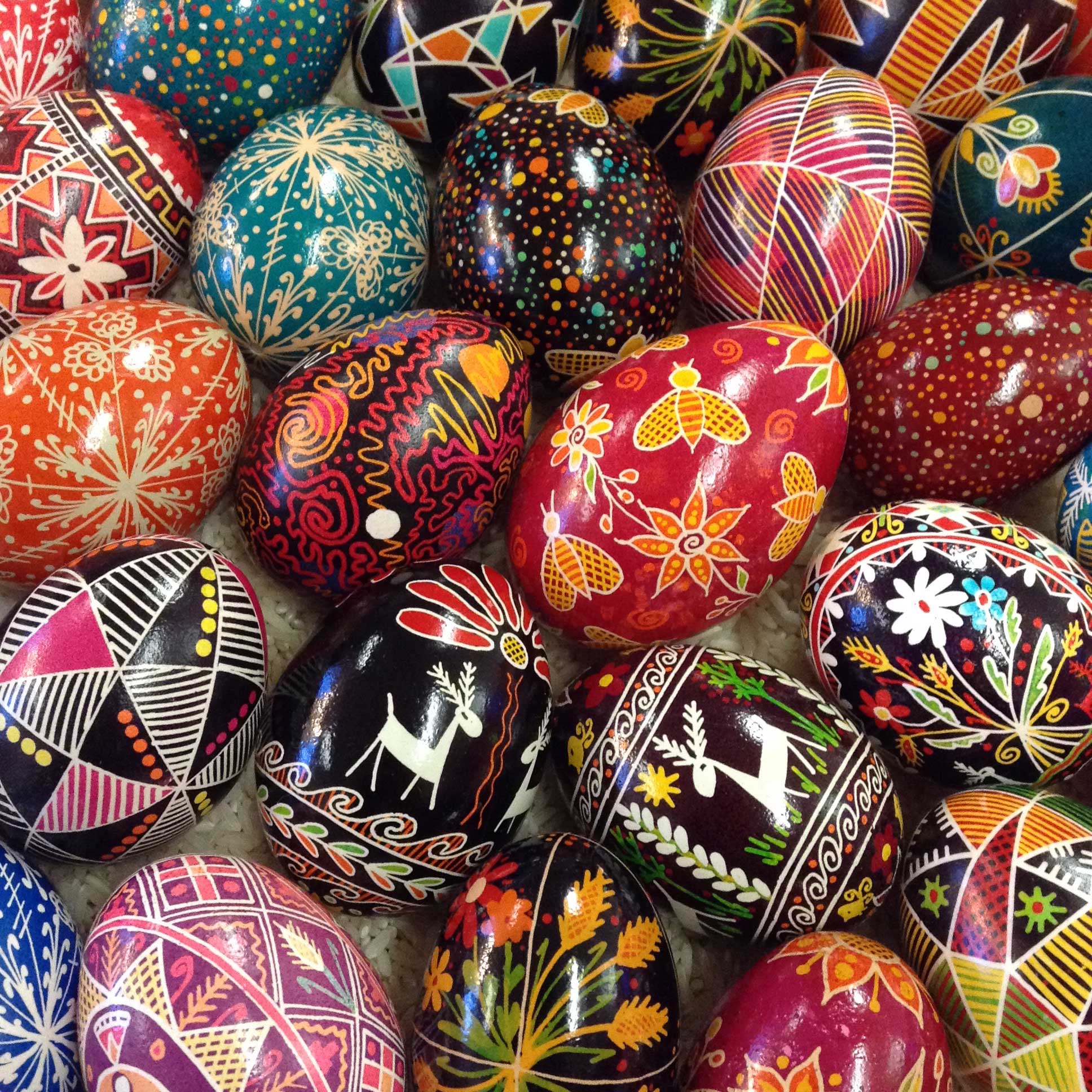 Pysanky are a lot like Asheville- unique, fun and colorful!
In this workshop we will be making beautiful Ukrainian Easter eggs – pysanky. You will learn the method of batik – also called wax-resist – dying. You will also be familiarized with the wide range of Ukrainian folk art traditional patterns, designs and symbols and their history. The designs are made with beeswax which is melted in the flame of a candle and applied to the egg using a tool called a kistka. The eggs are dipped into successively darker dyes. At the end of the process the beeswax is melted off to reveal the beautiful and colorful design. You may use the traditional patterns, or also freestyle and make up your own design.
Classes are taught at Studio A, which is located at Pink Dog Creative, 344 Depot Street, Suite 100, next to Fresh West Pizza. Ample free parking is available in the lot across the street and on the street.
We will be working with dyes so please wear clothes you don't mind possibly getting a little dye on, or bring an apron. If you have long hair, please bring something to tie your hair back to protect it from the candle flame.
I will provide all materials including eggs. You will take home whatever pysanky you make. If you like, you may varnish and empty your eggs at home, or I will gladly varnish and empty your eggs for you and you can pick them up about a week after the class.
Feel free to bring a drink and snack. We won't have a formal break but feel free to take a break at any time. Please wash your hands at the beginning of class and after handling any food or touching your skin, as oils from food and skin can affect the dye's ability to adhere to the egg. Please eat any snacks away from the work area.
Classes often run an extra half-hour- until 5:30 on Sundays and 9:30 on weekdays if you need extra time to finish up.
Classes are a lot of fun! If you do want to make more pysanky after class is over, the full range of pysanky supplies are available for purchase at Studio A.
Andrea Kulish is an artist, craftsperson, and graphic design professional. She's a first-generation Ukrainian-American wholearned to make pysanky from her mother, an art teacher, when she was five years old. As a young girl, she sat in on her mother's classes every week and made pysanky.
Andrea has been teaching pysanky for approximately eleven years. She taught for several years in the Boston, MA area at various locations- businesses, churches, her home studio, assisted living facilities and art studios.
Andrea has been teaching pysanky in Asheville since she moved here in 2013. In addition to teaching at her studio, she has also taught at businesses, private homes, the Biltmore Estate, Osher Lifelong Learning Institute (OLLI) at UNCA Asheville, Roots + Wings Preschool, as well as done demonstrations and events around town including at The Grovewood Gallery, the Asheville Greek Festival, the Asheville Easter Festival, and with LEAF's Easel Rider Mobile Art Truck.
$59 for one three hour session includes all materials ($59 cash/check, $63 credit card/PayPal) Payable at class or in advance. Checks may be mailed in and credit card can be taken over the phone. Ages 10 and over- Students age 10-17 must be accompanied by their parent or guardian.
Quotes from Andrea's students:
"Andrea is a gem and a national treasure – so fortunate to have someone who is so happily passionate and connected to her work and willing and happy to share it."
​"I'm so glad I took the class and look forward to making more eggs at home. I think Andrea is a wonderful teacher & artist."
"The combination of gentle guidance with the freedom to explore our own designs. From the aspect of doing something I had never done, I felt that I was in a completely safe and supportive environment, and that I would succeed by just enjoying myself."
​"Instructor was great, very positive and helpful."
"Wonderful class, would definitely recommend to others!"
To sign up, please email [email protected] or call/text Andrea at 828-423-6459 to reserve your space.
Related Events