GELLI PLATE PRINTMAKING: PLANTS, INKS, NO PRESSURE! with Bridget Benton
October 7, 2023 @ 10:00 am - 4:00 pm
$145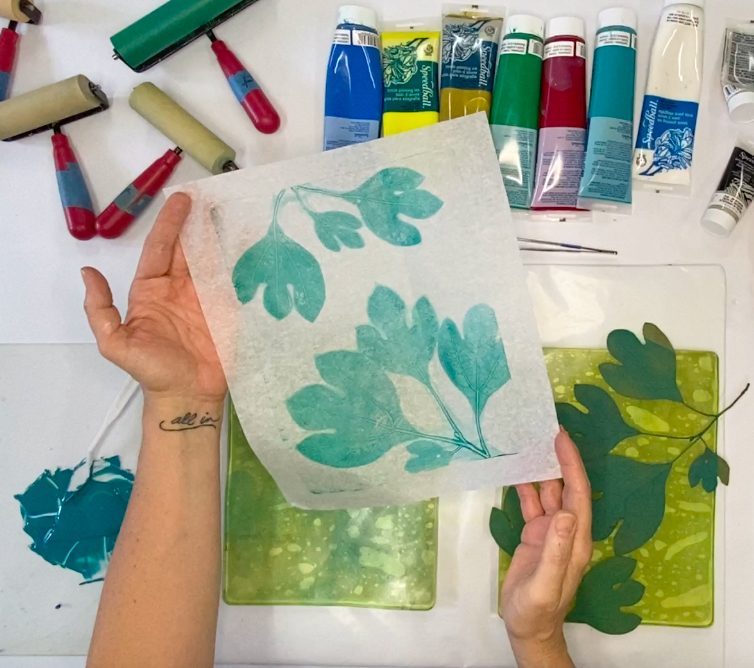 Friday Oct 7th – 10AM to 4PM – $145 includes all materials
Gelli Plate printmaking is my go-to for nature printing (getting quick and beautiful prints from plants), AND my go-to for a day of playful, spontaneous artmaking! This class is for nature lovers, mixed media artists, and those who crave more low-stress creativity in their lives!
Printmaking is just the process of transferring ink from a surface or "plate" to paper. The magic happens when you build up textures and colors on the plate, and transfer luscious layers of ink to the paper. With the flexible, durable gelli plates and easy-clean-up water-soluble inks we'll be using in this class, the process becomes quick and easy – no bulky press, no pressure!
While the workshop will have a focus on printmaking with plants, including my two-plate method for getting 4+ prints from a single inking of a single plant, we'll be covering lots of other techniques. Students will learn to create textures and imagery using a variety of tools and materials including vegetables, shells, fabrics, stamps, and more to work both additively and subtractively on the plate. Students will also have the opportunity to experiment with stencils and masks.
The final prints are beautiful on their own, or can be incorporated into collage, visual journal and mixed-media art projects.
This is a GREAT follow up class to Bridget's Junk Journal workshop!
Related Events