June 18, 2021 @ 8:00 am - 3:00 pm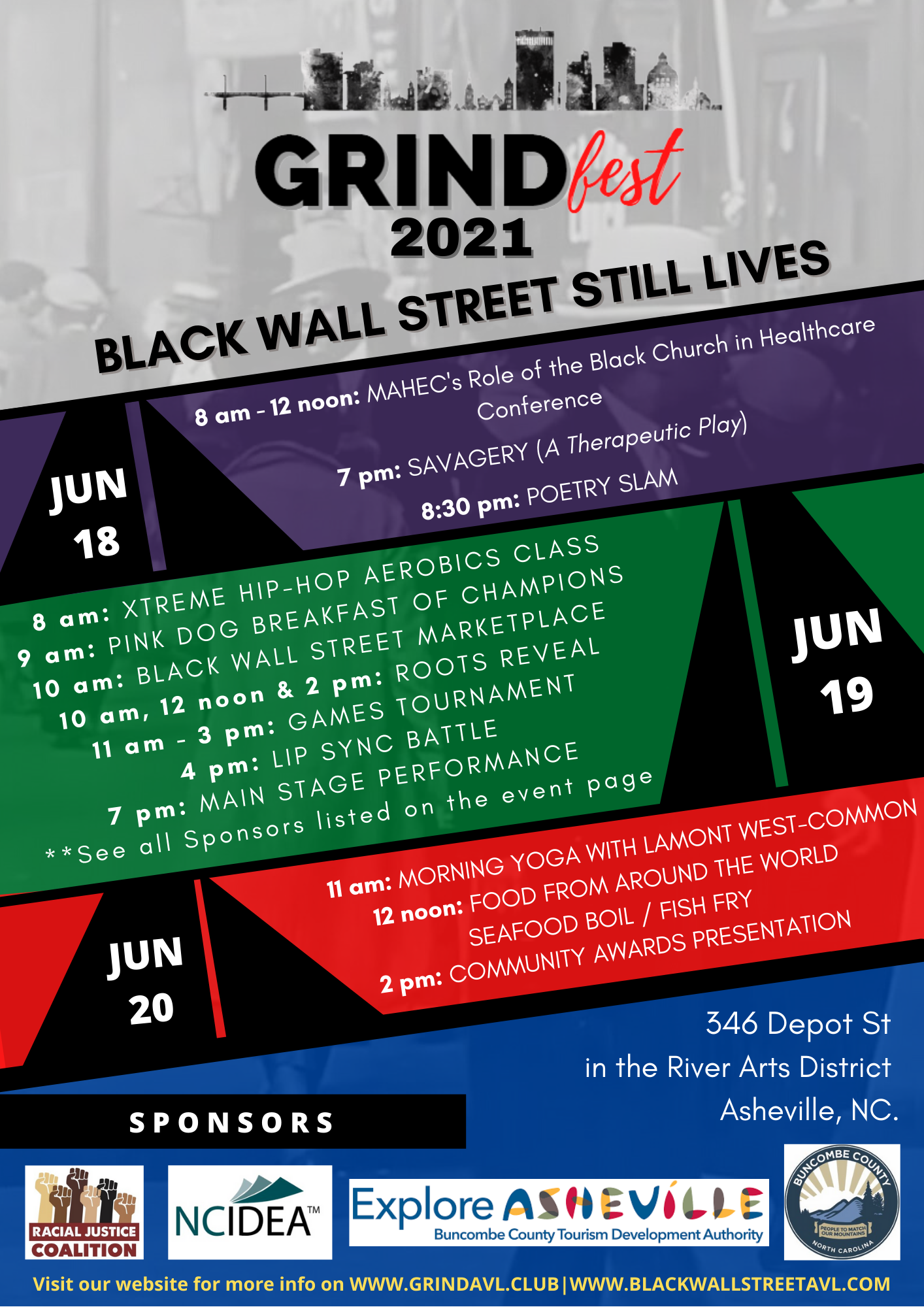 Juneteenth Weekend Events–June 18-20
Friday, June 18–Sunday, June 20
GRINDfest at GRIND Coffeehouse
Organized by J Hackett + Bruce Waller Jr., the co-owners of Grind AVL coffee shop and the founders of the Black Wall St. cohort. Sponsored by: NC IDEA, Explore Asheville, Racial Justice Coalition, Buncombe County Government  and Pink Dog Creative.
Savagery (A Therapeutic Play) | Fri., June 18, 7 p.m.
Check out a live performance of this anthology-style, musically-influenced play, scripted by local author Nicole Lee.
Love Jones Poetry Slam | Fri., June 18, 8:30 p.m.
An evening of rhythm, rhyme, food + music. The top poet will receive a $500 prize package.
Community Awards + Food Around the World | Sun., June 20, 12 p.m.
An awards ceremony for family members, business-owners and nonprofits who demonstrate the values of hustle, resilience + extraordinary care.
You can also enjoy food from local vendors offering West African and Jamaican cuisine, along with a seafood boil prepared by Clarence Robinson (AKA the Flavor King).
Depot Street Dance Party | Sat., June 19, 7 p.m.
A huge dance party featuring main stage performances from DJ Audio + DJ Ayres Anderson. Come for the jams, stick around for the DJ battle.
Games Tournament | Sat., June 19, 11 a.m. – 3 p.m.
Enjoy card games + family friendly activities while munching on offerings from local food vendors.
Want to get involved with the festival? GRINDfest is actively seeking out volunteers and sponsors for the big day.
•Aaron Hill will create an original portrait of Nina Simone to be raffled off at the end of day on Juneteenth, Saturday June 19th. Raffle tickets for the original will be available the month before the celebration. 100% of the money raised will be donated to Southside Community Gardens. In addition to the raffle, a print of the portrait will be available for free to any BIPOC coming through the studio June 18-20. Visit @4aronhill on Instagram for more details closer to the event.
•For the month of June, Andrea Kulish / Studio A will donate 5% of all sales to Black Lives Matter.
Related Events