The Annual RADA Studio Stroll
November 12, 2022 @ 10:00 am - 5:00 pm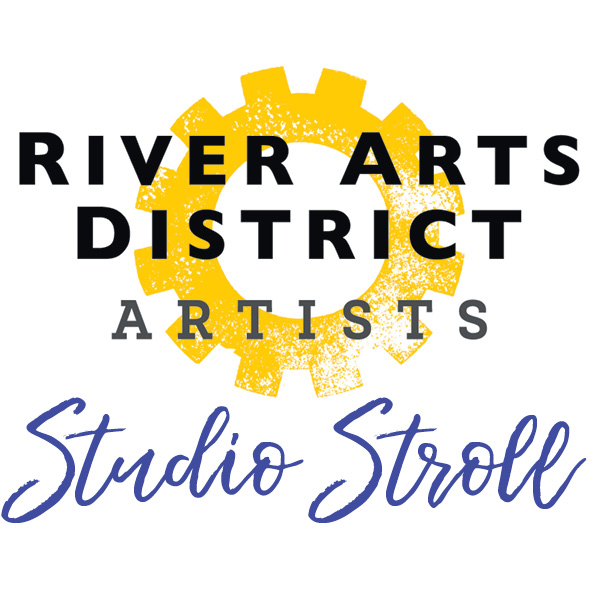 Meet the Artists and Makers of Asheville's River Arts District in their studios as you spend an entire weekend shopping, strolling and riding the FREE Trolley Saturday and Sunday from 11am to 5pm. Grab your friends and gather your loved ones to experience a place where fine art and craft meet gifts, goodies and collectables as you immerse yourselves in the creativity that flows through the Arts District! Don't forget to support the arts and take home an artful piece of Asheville!
Studio Stroll Highlights Include:
1st Annual Holiday Collectors Ornament Show and Opening Reception
Mark Bettis Studio & Gallery
Wedge Building | 123 Roberts Street
Friday, November 11
5:30 PM – 7:30 PM
Decorate your tree with beautiful baubles this holiday season with ornaments created by 15 Asheville artists in various media including paper collage, paint, ceramic, glass, wood and pysanky eggs, the ornaments will be displayed on festive Holiday trees.

Refreshments will be served and the artists will be present to meet and talk with guests about their creations.


Ornament Show runs through December 27, 2022.

For more information: markbettisgallery.com or contact Mark Bettis at 941-587-9502  | 

[email protected]
Collage Demonstration & Magic
Langeart
Phil Mechanic Studio
109 Roberts Street, STE 3C
Saturday, November 12
9:00 AM – 7:00 PM
Ceramics Sale, Live Music and Refreshments!
Odyssey Coop Gallery & Members' Gallery
238 Clingman Avenue Ext.
November 12 & 13
11:00 AM to 4:00 PM
Please come and join us for the festivities as we host Studio Stroll visitors with wine and refreshments. We will have live music on both days of Stroll and many of our members will be exhibiting additional work on the tables in the upper work space.
Sew Co. Makers Market
Sew Co. and Rite of Passage
240 Clingman Avenue Ext.
November 12 & 13
10:00 AM – 4:00 PM
More than ten team members will be hosting a Makers Market to showcase their hand-knit hats, paintings and prints, vintage upcycling, home goods, leather bags and wallets, and much more. 

The newly-released fall collection from Rite of Passage will also be on display – Enjoy hot apple cider and light refreshments in the open-air gallery and browse the handmade goods

For more information about the Makers Market, please email [email protected]  |

  www.wcsewco.com
Riverside Studios Open House
Riverside Studios
174 W Haywood Street
November 12 & 13
10:00 AM – 5:00 PM
Studio Stroll Open House featuring seven artists. Artwork in oil, acrylics, watercolor, mixed media and paper mache.
Dimensional Landscape Demo with Cindy Lou Chenard
362 Depot Street Studios
362 Depot Street
November 12
11:00 AM – 5:00 PM
Cindy Lou will be demonstrating her unique dimensional technique using thin layers of wood and paint.  | 

cindylouchenard.com
Ukrainian Pysanky Egg Demonstrations with Andrea Kulish
Pink Dog Creative, Studio A
344 Depot Street
November 12 & 13
11:00 AM – 5:00 PM
Andrea will be demonstrating the wax resist process of Ukrainian pysanky eggs. ashevillestudioa.com
2nd Paige Studio Fiber Art Demonstration
Trackside Studios
375 Depot Street
November 13
1:00 PM – 5:00 PM
Sewing on natural animal fiber, Paige uses wool, mohair and silk combined with layers of epoxy, metallic paint and random embellishments, to create unique, stained glass-like pieces.

Augmented Reality Demonstrations with Jaime Byrd
Trackside Studios
375 Depot Street
November 12 & 13
10:00 AM – 5:00 PM
Jaime is expanding her expressionism landscape paintings to larger canvases up to six feet long. Jaime is known for her colorful and highly textured oil paintings on wood panels. She will be demonstrating her techniques from 10am to 5pm during Studio Stroll with refreshments for visitors on both days.
Pine Needles and Pottery with Dee Santorini
Trackside Studios
375 Depot Street
Saturday, November 12
11:00 AM – 4:00 PM
Dee Santorini will be weaving pine needles or tree twigs into her raku pottery.
www.SantoriniArtStudio.com
Sculpture Demo by Bruce Santorini
Trackside Studios
375 Depot Street
Saturday, November 12
11:00 AM – 4:00 PM
Slip into Trackside Studios to watch Bruce Santorini demonstrating the creation of one of his "Mind Creations."  Santorini usually is up to his elbows in clay in his studio in the Pisgah mountains, but is bringing the "magic" to the River Arts District this weekend!


www.SantoriniArtStudio.com
There's a new Gallery in the RAD – Modern Muse Gallery
Riverview Station
191 Lyman, Suite 110
Saturday, November 12
10:00 AM – 5:00 PM
RAD artists Sandra Bottinelli and Pearl Renken have joined forces to open a new gallery in Riverview Station. Help kick off Studio Stroll with the soft opening of Modern Muse Gallery, featuring the work of the two founding artists through the month of November.
Art Celebration – Come see how we've been growing this year!
Art Garden AVL at Riverview Station
191 Lyman Street, #316
Ground Level North
Saturday, November 12
11:00 AM – 5:00 PM
Art Garden just finished another expansion, adding several new art spaces. Trish Salmon and Kate Elle both have new studios to celebrate, and there's a new retail section with fresh art to enjoy as well. Annie Kyla Bennett and Jack Henry will be painting in the Canopy Gallery.  | 

http://www.artgardenavl.com
Live Painting with Annie Kyla Bennett
Canopy Garden in Art Garden AVL at Riverview Station
191 Lyman Street, #320
2nd Floor North
November 12 & 13
11:00 AM – 5:00 PM
Annie will be painting in the Canopy Gallery at Art Garden all weekend. They have several new paintings in the works, in oil, acrylic, and watercolor.  |  www.anniekylabennettart.com
Biltmore Christmas Wine Label Signing
Claire Simpson Jones Watercolor Studio
Riverview Station
191 Lyman Street, #217
November 12 & 13
11:00 AM – 5:00 PM
Come meet Claire Simpson Jones, the artist who designed and painted the 2022 Biltmore Christmas Wine labels. Bring your bottles to have them signed personally by Claire while viewing her original paintings for the design, and other watercolors.  |  https://www.clairecsimpsonjones.com/
Related Events