Ukrainian Pysanky Egg workshop
May 25, 2023 @ 6:00 pm - 9:00 pm
$78.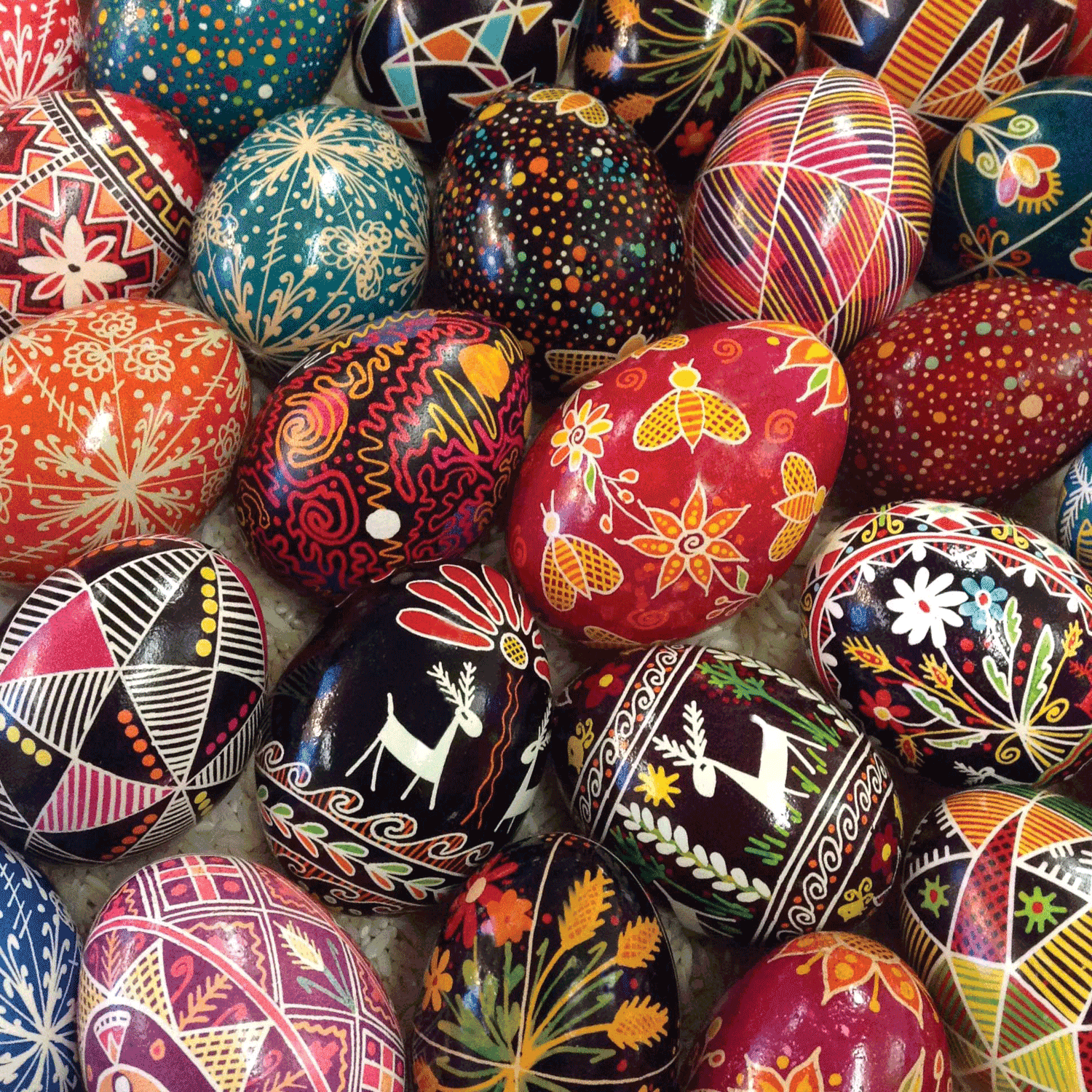 Pysanky are a lot like Asheville- unique, fun and colorful!
In this workshop we will be making beautiful Ukrainian Easter eggs – pysanky. You will learn the method of batik – also called wax-resist – dying. You will also be familiarized with the wide range of Ukrainian folk art traditional patterns, designs and symbols and their history. The designs are made with beeswax which is melted in the flame of a candle and applied to the egg using a tool called a kistka. The eggs are dipped into successively darker dyes. At the end of the process the beeswax is melted off to reveal the beautiful and colorful design. You may use the traditional patterns, or also freestyle and make up your own design. Pysanky are fun, relaxing, and meditative to create. And, the symbols are all good wishes, so it is always the perfect time to create eggs with symbols wishing for good health, long life, strength and protection and other good things.
Classes are 3 hours and use of all supplies is included. Most people create 1 to 2 pysanky which you take home with you. $75 per person (cash/check) or $78 (credit card) includes use of all supplies. Please contact Andrea for more information and to sign up.
About the Teacher: 
Andrea Kulish is an artist, craftsperson, and graphic design professional. She's a first-generation Ukrainian-American who learned to make pysanky from her mother, an art teacher, when she was five years old. As a young girl, she sat in on her mother's classes every week and made pysanky.
Andrea taught for several years in the Boston, MA area at various locations- businesses, churches, her home studio, assisted living facilities and art studios.
Andrea has been teaching pysanky in Asheville since she moved here in 2013. In addition to teaching at her studio, she has also taught at businesses, private homes, the Biltmore Estate, Osher Lifelong Learning Institute (OLLI) at UNCA Asheville, The Nortah Carolina Arboretum, Greenville Center for Creative Arts, Transylvania County Center for the Arts, Roots + Wings Preschool, as well as done demonstrations and events around town including at The Grovewood Gallery, the Asheville Greek Festival, the Asheville Easter Festival, and with LEAF's Easel Rider Mobile Art Truck. Andrea also has three pysanky in the collection of the Pysanky Museum in Kolomyia, Ukraine.
Related Events